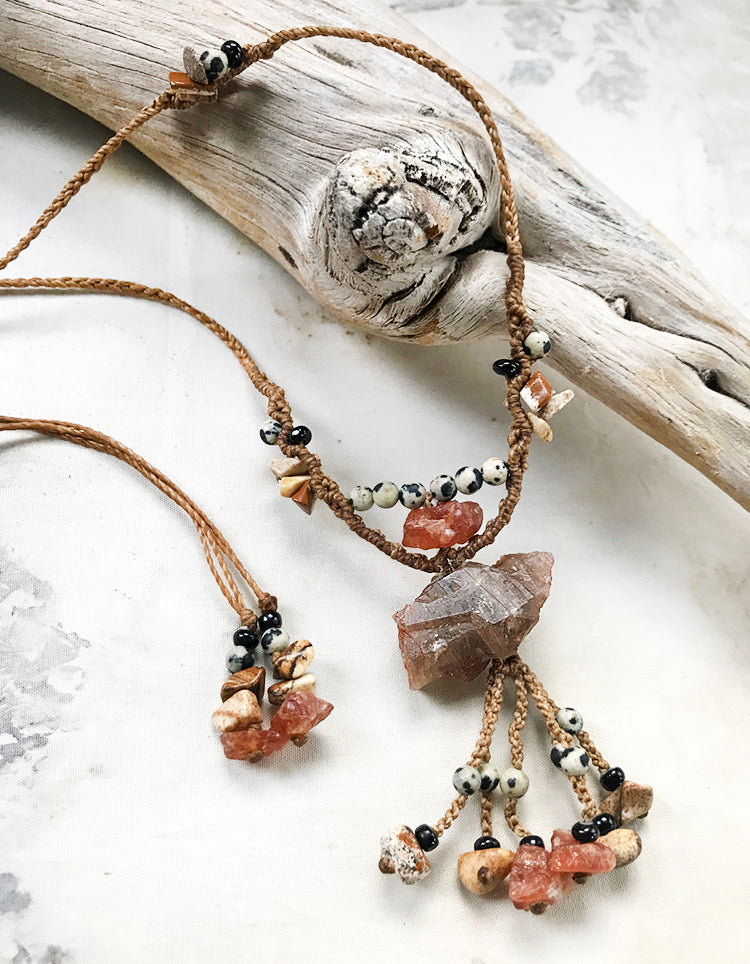 Crystal healing amulet with Elestial Record-Keeper Smokey Citrine
DESCRIPTION
Crystal healing amulet with a very special old soul - a smokey hue, natural rough Citrine in elestial record-keeper formation. The necklace is knotted in dark golden brown micro-macrame cord, very strong and durable, yet soft and comfortable to wear. The smokey Citrine is combined with a 'crystal tassel' dangling below, featuring rough Spessartine Garnets and small Dalmatian Jasper, Black Tourmaline and Picture Jasper crystals. There's also a floret of small matching crystals adorning one side of the necklace braid.
The length of the necklace is adjustable from very short down to just above solar plexus level. The combined height of the elestial Citrine together with the crystal 'tassel' is approx. 5.5 cm (2.2") and the Citrine is approx. 3 cm (1.2") wide.

There are no metals in this necklace so would be particularly suitable for those with metal sensitivities, energy workers and those who simply prefer not to wear metal.

You'll receive this crystal healing necklace in one of my fabric draw-string pouches, great for the safe-keeping of the necklace. Gift-wrapped at no extra charge.
Read here how to take care of your crystal jewellery. 
CRYSTAL PROPERTIES
CITRINE
Affects a powerful alignment with the higher self. Balances the emotions and helps in uplifting one's mood to be more sunny and cheerful. Brings clarity of thought, and attracts abundance and prosperity through joy. Powerful transformer in healing work. Increases self-confidence and optimism, cleanses the surrounding energies and promotes creative thinking. Releases, dissipates and transforms denser energies on all levels, mental, emotional and physical. Works to release limitations and blockages particularly around the sacral / solar plexus area.
RECORD-KEEPER CRYSTALS: Characterised by the appearance of raised or sunken "record-keeper" triangles on the faces of the crystal. Activate dormant intuitive abilities and enhance one's psychic skills. Can be used to access the knowledge and wisdom of ancient civilizations from Akashic Records.
ELESTIALS: Elestial crystals carry deep spiritual healing energy. They have a majestic vibe to them. They link multiple dimensions, timelines and levels of consciousness, integrating increasingly higher vibrations of light into its keeper's energetics. When an Elestial comes to your life, you're ready to fully delve into the depths and the heights of your own inner wisdom, which accelerates your spiritual progress. Attuned to the angelic domain, elestials make great crystal companions that will no doubt journey with you for long-term.
SPESSARTINE GARNET
Elevates mood and allows experiences of 'emotional sunshine' into one's life, thus making life more fulfilling. Helps in overcoming the fear of new experiences, encouraging you to live more spontaneously. Balances and vitalises the sacral chakra, supporting creative pursuits and intuition.
DALMATIAN JASPER
Helps in removing barriers that prevent you from moving forward in life, and to discover your true purpose of being in the world. Brings joy and playfulness into one's life. The black spots in this stone are Black Tourmaline, which adds to this stone's protective qualities.
BLACK TOURMALINE
One of the most well-known protective stones, shielding its user from negativity. A shamanic stone used for grounding during vision quests. Empowering for those who work in challenging environments. Purifies and transforms denser energies into lighter vibrations and is also detoxifying for the body. If you're sensitive to electromagnetic smog, you may get relief by wearing black Tourmaline.
PICTURE JASPER
Nurturing, comforting stone, associated with expanded creativity, invention and initiative. Helps in grounding one's ideas into reality. Believed to contain hidden messages from the past, connecting and grounding into the earth energies. Harmonious stone offering psychic protection during shamanic journeying as well as activating the third eye chakra. Inspires creative visualisation and is excellent for overcoming any creative blocks and clear away past hurts. Good confidence stone, particularly helpful in business pursuits. Revered in many native cultures as sacred of courage and wisdom.
Recently Viewed