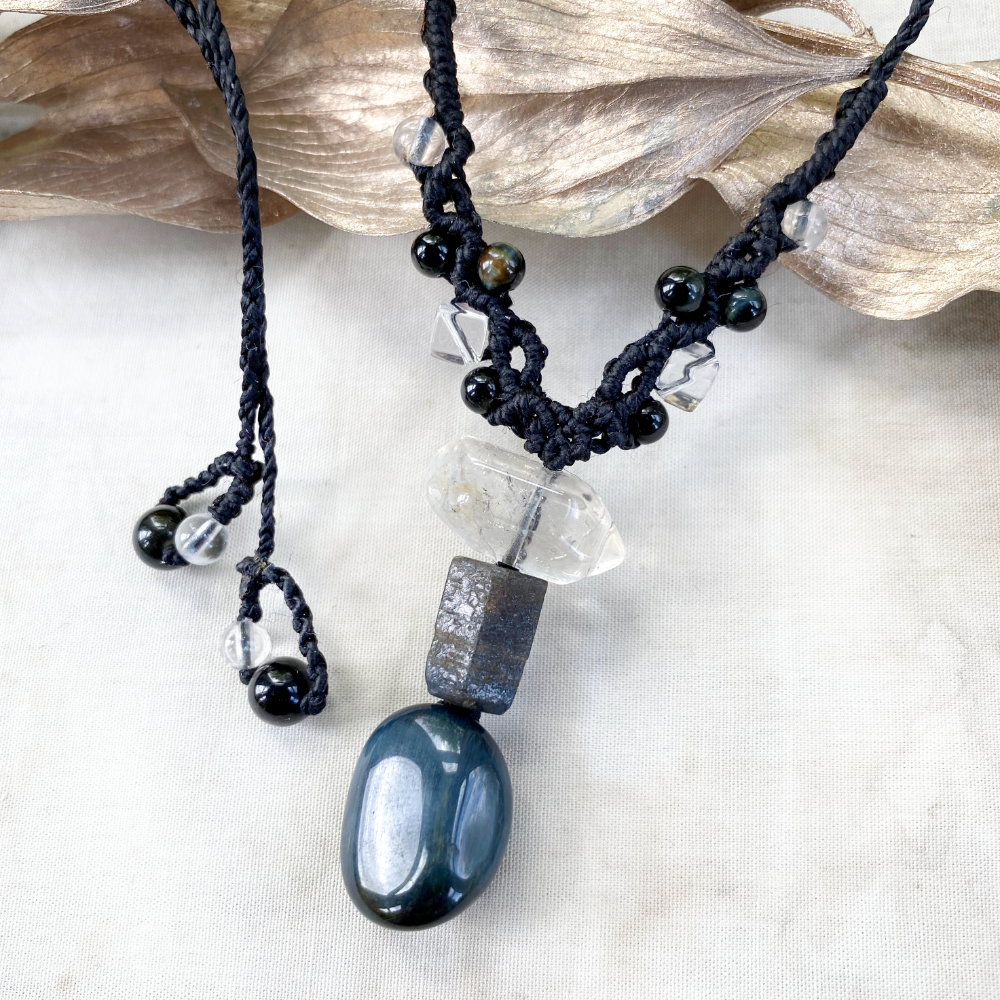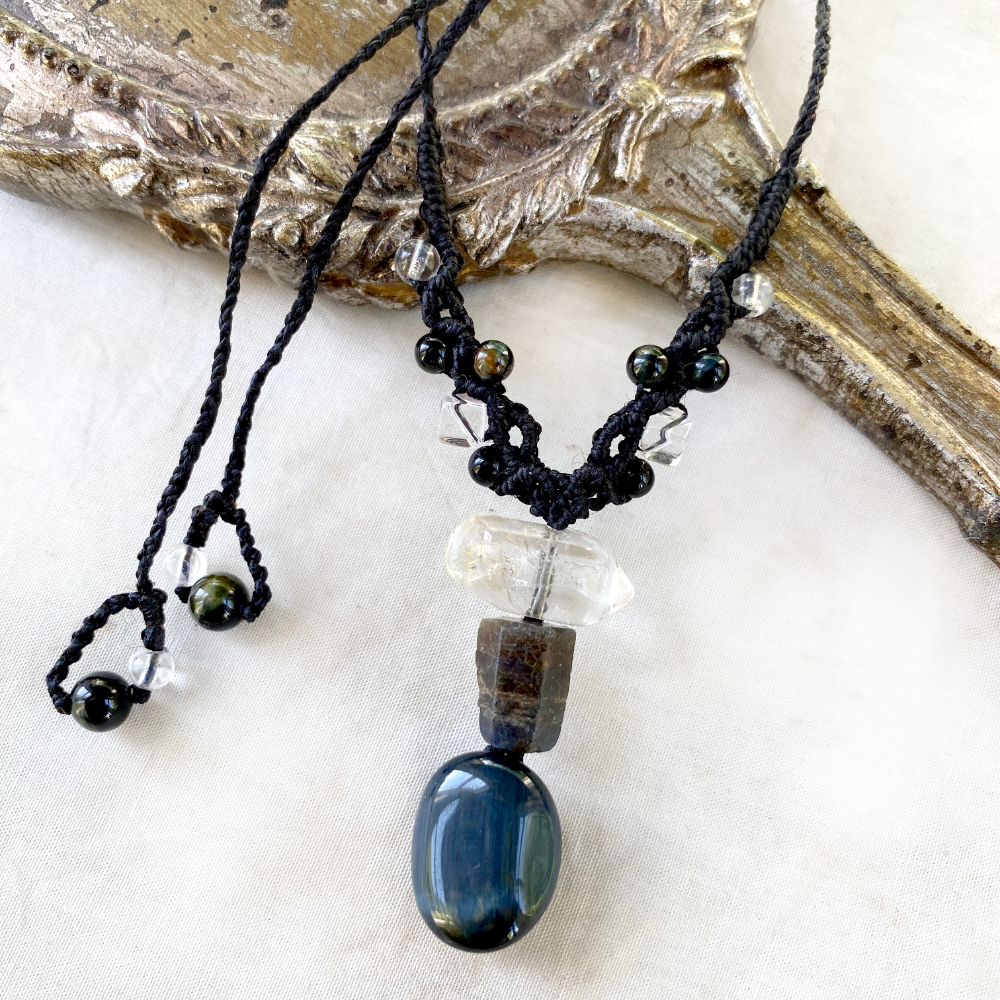 Crystal healing amulet with Hawk Eye, Sapphire & Quartz
DESCRIPTION
Crystal healing cairn amulet combining the crystals of blue tones Quartz, Sapphire and Hawk Eye. The necklace is knotted with black micro-macrame cord, very strong and durable, yet soft and comfortable to wear. The ends of the adjustable necklace cords are decorated with Quartz and Hawk Eye crystals.
The length of the necklace is adjustable from very short down to just above heart level, so slightly shorter adjusting range than usual, designed for the cairn to be worn at quite high up. From the top of the Quartz to the base of the Hawk Eye, the total crystal cairn length is approx. 4 cm (1.6"). The Quartz is just over 2 cm (0.8") wide.
There are no metals in this necklace so would be particularly suitable for those with metal sensitivities, energy workers and those who simply prefer not to wear metal.
You'll receive this crystal healing necklace in one of Spirit Carrier's fabric draw-string pouches, great for the safe-keeping of the necklace. Gift-wrapped at no extra charge.

***Free Shipping Worldwide on this item***

Read here how to take care of your crystal jewellery.
CRYSTAL PROPERTIES
HAWK EYE
Elevates one's perception to see things from a higher perspective, thus aiding in making skilled decisions. Brings clarity, opens up inner guidance and new possibilities. Helps in building courage to trust one's own inner wisdom and intuition. Assists in visualising goals, both spiritual and material and to follow through in bringing them into existence.
SAPPHIRE
A stone of psychic activation, enhances insight and focus. Revered through ages as bringing good fortune and spiritual insight. Highly protective. Grounds higher knowledge and helps one to stay centred. Evokes the wisdom needed to see past any situation into its underlying truth. Helpful in channeling healing energy from the highest source, facilitating access to deeper levels of consciousness and freeing it's wearer from mind-made fears. Increases learning ability. Attracts prosperity.
CLEAR QUARTZ
The universal master crystal that has a harmonising effect on all levels of being. Programmable by intention, so can be used for versatile purposes. Quartz can clear, enhance, amplify, transmute, balance, focus and transmit energy. Raises one's energetic vibration. Brings clarity and filters out distractions. A deep soul cleanser, attuning its keeper to their higher self. Each Quartz crystal is unique with its own character and teachings it offers, all are known as "Stones of Power" and "Master Healers".
Recently Viewed