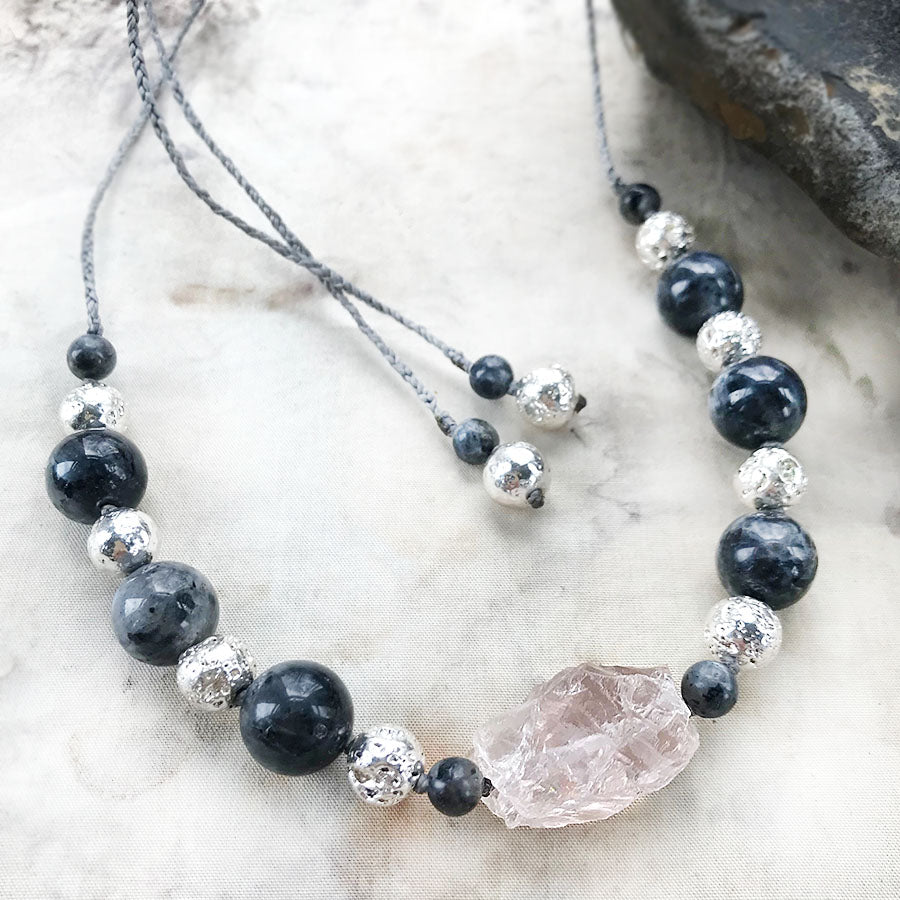 Crystal healing amulet with Ice Rose Quartz, Norwegian Moonstone & silver-plated Lava Stone
DESCRIPTION
Crystal healing amulet combining the energy of Ice Rose Quartz with Norwegian Moonstone and silver-plated Lava Stones. The necklace is minimally braided with grey micro-macrame cord, strong and durable yet comfortable to wear. The ends of the adjustable necklace cords are decorated with matching crystals. The energy of this crystal amulet makes a statement of loving strength, being exceptionally suited for a work environment that requires adaptability, decisiveness and confidence.
This necklace is meant to be worn at quite a short length, and whilst the braid length is adjustable, the adjusting range at its longest is 60 cm (24") all around. The translucent Ice Rose Quartz in the middle is just over 2.5 cm (1") wide and together the row of crystals is altogether 19.5 cm (7.7") long.
You'll receive this crystal healing necklace in one of my handmade fabric draw-string pouches - great for the safe-keeping of the necklace. Gift-wrapped at no extra charge.
Read here how to take care of your crystal jewellery.
CRYSTAL PROPERTIES
ROSE QUARTZ
Powerful love stone, love that is all-encompassing and unconditional. Awakens one's heart to its own innate love, compassion and acceptance. Vibrates its loving energy to all chakras, offering gentle healing. Soothing and calming. Dissolves anger and resentment. Good for raising one's self-esteem and feelings of self-worth. Balances emotions and is said to support all types of healing. Guides one's life path towards a sense of personal fulfilment and contentment.
NORWEGIAN MOONSTONE (aka Black Labradorite, Larvikite)
Repels negative energy and can make you more adaptable to life's situations. It also stimulates inner visions so it's very suited to meditation. Black Labradorite is also said to connect with nature spirits. On physical level, it is said to be good for renewing and maintaining vitality and youthfulness.
LAVA STONE
Stone of vitality, assertiveness and passion. Provides stability in times of change. Grounding and protective. Supports courage and decisiveness. Helps in finding one's 'life path'. Encourages personal development and growth.
Recently Viewed