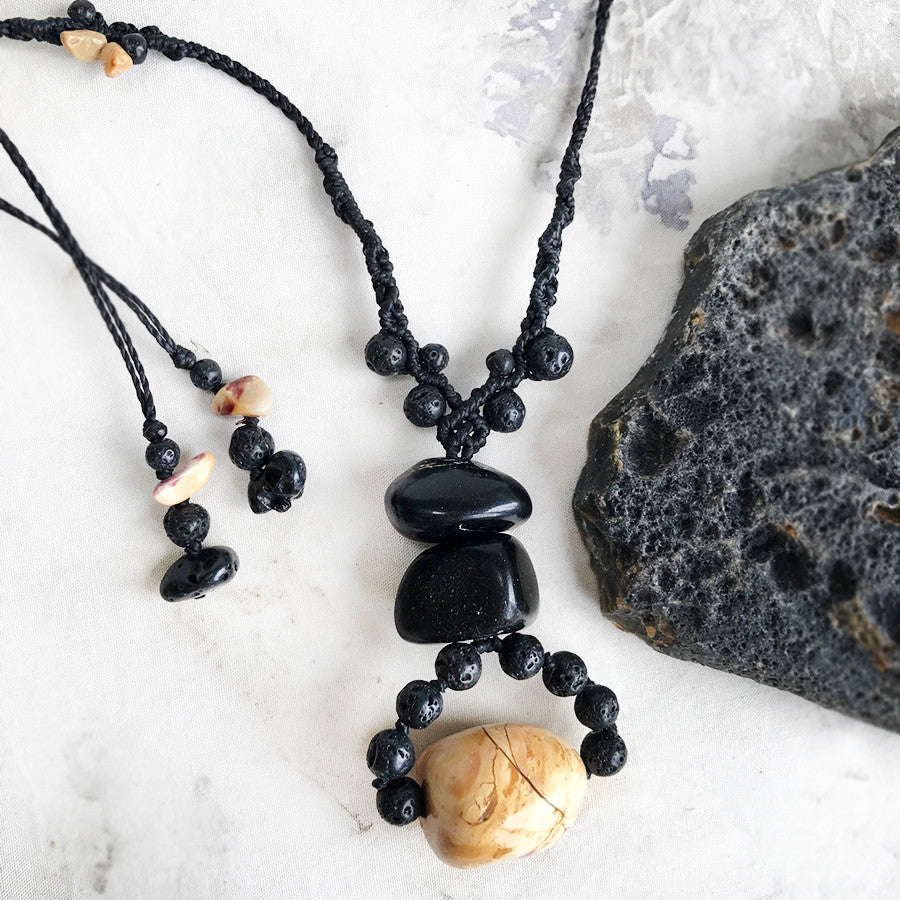 Crystal healing amulet with Jet, Mookaite & Lava Stone
DESCRIPTION
Crystal healing necklace combining the energies of Jet, Mookaite and Lava Stone. The necklace is minimally knotted and braided with black micro-macrame cord, very strong and durable, yet soft and comfortable to wear. There's also a small floret of small matching crystals adorning one side of the necklace braid.
The length of the necklace is adjustable from very short down to solar plexus level. The pendant is approx. 5.5 cm (2.2") tall from the top of the first Jet pebble down to the base of the Mookaite. The Mookaite is just over 2 cm (0.8") wide.
There are no metals in this necklace so would be particularly suitable for those with metal sensitivities, energy workers and those who simply prefer not to wear metal.
You'll receive this crystal healing necklace in one of my fabric draw-string pouches, great for the safe-keeping of the necklace. Gift-wrapped at no extra charge.

Read here how to take care of your crystal jewellery.
CRYSTAL PROPERTIES
JET
Stone of protection and purification, helping to keep negativity at bay. Often used to stabilise finances and protect businesses, but also as a shield against psychic attacks and removing energetic attachments. Assists in spiritual advancement and the rise of kundalini energy. Enlists the help of Earth energy in manifesting one's desires. Calming for those battling with difficulties. Comforting stone, mood-balancing, easing anxiety and fears. Increases self-reliance and helps in the process of life changes.
MOOKAITE
Brings balance and clarity, flexibility and openness. It provides strength in negative situations and assists in being kind to self. Heightens one's intuition in order to know which direction to take in any given situation. Helps you to stay in the Now moment. Highly supportive for one's energy field, offering subtle yet constant harmony. Mookaite is said to slow the ageing process and to give relief in areas of geopathic stress. It's also a great manifestation crystal.
LAVA STONE
Stone of vitality, assertiveness and passion. Provides stability in times of change. Grounding and protective. Supports courage and decisiveness. Helps in finding one's 'life path'. Encourages personal development and growth.
Recently Viewed