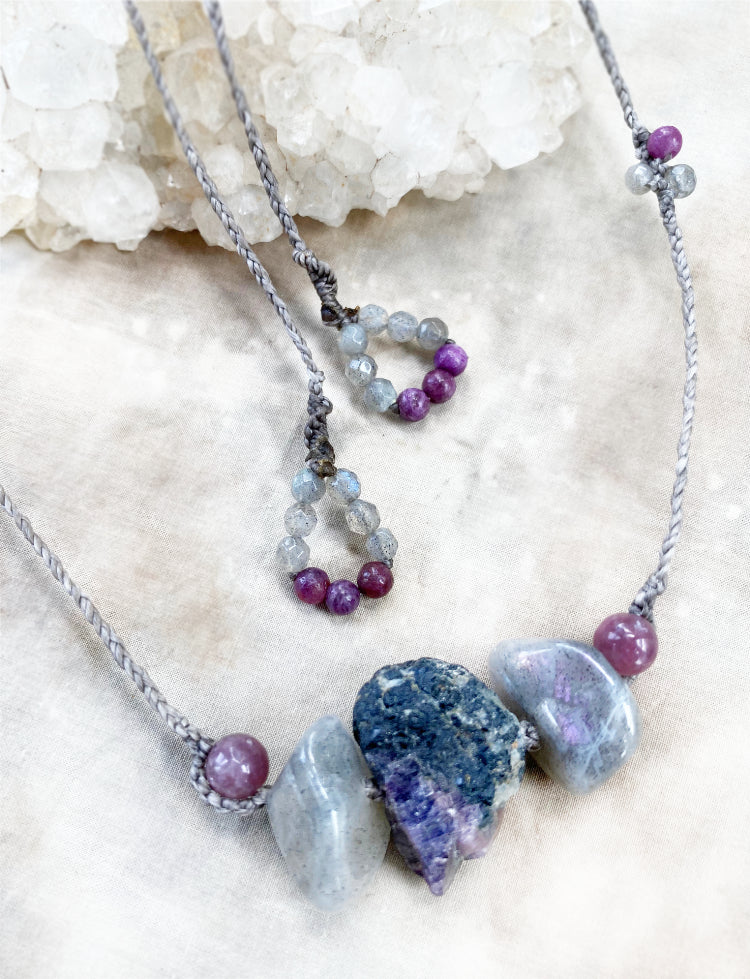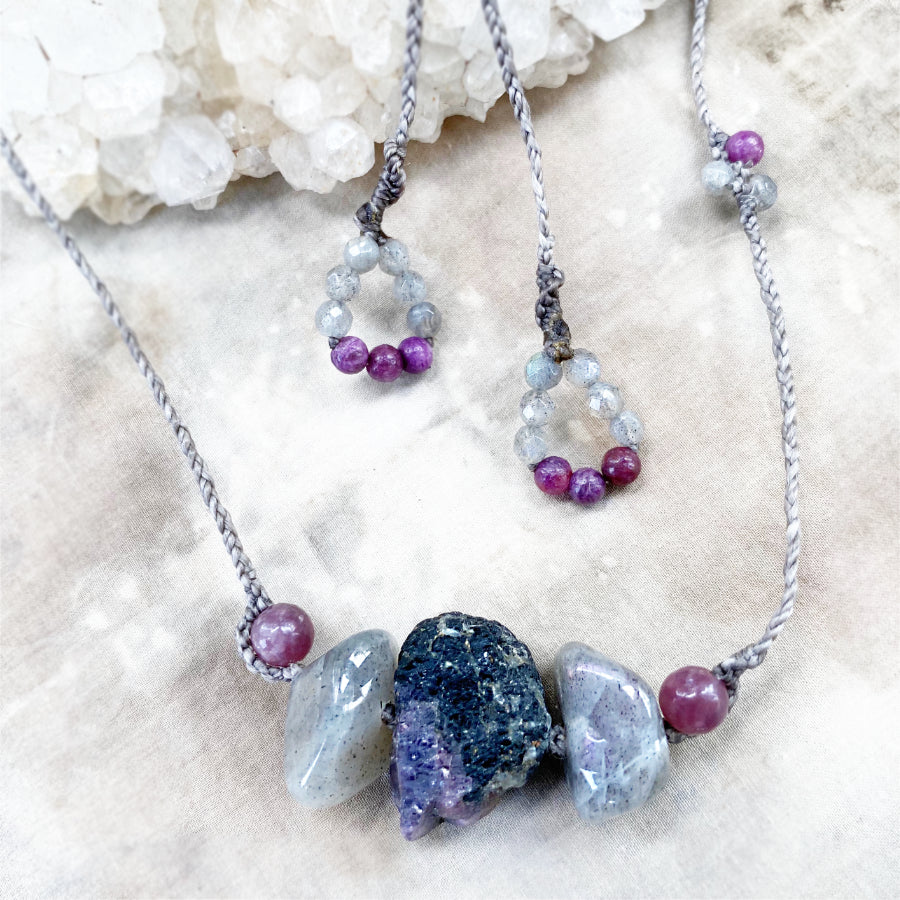 Crystal healing amulet with Labradorite, raw Sapphire & Lepidolite
DESCRIPTION
Crystal healing amulet in a minimal style, with Labradorite, raw Sapphire and Lepidolite. The necklace is a simple braid in grey micro-macrame cord. There is a small crystal floret of Labradorite and Lepidolite adorning one side of the necklace braid.
The necklace length is adjustable from as short as you wish down to just above heart level, so slightly shorter adjustment range than other Spirit Carrier amulets as this would look best worn at shorter length. The row of crystals measures approx. 5 cm (2") wide and the Sapphire in its longest measurement is approx. 2.5 cm (1").
You'll receive this crystal healing necklace in one of my handmade fabric draw-string pouches - great for the safe-keeping of the necklace. Gift-wrapped at no extra charge.

Read here how to take care of your crystal jewellery.
CRYSTAL PROPERTIES
SAPPHIRE
A stone of psychic activation, enhances insight and focus. Helps the throat and third eye chakras to work in unison to strengthen and express one's inner vision. Grounds higher knowledge and helps one to stay centred. Evokes the wisdom needed to see past any situation into the underlying truth. Helpful in channeling healing energy from the highest source, facilitating access to deeper levels of consciousness. (Sapphire is one of the four 'precious' gemstones, the other three being Ruby, Emerald & Diamond. Other gemstones are considered 'semi-precious'.)
LABRADORITE
One of the most powerful, versatile crystal tools for healing. Creates an auric shield and strengthens your innate energy and life force, preventing energy leakages. Enhances intuitive abilities and assists in spiritual transformation. Helps the wearer align with their highest destiny and discover their inner worth. Strengthens willpower and brings in new ideas. Often referred to as the 'Stone of Destiny', believed to help you to find your true path in life, and as 'Temple of the Stars', anchoring higher dimensional light into your being.
LEPIDOLITE
An open, inviting stone, offering its gentle love readily when you just hold it in your hand. Useful in reducing depression and stress, it can assist in moving calmly through life transitions. In crystal healing practice, Lepidolite has been used to ease emotional traumas, panic attacks and addictions. Lepidolite is said to help you to nurture yourself and be optimistic, and to clear out ties to the past, assisting you in moving freely forward in joy and happiness.
Recently Viewed