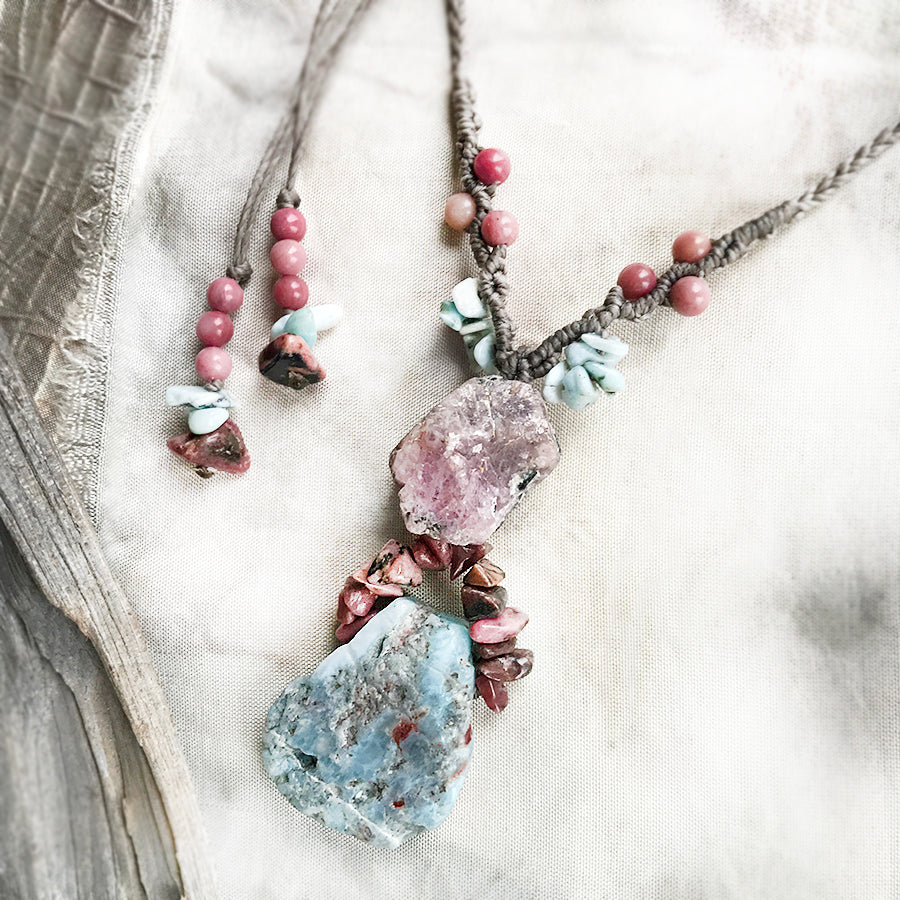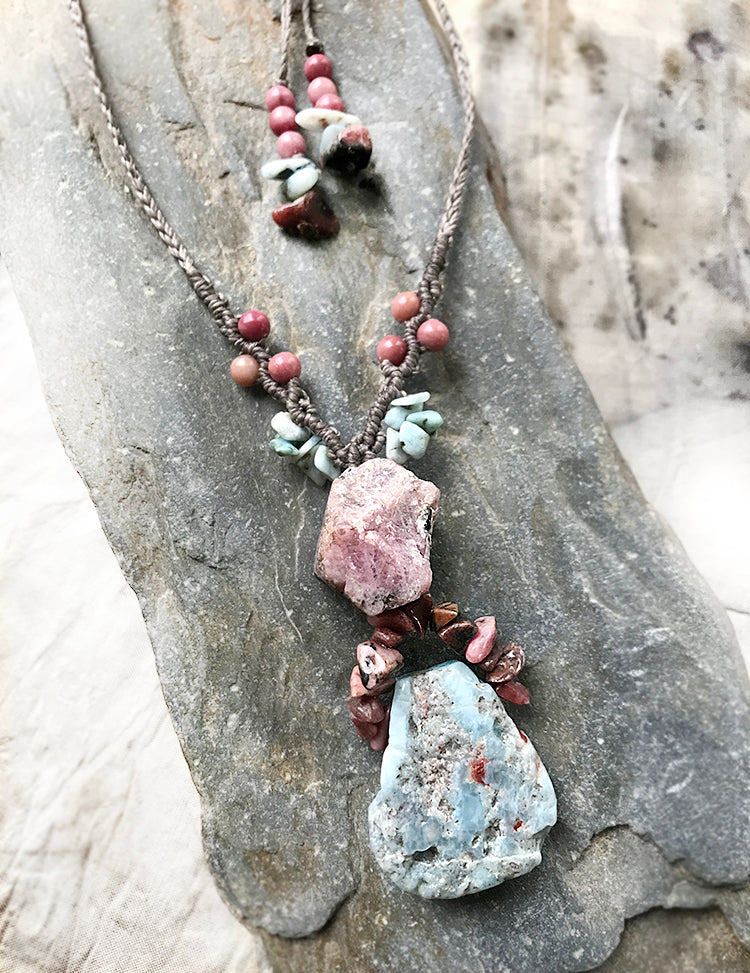 Crystal healing amulet with Larimar, Ruby & Rhodonite
DESCRIPTION
Crystal healing necklace with a small but beautiful slice of natural Larimar, paired with raw Ruby. Although the surface in both is mostly polished, the edges retain a rough organic feel. The necklace is knotted with warm grey micro-macrame cord, and highlighted with Rhodonite and further small Larimar crystals. The ends of the adjustable necklace cords are also adorned with matching crystals.
The length of the necklace is adjustable from very short down to solar plexus level. Measured from the top edge of the Ruby to the base of the Larimar, the pendant length is just under 6 cm (2.4"). The Larimar is just over 2.5 cm (1") tall.
There are no metals in this necklace so would be particularly suitable for those with metal sensitivities, energy workers and those who simply prefer not to wear metal.
You'll receive this crystal healing necklace in one of my fabric draw-string pouches, great for the safe-keeping of the necklace. Gift-wrapped at no extra charge.

Read here how to take care of your crystal jewellery.
CRYSTAL PROPERTIES
LARIMAR
A relatively rare stone, only found in the Dominican Republic. In crystal lore it is associated with the ancient civilization on Lemuria, and also sometimes called a "Dolphin Stone". Larimar is soothing and uplifting, bringing tranquility into heart and mind. It is said to support self-expression, creativity and patience.
RUBY
Increases vitality and one's life-force energy, Very energising, excellent for women. Promotes clear mind, motivation and concentration. Associated with love, passionate commitment and heart-based closeness, offering help in shedding past hurts. Encourages you to 'follow your bliss' and have courageous attitude. Supports closeness and commitment. Shielding crystal to keep your energy field in your own command. (Ruby is one of the four 'precious' gemstones, the other three being Emerald, Sapphire & Diamond. Other gemstones are considered 'semi-precious'.)
RHODONITE
Known for its capacity to bring emotional healing, releasing blockages in the heart chakra. Balances emotions during chaotic times. Restores calm after emotional upheavals. Beneficial for the harmony of close relationships. A beautiful stone specifically for discovering one's inner gifts and can act as a catalyst for fulfilling one's life purpose. Stone of self-confidence that supports you in trusting your own heart.
Recently Viewed