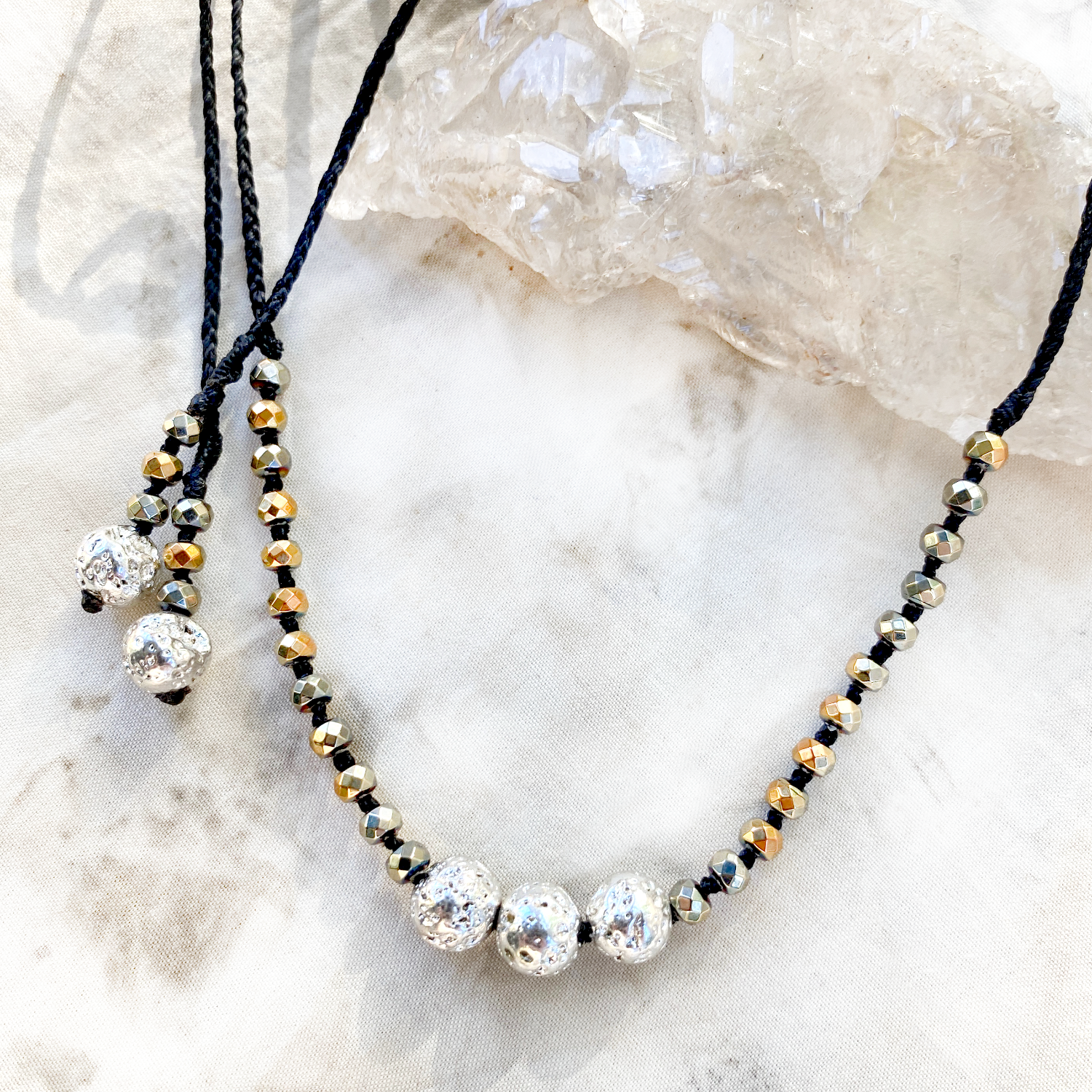 Crystal healing amulet with Lava Stone & Hematite
DESCRIPTION
Stylish, sparkly crystal energy necklace with silver-plated Lava Stones and Hematite. This necklace is minimally braided with black micro-macrame cord, very strong and durable, yet soft and comfortable to wear. This would make a perfect crystal energy companion for those who prefer a more minimalistic style or who need to wear more understated jewellery for example in some work environments. Yet due to the shimmery sparkle, this necklace could easily accessorise some festive evening wear too.
The length of the necklace is adjustable from as short as you wish to approx. 62 cm (24.5") all around length. The three Lava Stones in the middle have a combined width of 2.5 cm (1") and the beaded line of crystals is a total of 14 cm (5.5").
You'll receive this crystal healing necklace in one of Spirit Carrier's fabric draw-string pouches, great for the safe-keeping of the necklace. Gift-wrapped at no extra charge.

Read here how to take care of your crystal jewellery.
CRYSTAL PROPERTIES
LAVA STONE
Stone of vitality, assertiveness and passion. Provides stability in times of change. Grounding and protective. Supports courage and decisiveness. Helps in finding one's 'life path'. Encourages personal development and growth.
HEMATITE
Creates a strong sense of self and enhances the creative flow. Relieves stress. Revitalises, enhancing personal magnetism and optimism. Helps in releasing self-imposed limitations to find your own unique gifts. A stone of balance and equilibrium. Grounds when feeling scattered, allows one to maintain a natural alertness while remaining calm.
Recently Viewed