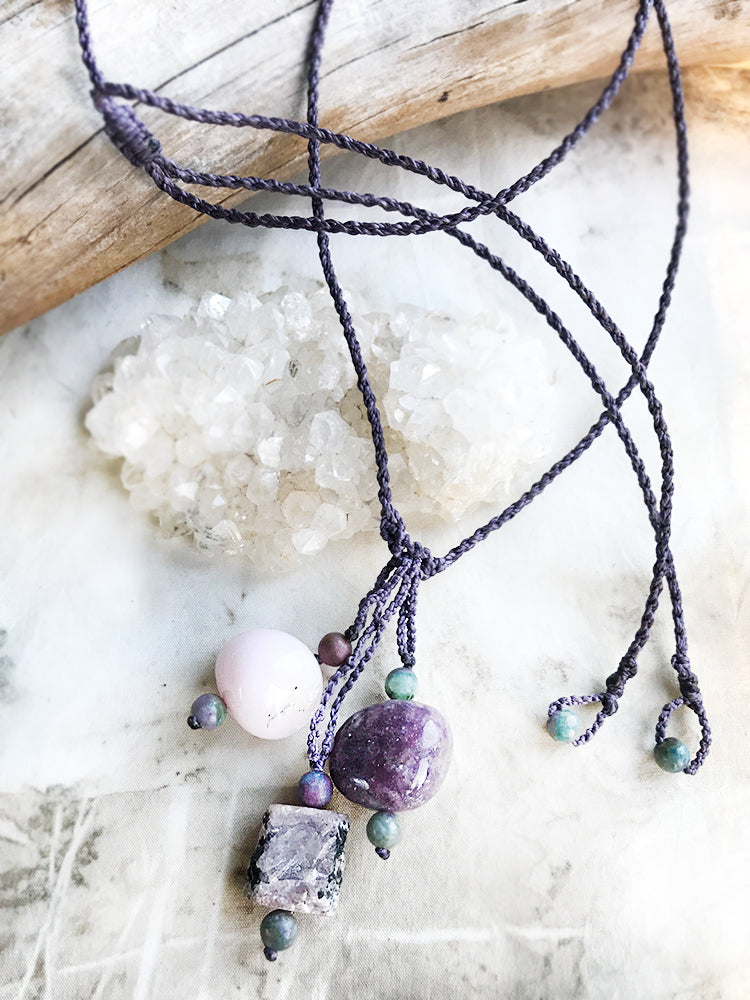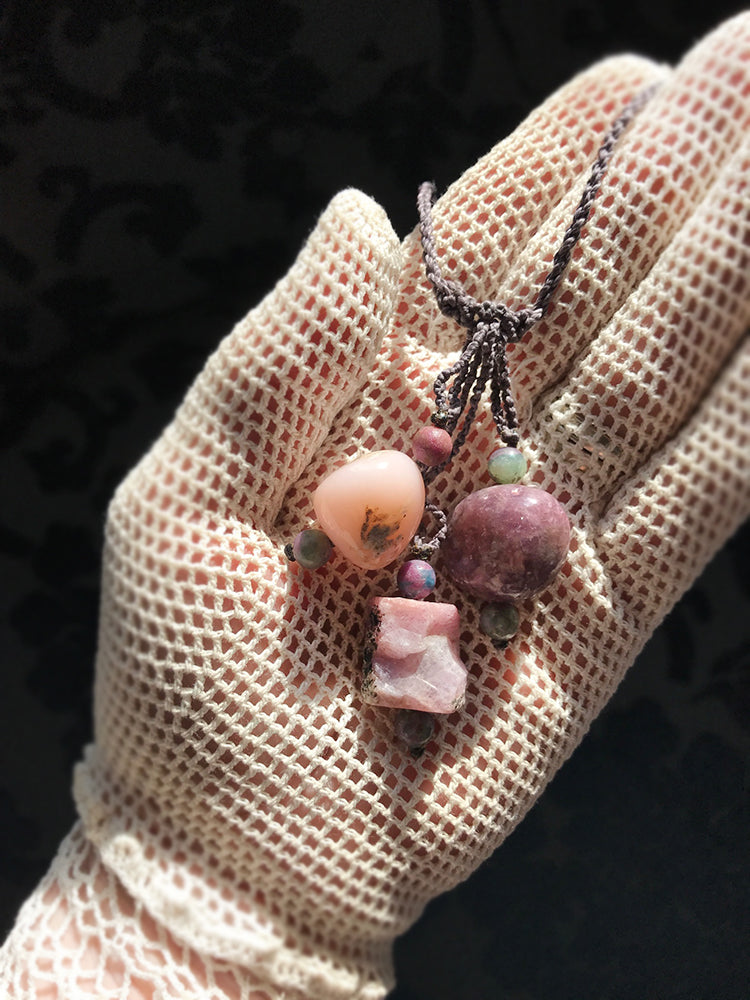 Crystal healing amulet with Lepidolite, Ruby & Peruvian Pink Opal
DESCRIPTION
Crystal healing necklace combining the energies of Lepidolite, Ruby, Peruvian Pink Opal and Ruby in Apatite. The necklace is minimally braided with muted purple micro-macrame cord, very strong and durable, yet soft and comfortable to wear. The ends of the adjustable necklace cords are decorated with Ruby in Apatite. 
The length of the necklace is adjustable from very short down to solar plexus level. The three crystal strands hang down approx. 6 cm (2.4"). The middle strand with the raw Ruby in is the longest, with a drop length of 7 cm (2.75"). Both the Ledipolite and the Pink Opal are approx. 2 cm (0.8") in their longest dimension, the Ruby is slightly smaller.
There are no metals in this necklace so would be particularly suitable for those with metal sensitivities, energy workers and those who simply prefer not to wear metal.
You'll receive this crystal healing necklace in one of my fabric draw-string pouches, great for the safe-keeping of the necklace. Gift-wrapped at no extra charge.

Read here how to take care of your crystal jewellery.
CRYSTAL PROPERTIES
LEPIDOLITE
An open, inviting stone, offering its gentle love readily when you just hold it in your hand. Useful in reducing depression and stress, it can assist in moving calmly through life transitions. In crystal healing practice, Lepidolite has been used to ease emotional traumas, panic attacks and addictions. Lepidolite is said to help you to nurture yourself and be optimistic, and to clear out ties to the past, assisting you in moving freely forward in joy and happiness.
PERUVIAN PINK OPAL
Stone of peace and tranquility for one's aura. Helps in healing painful memories. Stone of hope and renewal. A good stone to help inner healing on the emotional, physical and intellectual levels. Cleanses and purifies mind and heart.
RUBY
Increases vitality and one's life-force energy, Very energising, excellent for women. Promotes clear mind, motivation and concentration. Associated with love, passionate commitment and heart-based closeness, offering help in shedding past hurts. Encourages you to 'follow your bliss' and have courageous attitude. Supports closeness and commitment. Shielding crystal to keep your energy field in your own command. (Ruby is one of the four 'precious' gemstones, the other three being Emerald, Sapphire & Diamond. Other gemstones are considered 'semi-precious'.)
RUBY IN APATITE
Ruby encourages you to 'follow your bliss' and have courageous attitude. It increases vitality and one's life-force energy. Promotes clear mind, motivation and concentration. Apatite enhances one's insight and imagination, and gives increased self-confidence. Blue Apatite connects to high level of spiritual guidance and is helpful in letting go of anything that no longer serves your highest good.
Recently Viewed