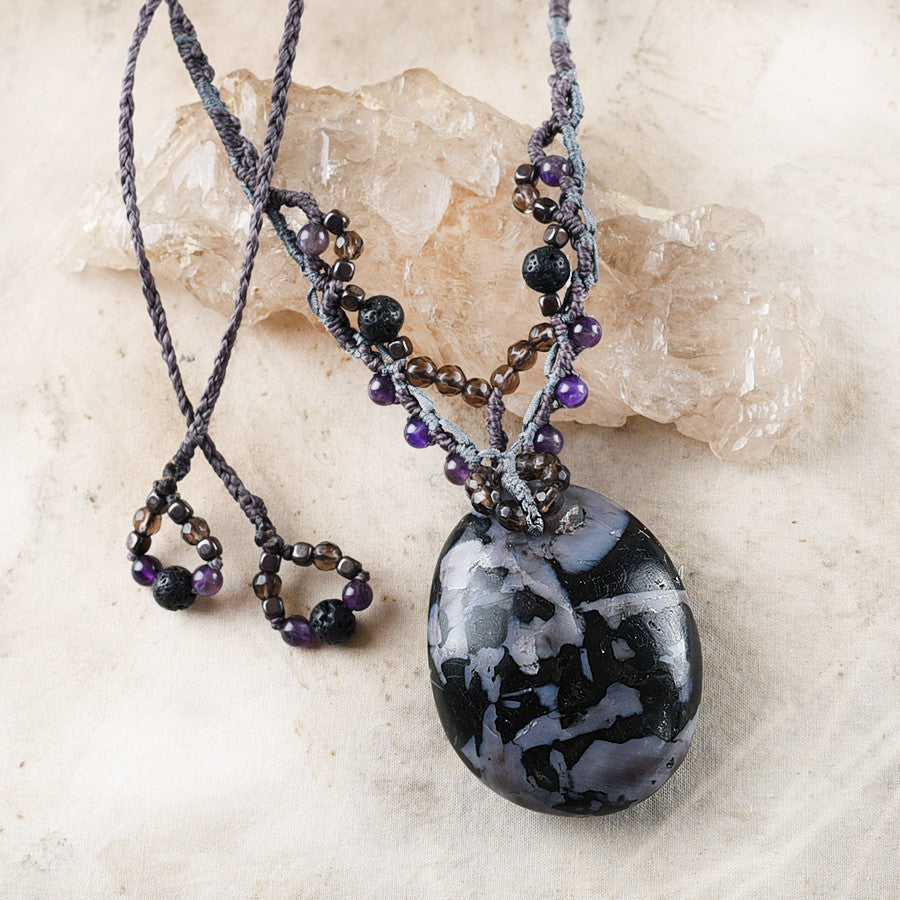 Crystal healing amulet with Mystic Merlinite
DESCRIPTION
Crystal healing amulet with a smooth oval shaped Mystic Merlinite, quite a recent find from Madagascar. This stone displays natural swirly patterns in black and greyish purple including some golden sheen light flash when turned at a certain angle. The necklace is knotted with muted purple micro-macrame cord combined with smokey blue silk ribbon. The knotting is highlighted with Amethyst, Smokey Quartz, Lava Stone and Hematite crystals.
The length of the necklace is adjustable from very short down to solar plexus level. The Mystic Merlinite is approx. 4.5 cm (1.8") tall, approx. 3.5 cm (1.4") at its widest and 1.5 cm (0.4") thick.
You'll receive this crystal healing necklace in one of my fabric draw-string pouches, great for the safe-keeping of the necklace. Gift-wrapped at no extra charge.
Read here about how to take care of your natural crystal jewellery.
CRYSTAL PROPERTIES
MYSTIC MERLINITE
Stone of spiritual understanding. Connects with the higher dimensions, increasing intuition. Particularly beneficial for developing psychic abilities of clairvoyance, clairaudience and clairsentience. Connects the base chakra with the third eye and crown for strong energetic alignment. Can aid with past life recall and shamanic soul retrieval as well as in recognising one's unique talents and gifts.
SMOKEY QUARTZ
A grounding and calming stone that elevates moods and dissipates negative emotions. "A Stone of Serenity", it is comforting and protective for one's aura. Smokey Quartz is thought to assist in creative endeavours and also in setting personal boundaries. Offers protection against electromagnetic rays. A good healing stone for improving general feeling of well-being. Relieves anxiety and worry, wards off confusion. Shielding crystal to create a calm, safe environment.
AMETHYST
Instils inner peace, promotes self-discovery and aids in relaxation. Associated with the crown chakra, known as a "stone of balance" and positive transformation. Thought to increase spiritual awareness and psychic abilities, initiating higher knowing and greater understanding. Helps in assimilating new ideas and manifesting thoughts into action. Symbolises a connection to the Divine. A well-known support stone for those wanting to break old patterns to create a new, harmonious life.
HEMATITE
Creates a strong sense of self and enhances the creative flow. Relieves stress. Revitalises, enhancing personal magnetism and optimism. Helps in releasing self-imposed limitations to find your own unique gifts. A stone of balance and equilibrium. Grounds when feeling scattered, increases alertness and vigilance.
LAVA STONE
Stone of vitality, assertiveness and passion. Provides stability in times of change. Grounding and protective. Supports courage and decisiveness. Helps in finding one's 'life path'. Encourages personal development and growth.
Recently Viewed