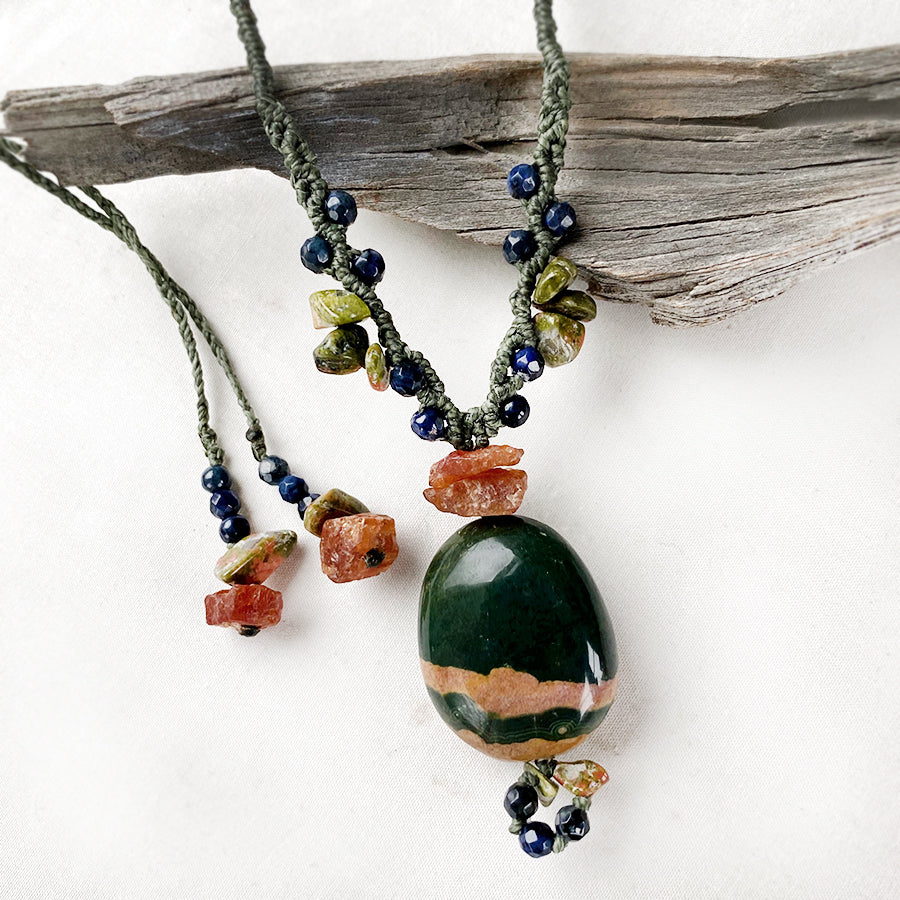 Crystal healing amulet with Ocean Jasper, Unakite, Spessartine Garnet & Sodalite
DESCRIPTION
Crystal healing amulet with a smooth oval of Ocean Jasper, in tones of dark green and earthy yellow. The accent crystals are Spessartine Garnet, Unakite and Sodalite. The necklace is braided with forest green micro-macrame cord, which is strong and durable, yet soft and comfortable to wear. The ends of the adjustable necklace cords decorated with matching crystals.
The length of the necklace is adjustable from as short as you wish down to solar plexus level. From the top of the Spessartine Ganert down to the base of the small Sodalite, the pendant drop is approx. 4.5 cm (1.8") tall. The Ocean Jasper is approx. 3 cm (1.2") tall.
There are no metals in this necklace so would be particularly suitable for those with metal sensitivities, energy workers and those who simply prefer not to wear metal.
You'll receive this crystal healing necklace in one of my fabric draw-string pouches, great for the safe-keeping of the necklace. Gift-wrapped at no extra charge.

Read here how to take care of your crystal jewellery.
CRYSTAL PROPERTIES
OCEAN JASPER
Deep reaching healing stone, assists in seeing the past in a new light in order to create a future filled with joy and happiness. Known as the 'Atlantis stone'. Helps elevate mood and dispel stress-related energies. Ignites feelings of self-worth. Increases patience, elevates mood, releasing old hurts. Works with solar plexus, heart and throat chakras, aligning you with your own personal power.
SPESSARTINE GARNET
Elevates mood and allows experiences of 'emotional sunshine' into one's life, thus making life more fulfilling. Helps in overcoming the fear of new experiences, encouraging you to live more spontaneously. Balances and vitalises the sacral chakra, supporting creative pursuits and intuition.
UNAKITE
Emotionally healing, encouraging loving self-acceptance. Clears energy blockages from past hidden emotions, allowing you to radiate love openly, thus attracting love from others. Peaceful stone of connection that encourages harmonious partnerships. Also excellent stone for protecting from electromagnetic fog.
SODALITE
Aids the development of psychic abilities and intuition, accelerating the process. Stimulates latent creative abilities. Supportive for public speaking. May open up insights relating to communication and one's inner truths, as well as assisting in living up to one's ideals. Supports building self-esteem. Thought to help as a shield against EMF.
Recently Viewed