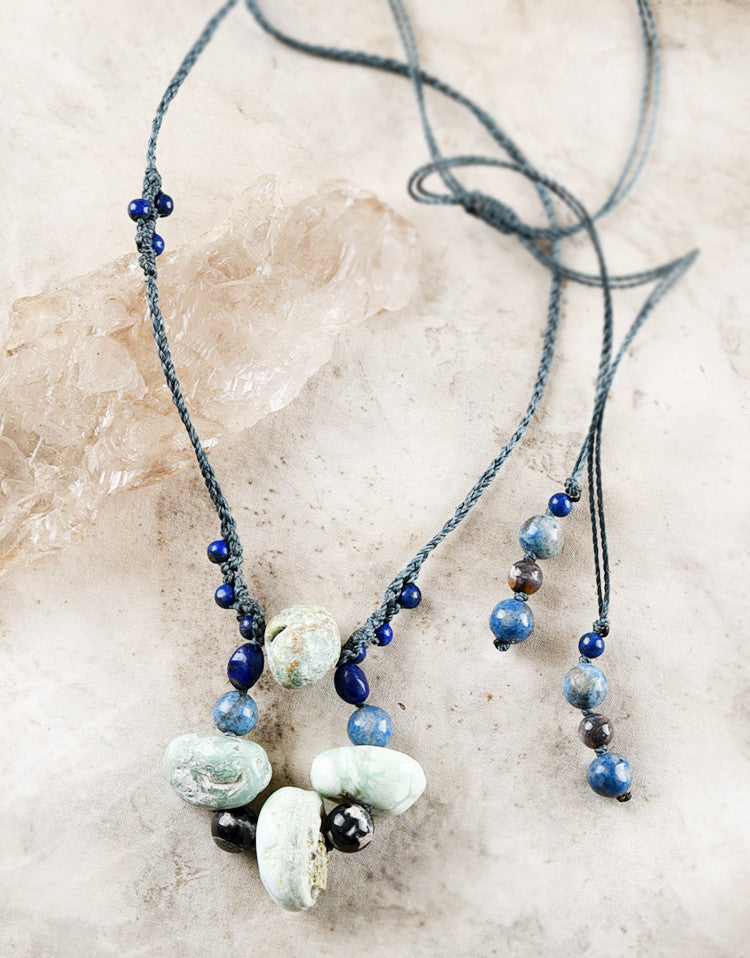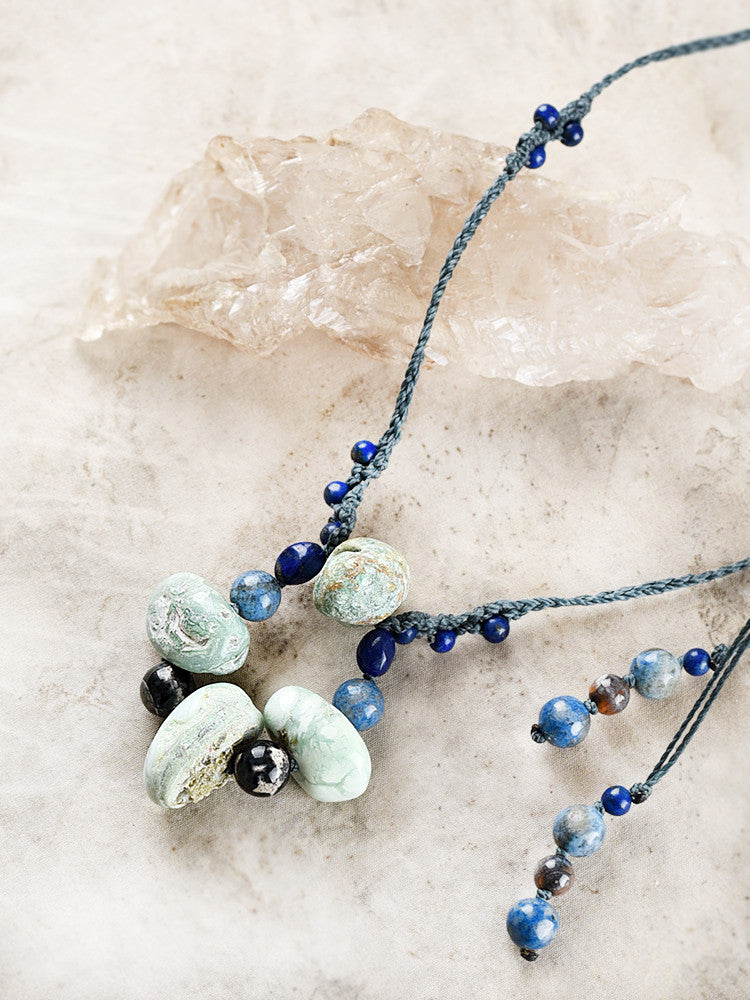 Crystal healing amulet with Opal, Apatite, Lapis Lazuli & black Fire Agate
DESCRIPTION
Crystal healing necklace combining the energies of green Opal, Apatite, Lapis Lazuli (including Denim Lapis, a lighter shade of blue) and black Fire Agate. The necklace is minimally knotted with petrol blue micro-macrame cord. The ends of the adjustable necklace cords are decorated with Apatite, Denim Lapis and black Fire Agate. There is also a decorative detail of three small Apatite crystals on the left side of the necklace braid.
The length of the necklace is adjustable from very short down to solar plexus level. The circular pendant from the edge of the topmost Opal to the base of the lowest Opal is approx. 5 cm (2") tall and 4.5 cm (1.8") wide horizontally.
There are no metals in this necklace so would be particularly suitable for those with metal sensitivities, energy workers and those who simply prefer not to wear metal.
You'll receive this crystal healing necklace in one of my fabric draw-string pouches, great for the safe-keeping of the necklace. Gift-wrapped at no extra charge.
Read here about how to take care of your natural crystal jewellery.
CRYSTAL PROPERTIES
GREEN OPAL
Cleansing and rejuvenating heart-centred stone, helping one to recover from exhaustion quicker. Guides its keeper to more spiritual perspective about life and its meaning. Strengthens one's resilience to outside influences. Helps in unburdening the heart, activating energies for healthy relationships and abundance.
APATITE
Enhances one's insight and imagination, and gives increased self-confidence. Blue Apatite connects to high level of spiritual guidance and is helpful in letting go of anything that no longer serves your highest good. Apatite crystal is also said to be a good aid in curbing one's appetite!
FIRE AGATE
Assists in taking decisive action in unclear situations. Connects with one's inner courage to go after one's goals. Helpful in overcoming creative blocks of any kinds. Promotes inner stability. Forms a protective auric shield. Grounding and revitalising.  It can alleviate the emotional charge in problems, and enhances all healing energies. Helps you to tap into your own perfection.
LAPIS LAZULI
Creativity super charger stone. Ignites new ideas and encourages different creative ways of thinking. Stone of truthfulness, openness, inner power, intuition and manifestation. Thought to increase self-confidence as well as to promote spiritual healing, mental calmness and strength of will. Powerful tool for dream work. Historically a stone of royalty.
Recently Viewed