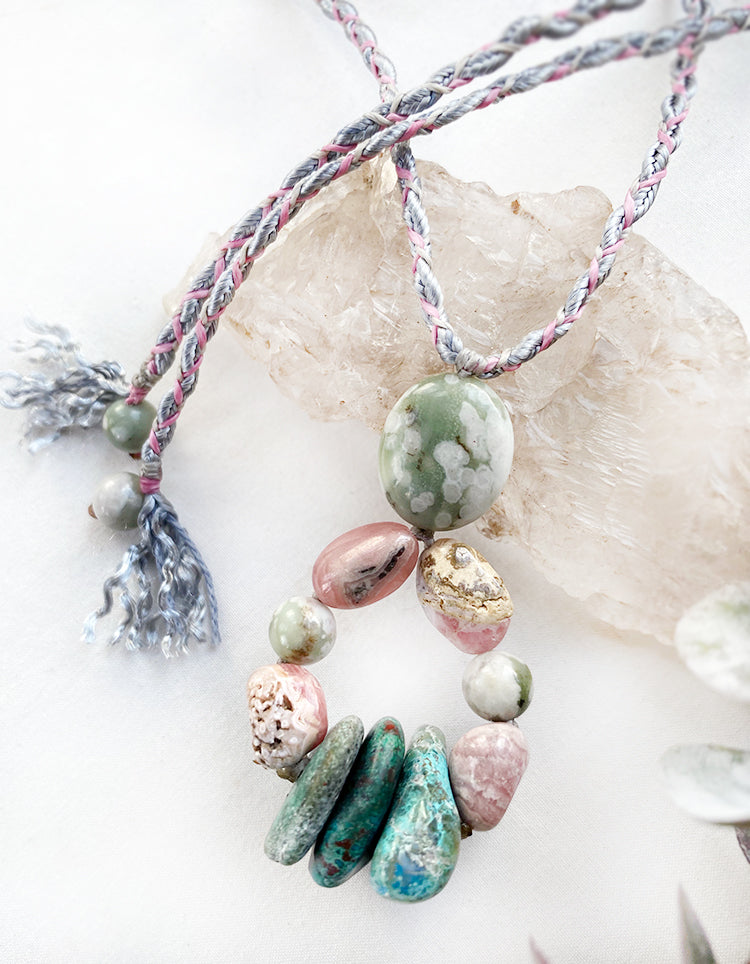 Crystal healing amulet with Peace Jade, Rhodochrosite & Chrysocolla
DESCRIPTION
Crystal healing talisman combining the energies of Peace Jade, Rhodochrosite and Chrysocolla. The minimal necklace braid includes silver tone woven cord with light grey and pink micro-macrame cords, allowing the pendant crystals to take centre stage. The ends of the adjustable necklace braids are decorated with Peace Jade. This necklace has a calm, heart-healing energy, bringing strength and courage in trying times.
The necklace has a knotted channel through which you can pull the braided cords so you can have the pendant hang at your desired level. The crystal combination from the top of the highest Peace Jade to the base of the lowest Chrysocolla is approx. 6 cm (2.4") tall. 
There are no metals in this necklace so would be particularly suitable for those with metal sensitivities, energy workers and those who simply prefer not to wear metal.
You'll receive this crystal healing necklace in one of my fabric draw-string pouches, great for the safe-keeping of the necklace. Gift-wrapped at no extra charge.

Read here how to take care of your crystal jewellery.
CRYSTAL PROPERTIES
PEACE JADE
Pure, intensely peaceful vibe which can be easily felt when just holding this stone. Releases internalised stress, allowing you feel serene and in alignment with your core self. Calming when feeling emotionally overwhelmed. Guides you to take that "deep breath" of release to let go of tension and worry. Compassionate heart chakra stone that fills you with divine tranquility.
RHODOCHROSITE
A stone of deep emotional healing. Comforting and positive, strengthening feelings of self-love, self-worth and self-forgiveness. Supportive heart-healer stone for those who are grieving or might feel stuck in the process. Repairs damages to one's subtle energy bodies. Helps in recovering lost talents you might have given up on due to past hurts, in order to discover your true purpose in this life.
CHRYSOCOLLA
Stone of the Wise Woman, of feminine empowerment. Associated with tranquility and intuition. Brings out one's inner strength, releasing old hurts such as feelings of guilt. Heals heartaches and promotes confidence, sensitivity and motivation. Helps those in position of guiding or teaching others, to communicate their knowledge and experience lovingly to others. Excellent stone for emotional balance and creative endeavours.
Recently Viewed