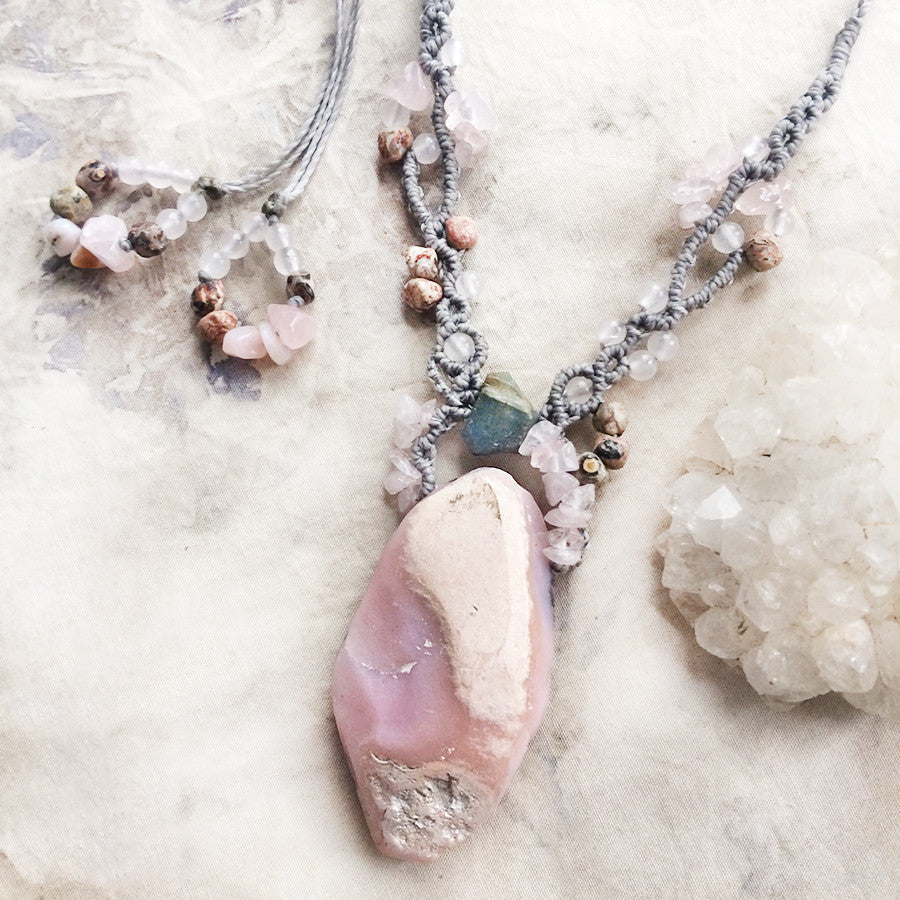 Crystal healing amulet with Peruvian Pink Opal & raw Sapphire
DESCRIPTION
Crystal healing necklace combining the energy of Peruvian Pink Opal, raw Sapphire, Leopardskin Jasper and Rose Quartz. The necklace is knotted with light grey micro-macrame cord, strong and durable yet soft and comfortable to wear. The ends of the adjustable necklace cords are decorated with Rose Quartz and Leopardskin Jasper.
The length of the necklace is adjustable from very short down to solar plexus level. The Opal is approx. 5.5 cm (2.2") tall and just over 3 cm (1.2") wide at its middle.
There are no metals in this necklace so would be particularly suitable for those with metal sensitivities, energy workers and those who simply prefer not to wear metal.
You'll receive this crystal healing necklace in one of my fabric draw-string pouches, great for the safe-keeping of the necklace. Gift-wrapped at no extra charge.

Read here how to take care of your crystal jewellery.
CRYSTAL PROPERTIES
PERUVIAN PINK OPAL
Stone of peace and tranquility for one's aura. Helps in healing painful memories. Stone of hope and renewal. A good stone to help inner healing on the emotional, physical and intellectual levels. Cleanses and purifies mind and heart.
SAPPHIRE
A stone of psychic activation, enhances insight and focus. Helps the throat and third eye chakras to work in unison to strengthen and express one's inner vision. Grounds higher knowledge and helps one to stay centred. Evokes the wisdom needed to see past any situation into the underlying truth. Helpful in channeling healing energy from the highest source, allowing access to deeper levels of consciousness. (Sapphire is one of the four 'precious' gemstones, the other three being Ruby, Emerald & Diamond. Other gemstones are considered 'semi-precious'.)
ROSE QUARTZ
Powerful love stone, love that is all-encompassing and unconditional. Awakens one's heart to its own innate love, compassion and acceptance. Vibrates its loving energy to all chakras, offering gentle healing. Soothing and calming. Dissolves anger and resentment. Good for raising one's self-esteem and feelings of self-worth. Balances emotions and is said to support all types of healing. Guide's one's life path towards a sense of personal fulfilment and contentment.
LEOPARDSKIN JASPER
Powerful protection stone, associated with strength and vitality. Facilitates self-healing and is very supportive and nurturing. Attracts harmonious vibrations to one's life. Brings tranquility and a feeling of wholeness.
Recently Viewed