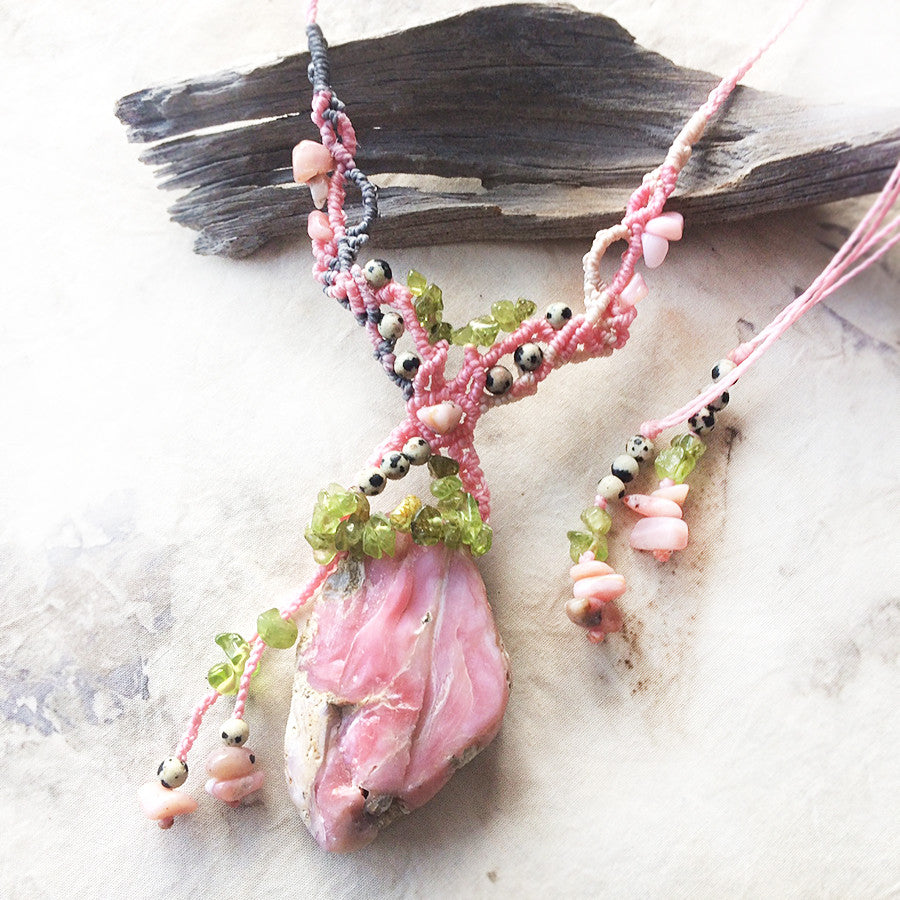 Crystal healing amulet with pink Peruvian Opal
DESCRIPTION
Crystal healing amulet with Peruvian Pink Opal, intricately knotted with mainly pink micro-macrame cord but with highlights of natural white and light grey also. The accent crystals within the knotwork are Peridot and Dalmatian Jasper. There are also two crystal strands with Peridot and Dalmatian Jasper dangling on one side of the pink Peruvian Opal.
The necklace length is adjustable from as short as you wish down to solar plexus level. The Peruvian Opal is just over 4.5 cm (1.8") tall and approx. 3 cm (1.2") at its widest.
You'll receive this crystal healing necklace in one of my handmade fabric draw-string pouches - great for the safe-keeping of the necklace. Gift-wrapped at no extra charge.
Read here about how to take care of your natural crystal jewellery.
CRYSTAL PROPERTIES
PERUVIAN PINK OPAL
Stone of peace and tranquility for one's aura. Helps in healing painful memories. Stone of hope and renewal. A good stone to help inner healing on the emotional, physical and intellectual levels. Cleanses and purifies mind and heart.
PERIDOT
Upbeat and comforting, Peridot reduces stress and amplifies intuitive awareness. Soothes hurt feelings, supporting renewal and personal growth. Brings in-depth heart based awareness, extending from healing to understanding and offering protection against negative emotions. Known also as the stone of prosperity and happiness.
DALMATIAN JASPER
Helps in removing barriers that prevent you from moving forward in life, and to discover your true purpose of being in the world. Brings joy and playfulness into one's life. The black spots in this stone are Black Tourmaline, which adds to this stone's protective qualities.
Recently Viewed