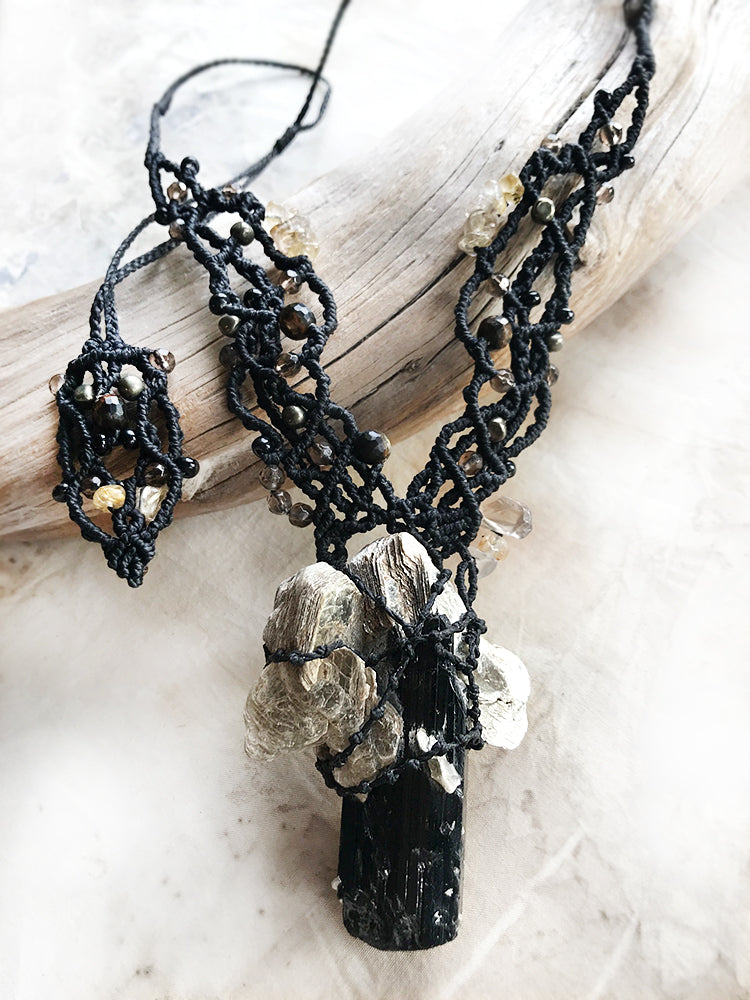 Crystal healing amulet with raw Black Tourmaline encrusted with Mica
DESCRIPTION
Extraordinary crystal healing energy - this is a raw, un-drilled Black Tourmaline naturally encrusted with shimmery layers of silvery Mica. This amulet has real presence, a luxurious majestic feel and certainly powerful protective crystal energy. The necklace is intricately knotted in a lace-like pattern with black micro-macrame cord which is strong and durable, yet soft to wear. The highlighting crystals are golden sheen Mica, Smokey Quartz, Pyrite, Gold Rutile Quartz and further small Black Tourmaline crystals. The necklace braids end in a decorative leaf-shaped knotwork highlighted with matching crystals - adding some crystal energy for the back too. This feature would be particularly fetching if worn with an open back dress.
The length of the necklace is adjustable from very short down to solar plexus level. The Black Tourmaline with Mica cluster is just over 6 cm (2.4") tall. The Black Tourmaline has a width and thickness of approx. 2 cm (0.8") and the width measured from the left edge of the Mica to its right edge is 5 cm (2"). The 'black lace' knotting extends upwards from the top of the crystal approx. 10 cm (3.9").
You'll receive this crystal healing necklace in a soft black velvet draw-string pouch, great for the safe-keeping of the necklace. Gift-wrapped at no extra charge.

Read here how to take care of your crystal jewellery.
CRYSTAL PROPERTIES
BLACK TOURMALINE
One of the most well-known protective stones, shielding its user from negativity. A shamanic stone used for grounding during vision quests. Empowering for those who work in challenging environments. Purifies and transforms denser energies into lighter vibrations and is also detoxifying for the body. If you're sensitive to electromagnetic smog, you may get relief by wearing black Tourmaline.
MICA
Uplifting mineral. Increases compassion towards others. A peace keeper that shields against anger and jealousy. Said to improve stamina and strength. Helps one to see situations for what they are, while staying heart-centred. Releases energetic blocks within the body and aligns chakras. Works in a light and joyous way while helping one to see what needs changing in one's outlook.
SMOKEY QUARTZ
A grounding and calming stone that elevates moods and dissipates negative emotions. "A Stone of Serenity", it is comforting and protective for one's aura. Smokey Quartz is thought to assist in creative endeavours and also in setting personal boundaries. Offers protection against electromagnetic rays. A good healing stone for improving general feeling of well-being. Relieves anxiety and worry, wards off confusion. Shielding crystal to create a calm, safe environment.
GOLD RUTILE QUARTZ
A master assistant in self-discovery, a companion in finding one's inner truth, purpose and destiny. Joyful and energising. Thought to offer protection against psychic attacks and helps in opening up to one's Divine strength. Assists in activating one's creativity and manifesting dreams into reality.
PYRITE
Taps into your innate abilities, bringing confidence and perseverance to aim for your goals. A shielding stone that helps you see the truth in the motives of others. Increases vitality and enhances your assertive qualities. Helpful in turning melancholy into feeling empowered and more light-hearted. Helps in letting go thoughts of misfortune and worry, thus making it an excellent stone for manifesting abundance. Symbolises the warmth and presence of sun, attracting also abundance of love, friendship and success.
Recently Viewed