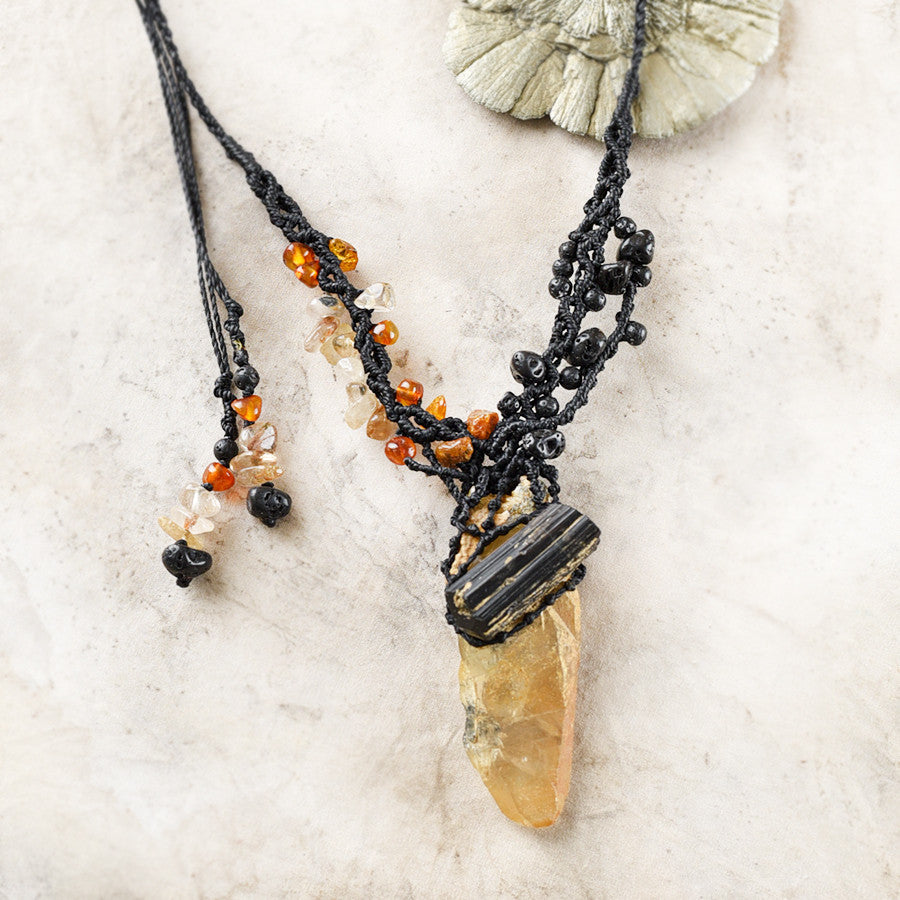 Crystal healing amulet with raw Golden Healer Quartz with Black Tourmaline
DESCRIPTION
Crystal healing necklace with a most unusual natural crystal. This is a raw and un-drilled Golden Healer Quartz with a naturally terminated, protruding Black Tourmaline on its surface. This intriguing stone is a pleasing shape, the Quartz being relatively flat, tapering towards its end and very much a tabular formation. Its companion, the Black Tourmaline has grown diagonally and its size is in perfect balance with its friend the Golden Healer. This luxurious necklace is intricately knotted with black micro-macrame cord, in an asymmetrical pattern on the left and right sides. The knotting is highlighted with Baltic Amber and Gold Rutile Quartz on one side and Lava Stone on the other.
The length of the necklace is adjustable from very short down to just above heart level. The Golden Healer is approx. 6 cm (1.4") tall and 2 cm (0.8") wide. The fiagonal Black Tourmaline is 2.5 cm (1") in width.
There are no metals in this necklace so would be particularly suitable for those with metal sensitivities, energy workers and those who simply prefer not to wear metal.
You'll receive this crystal healing necklace in one of my fabric draw-string pouches (pictured), great for the safe-keeping of the necklace. Gift-wrapped at no extra charge.
Read here about how to take care of your natural crystal jewellery.
CRYSTAL PROPERTIES
GOLDEN HEALER QUARTZ
Crystal of the Golden Ray, raising one's energy vibration / frequency. Facilitates spiritual communications across distances. A master healer that works multi-dimensionally. Strengthens the third chakra, uniting one's own will with divine will. Promotes a positive outlook on life.
BLACK TOURMALINE
One of the most well-known protective stones, shielding its user from negativity. A shamanic stone used for grounding during vision quests. Empowering for those who work in challenging environments. Purifies and transforms denser energies into lighter vibrations and is also detoxifying for the body. If you're sensitive to electromagnetic smog, you may get relief by wearing black Tourmaline.
GOLD RUTILE QUARTZ
A master assistant in self-discovery, a companion in finding one's inner truth, purpose and destiny. Joyful and energising. Thought to offer protection against psychic attacks and helps in opening up to one's Divine strength. Assists in activating one's creativity and manifesting dreams into reality.
LAVA STONE
Stone of vitality, assertiveness and passion. Provides stability in times of change. Grounding and protective. Supports courage and decisiveness. Helps in finding one's 'life path'. Encourages personal development and growth.
BALTIC AMBER
Amber is like sunshine solidified, offering a wonderful sense of health and wellbeing. Transmutes negative energies into positive, excellent for psychic protection. Cheers you up and helps you take action to make your ideas reality - ideal manifestation aid. Cleansing effect on the body, mind and spirit, promoting self-confidence and creative self-expression. Encourages spontaneity, patience and inner wisdom.
Recently Viewed