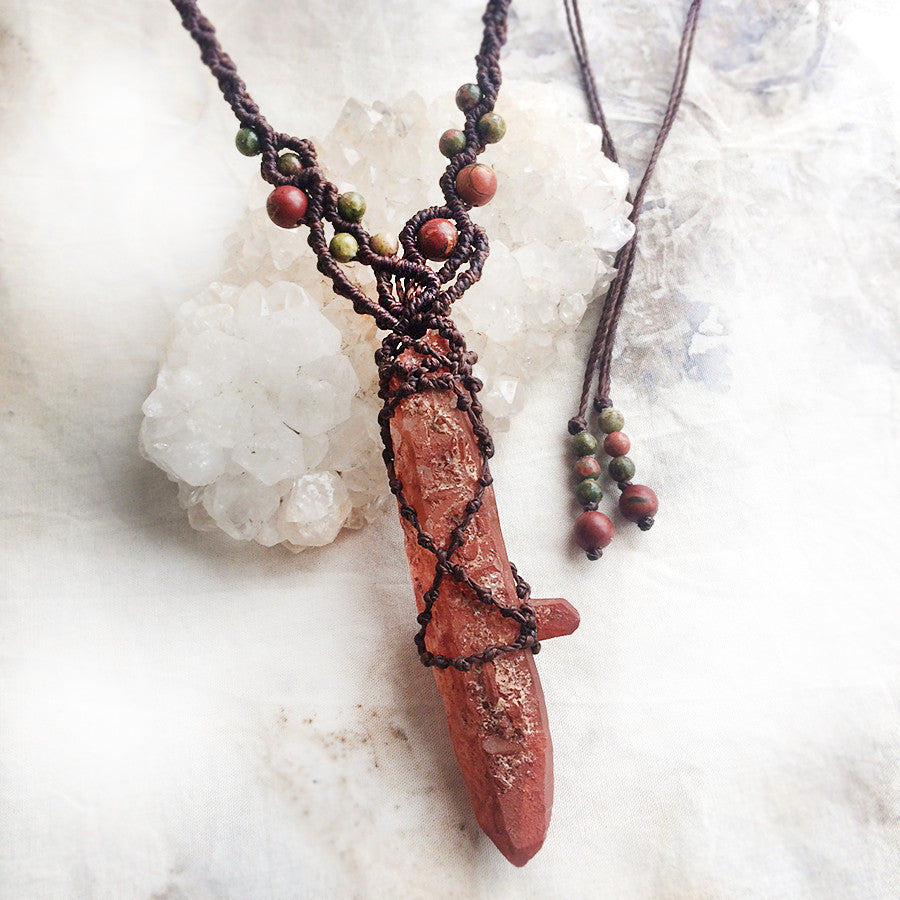 Crystal healing amulet with raw Hematoid Quartz point
DESCRIPTION
Crystal healing amulet with a natural, rough, un-drilled Hematite included Quartz point. The stem of this crystal also shows a smaller crystal point, horizontally fused into the larger crystal. The necklace is minimally braided with dark brown micro-macrame cord. The accent crystals within the slightly asymmetrical knotwork are Unakite and Picasso Jasper. The same crystals are also decorating the ends of the adjustable necklace cords.
The length of the necklace is adjustable from very short down to solar plexus level. The Hematoid Quartz point is approx. 7 cm (2.75") tall and just under 1.5 cm (0.6") wide at its middle.
There are no metals in this necklace so would be particularly suitable for those with metal sensitivities, energy workers and those who simply prefer not to wear metal.
You'll receive this crystal healing necklace in one of my fabric draw-string pouches, great for the safe-keeping of the necklace. Gift-wrapped at no extra charge.

Read here how to take care of your crystal jewellery.
CRYSTAL PROPERTIES
HEMATOID QUARTZ (Hematite included Quartz)
Supports self-esteem, self-confidence, courage and will power. Grounding and balancing energy, easing fears and worries. Highly protective, helps in maintaining your auric shield. Grounds higher spiritual energy into the body, enabling you better manifest your dreams into reality.
UNAKITE
Emotionally healing, encouraging loving self-acceptance. Clears energy blockages from past hidden emotions, allowing you to radiate love openly, thus attracting love from others. Peaceful stone of connection that encourages harmonious partnerships. Also excellent stone for protecting from electromagnetic fog.
PICASSO JASPER (also known as Cherry Creek Jasper)
A joyful, harmonious stone, said to effect transformations in the area of relationships, attracting like-minded people and loyal friends. Offers stability and balance in times of change. Releases blocks from the way of one's creativity. Encourages to celebrate life!
Recently Viewed