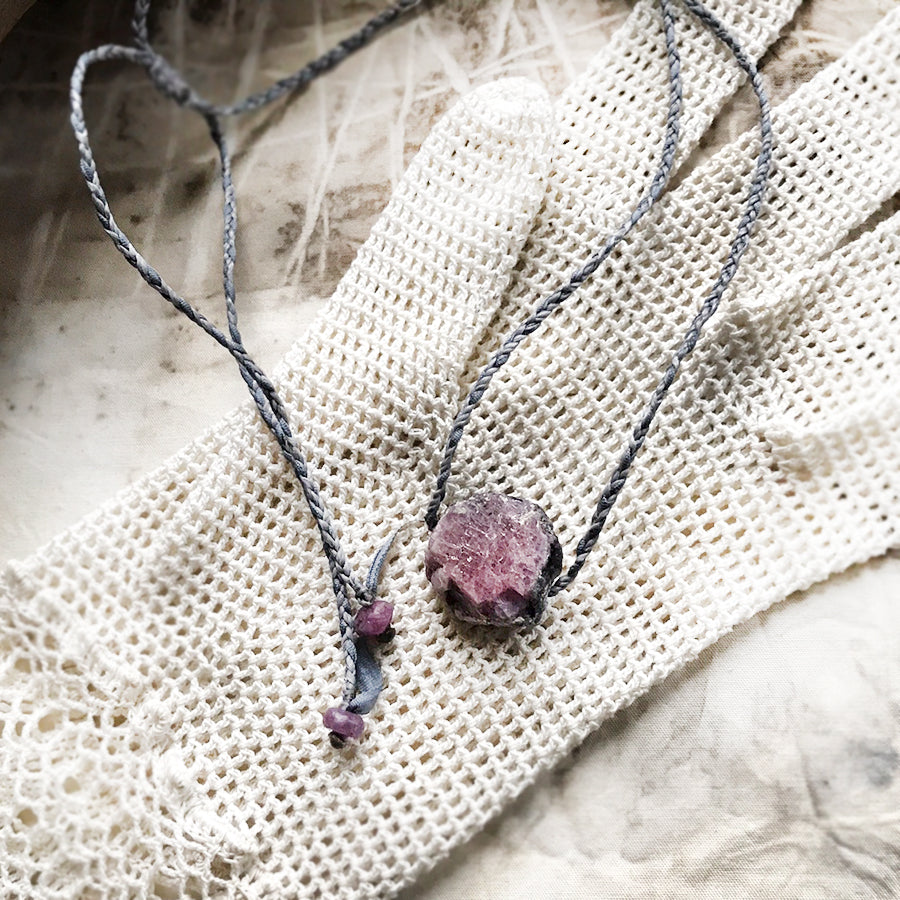 Crystal healing amulet with raw Ruby
DESCRIPTION
Minimal necklace with rough Ruby crystal. I have braided the necklace by hand, millimetre by millimetre with a combination of grey silk ribbon and grey micro-macrame cord. There is a small Ruby crystal also adorning each end of the adjustable necklace braid. This minimal style pendant necklace is for those who might like to wear crystal energy is a more subtle way but still without metals. This one can also easily be combined with other talismanic necklaces for an individual look.
The Ruby has a diameter of approx. 2 cm (0.8") and is approx. 1 cm (0.4") thick. The braid length can be adjusted from as short as you wish to approx. 60 cm (23.5") all-round length.
There are no metals in this necklace so would be particularly suitable for those with metal sensitivities, energy workers and those who simply prefer not to wear metal.
You'll receive this crystal healing necklace in a small embroidered sari silk draw-string pouch, great for the safe-keeping of the necklace. Gift-wrapped at no extra charge.

Read here how to take care of your crystal jewellery.
CRYSTAL PROPERTIES
RUBY
Increases vitality and one's life-force energy, Very energising, excellent for women. Promotes clear mind, motivation and concentration. Associated with love, passionate commitment and heart-based closeness, offering help in shedding past hurts. Encourages you to 'follow your bliss' and have courageous attitude. Supports closeness and commitment. Shielding crystal to keep your energy field in your own command. (Ruby is one of the four 'precious' gemstones, the other three being Emerald, Sapphire & Diamond. Other gemstones are considered 'semi-precious'.)
Recently Viewed