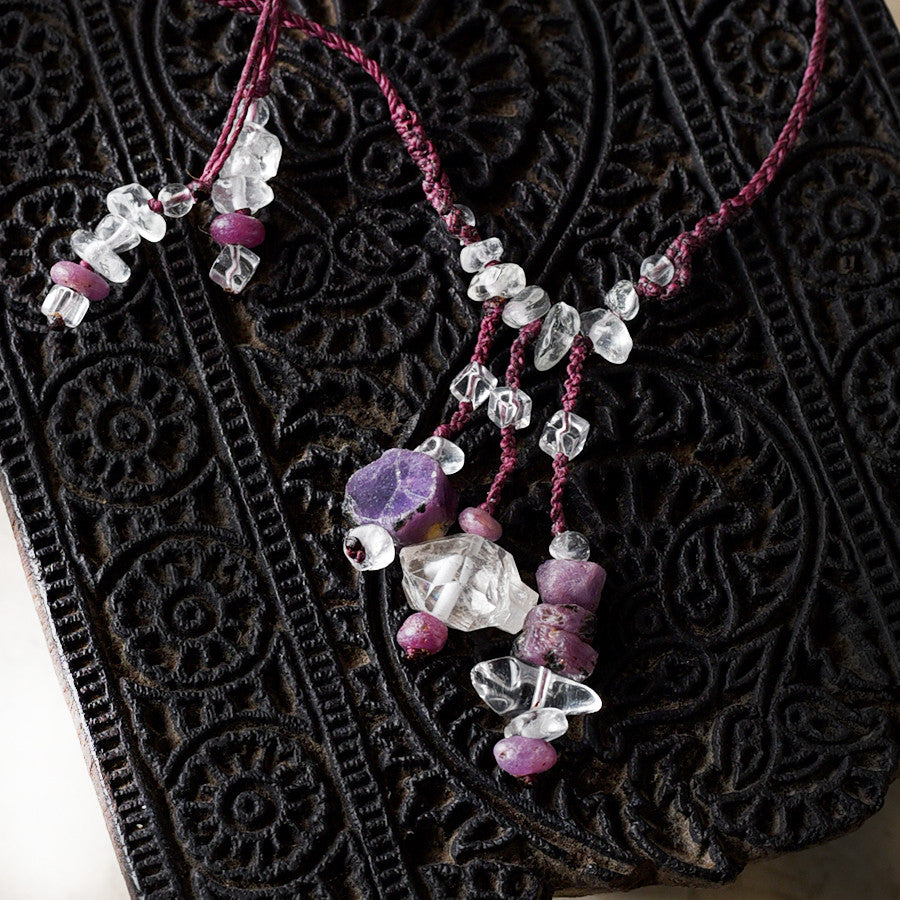 Crystal healing amulet with raw Sapphire, Ruby, Sichuan Quartz sceptre & clear Quartz
DESCRIPTION
Crystal healing amulet combining the energies of raw Sapphire and Ruby with Sichuan Quartz sceptre and clear Quartz. The necklace is minimally braided with dark burgundy red micro-macrame cord, very strong and durable, yet soft and comfortable to wear. One side of the necklace braid is adorned with a floret of small Ruby and clear Quartz crystals. The ends of the adjustable necklace cords are also decorated with matching crystals.
The length of the necklace is adjustable from very short down to solar plexus level. The longest of the three crystal strands hangs down 5 cm (2").
There are no metals in this necklace so would be particularly suitable for those with metal sensitivities, energy workers and those who simply prefer not to wear metal.
You'll receive this crystal healing necklace in one of my fabric draw-string pouches, great for the safe-keeping of the necklace. Gift-wrapped at no extra charge.
Read here about how to take care of your natural crystal jewellery.
CRYSTAL PROPERTIES
SAPPHIRE
A stone of psychic activation, enhances insight and focus. Helps the throat and third eye chakras to work in unison to strengthen and express one's inner vision. Grounds higher knowledge and helps one to stay centred. Evokes the wisdom needed to see past any situation into the underlying truth. Helpful in channeling healing energy from the highest source, allowing access to deeper levels of consciousness. (Sapphire is one of the four 'precious' gemstones, the other three being Ruby, Emerald & Diamond. Other gemstones are considered 'semi-precious'.)

RUBY
Increases vitality and one's life-force energy, Very energising, excellent for women. Promotes clear mind, motivation and concentration. Associated with love, passionate commitment and heart-based closeness, offering help in shedding past hurts. Encourages you to 'follow your bliss' and have courageous attitude. Supports closeness and commitment. Shielding crystal to keep your energy field in your own command. (Ruby is one of the four 'precious' gemstones, the other three being Emerald, Sapphire & Diamond. Other gemstones are considered 'semi-precious'.)
SICHUAN QUARTZ (Sceptre formation)
Spiritually attuned to the white flame of pure consciousness, activating the crown and the third eye chakras. Aligns all the energy bodies, bringing forth a meditative state, peace and present moment awareness. Expands your consciousness and opens up psychic channels. Releases old, stagnant emotions, cleanses one's auric field and releases negative thoughts. Emanates a strong "OM" vibration. Can be used to intensify attainments, find out about karmic lessons and to bring deep healing for all levels of being. Double-terminated Sichuan Quartz brings powerful spiritual protection and purification. Sceptres are a symbol of divine authority. A crystal of empowerment. According to legend in the ancient Lemuria sceptres were used as energy tools by the goddesses, and the right to use one had to be earned. Sceptres improve psychic attunement and increase confidence. They provide protection against controlling influences. Harmonises the higher vibrational energies in the aura and stimulates healing.
CLEAR QUARTZ
The universal master crystal that has a harmonising effect on all levels of being. Programmable by intention, so can be used for versatile purposes. Quartz can clear, enhance, amplify, transmute, balance, focus and transmit energy. Raises one's energetic vibration. Brings clarity and filters out distractions. A deep soul cleanser, attuning its keeper to their higher self. Each Quartz crystal is unique with its own character and teachings it offers, all are known as "Stones of Power" and "Master Healers".
Recently Viewed