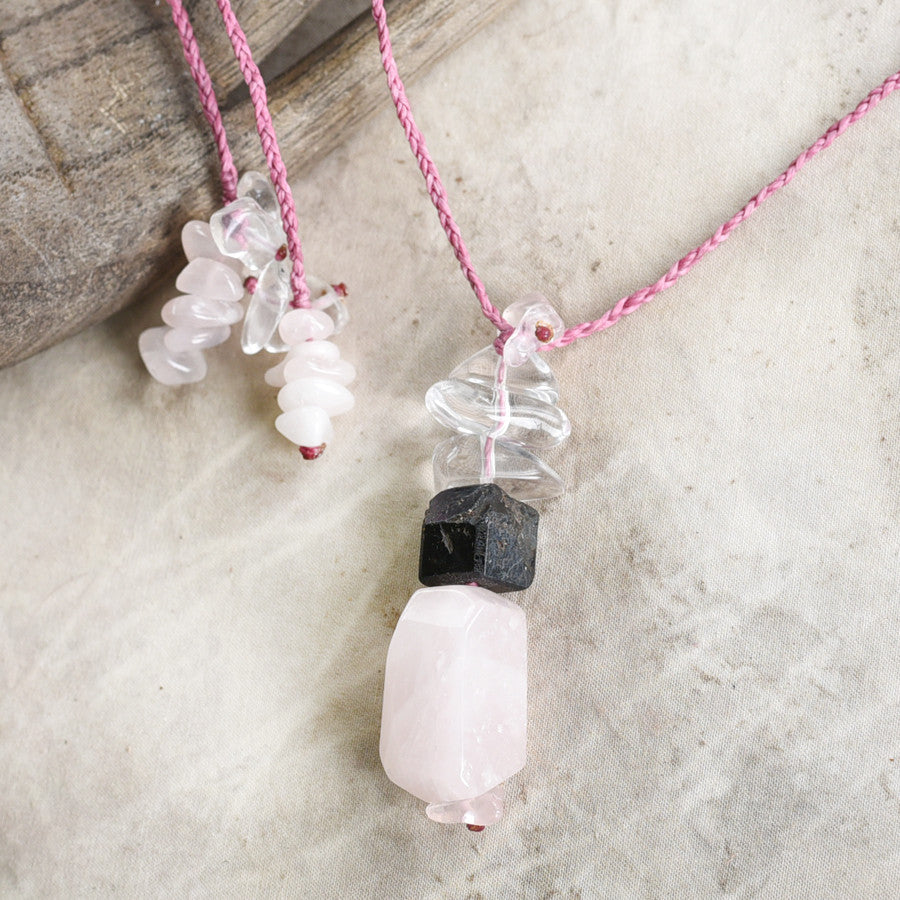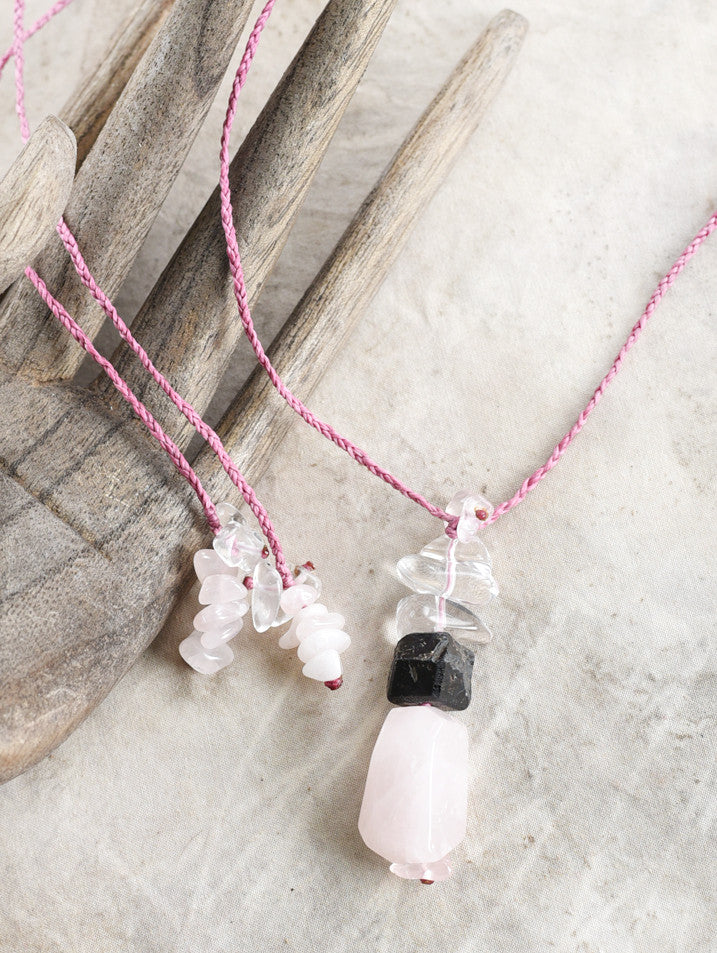 Crystal healing amulet with Rose Quartz, Garnet & clear Quartz
DESCRIPTION
Crystal healing necklace with Rose Quartz, Andradite Garnet and clear Quartz. The necklace is minimally braided with pink micro-macrame cord, very strong and durable, yet soft and comfortable to wear. The ends of the adjustable necklace cords are decorated with Rose Quartz and clear Quartz.
The length of the necklace is adjustable from very short down to just above solar plexus level. The crystal cairn combined is approx. 5 cm (2") tall. The Rose Quartz is just over 2 cm (0.8") tall.
There are no metals in this necklace so would be particularly suitable for those with metal sensitivities, energy workers and those who simply prefer not to wear metal.
You'll receive this crystal healing necklace in one of my fabric draw-string pouches, great for the safe-keeping of the necklace. Gift-wrapped at no extra charge.
CRYSTAL PROPERTIES
ROSE QUARTZ
Powerful love stone, love that is all-encompassing and unconditional. Vibrates its loving energy to all chakras, offering gentle healing. Soothing and calming. Dissolves anger and resentment. Good for raising one's self-esteem and feelings of self-worth. Balances emotions and is said to support all types of healing.
ANDRADITE GARNET
Stimulates creativity, promotes self-confidence and emotional strength. Dissolves feelings of isolation, attracting meaningful encounters with others. Helps in accessing one's higher intuition. Provides stamina and courage. Dispels fears. Enhances relationships to bring what is needed for the highest good of all. Supports self-expression.
CLEAR QUARTZ
The universal master crystal that has a harmonising effect on all levels of being. Programmable by intention, so can be used for versatile purposes. Quartz can clear, enhance, amplify, transmute, balance, focus and transmit energy. Raises one's energetic vibration. Brings clarity and filters out distractions. A deep soul cleanser, attuning its keeper to their higher self. Each Quartz crystal is unique with its own character and teachings it offers, all are known as "Stones of Power" and "Master Healers".
Recently Viewed