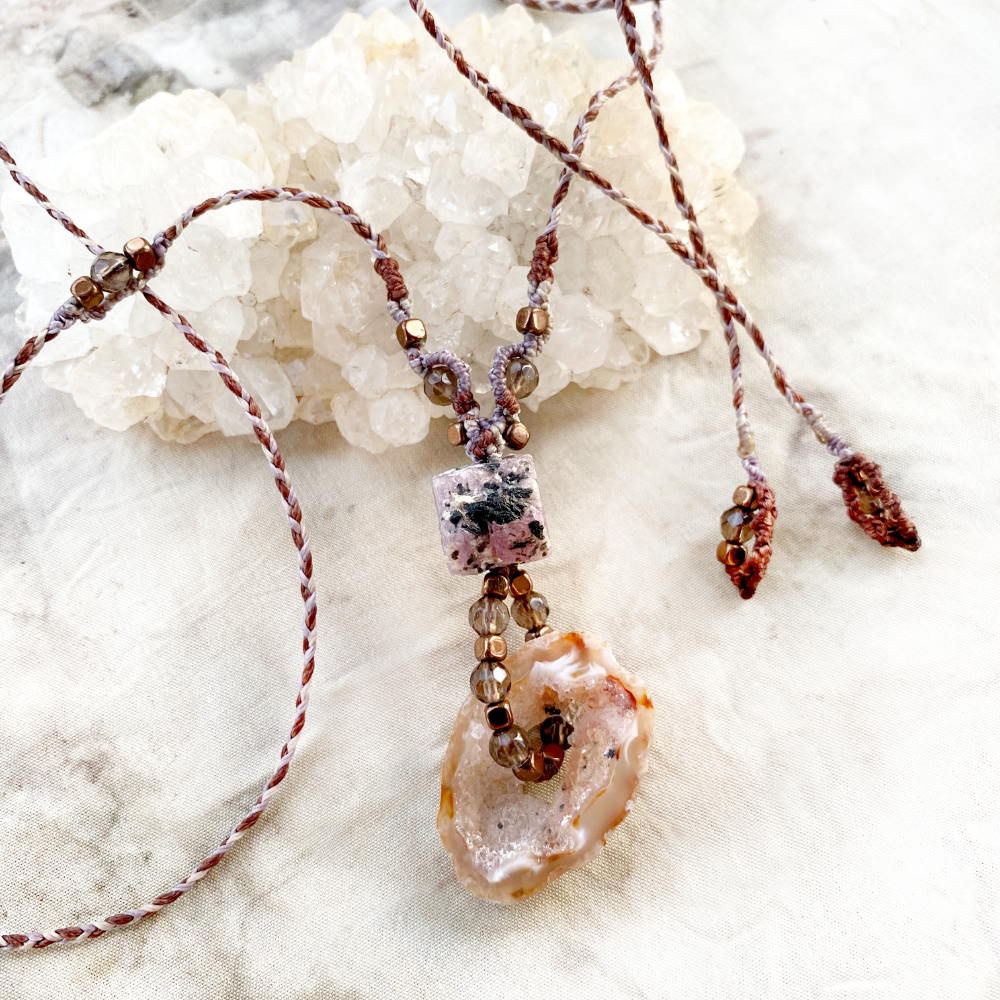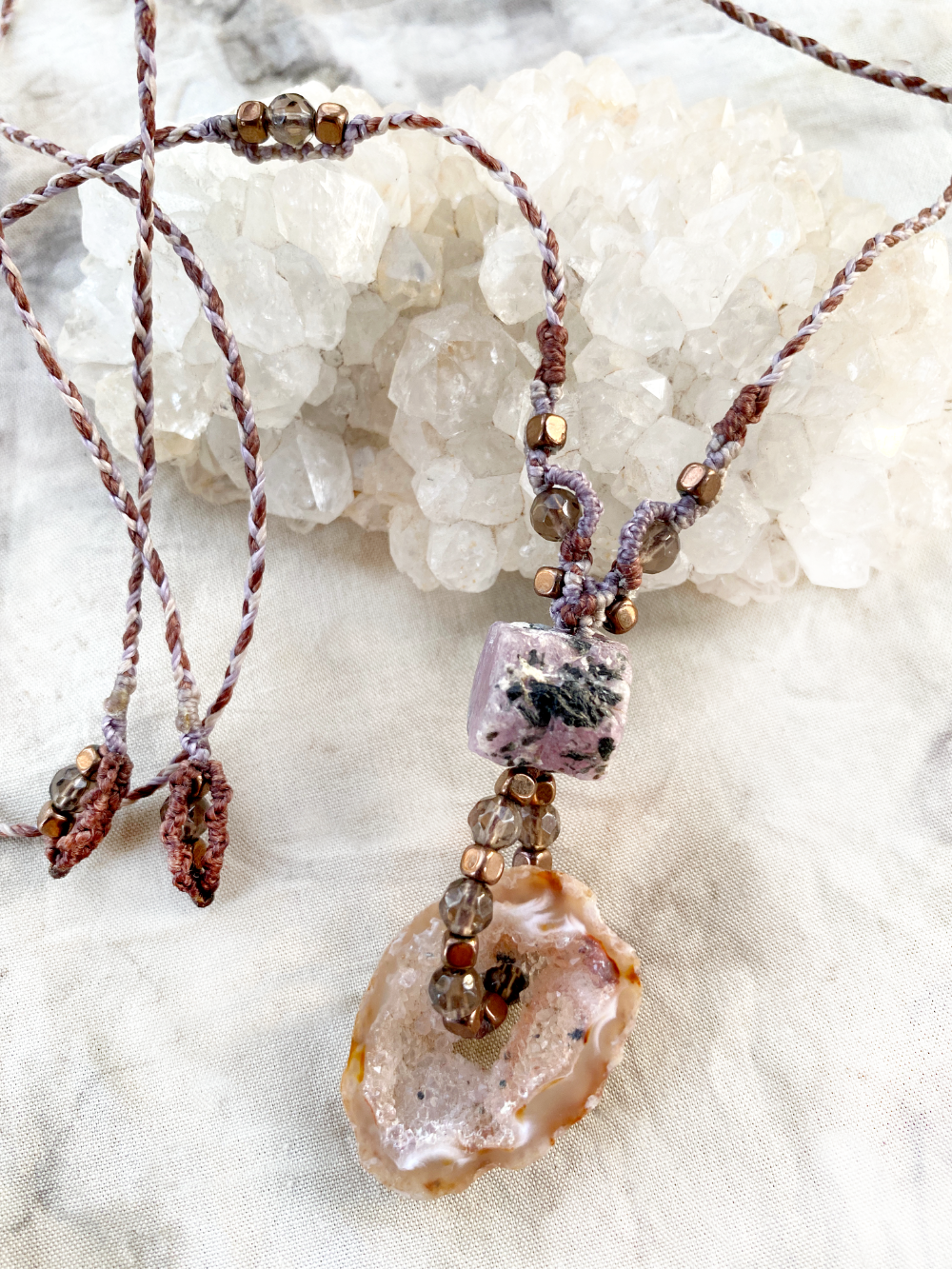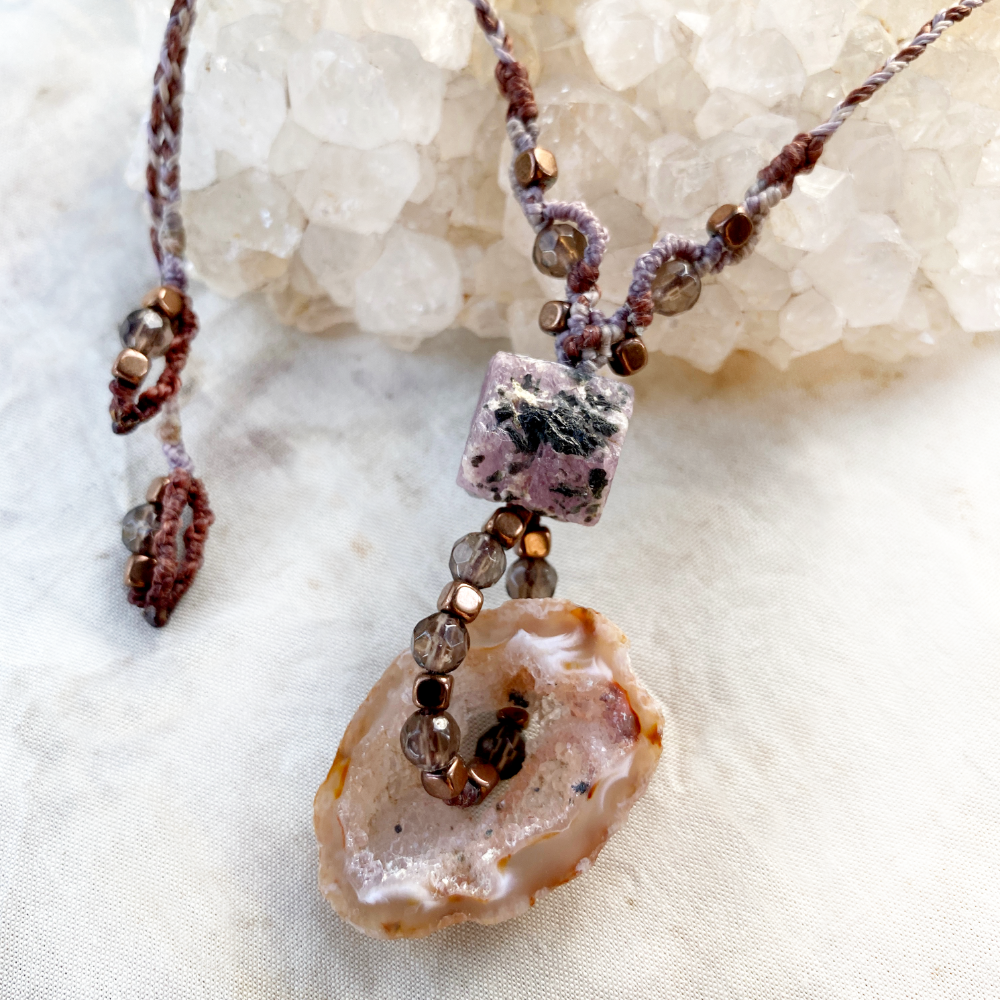 Crystal healing amulet with Ruby, Agate, Smokey Quartz & Hematite
DESCRIPTION
Crystal healing necklace combining the energies of raw Ruby, Agate Geode, Smokey Quartz and Hematite. The Agate is a slice from a small geode and is attached through its natural hole with a strand of small faceted Smokey Quartz crystals and tiny Hematite cubes to a rough cut Ruby, showing its hexagonal structure. There is a small floret of Smokey Quartz and Hematite adorning one side of the necklace braid too. This crystal amulet is knotted and braided with reddish brown and light beige micro-macrame cords, which are strong and durable, yet soft and comfortable to wear.
The length of the necklace is adjustable from very short down to solar plexus level. The total length of the crystal pendant (from top edge of the Roby down to the base of the Agate slice) is just over 4.5 cm (1.8") tall. The Agate slice is approx. 3 cm (1.2") in its longest dimension.
You'll receive this crystal healing necklace in one of Spirit Carrier's fabric draw-string pouches, great for the safe-keeping of the necklace. Gift-wrapped at no extra charge.

Read here how to take care of your crystal jewellery.
CRYSTAL PROPERTIES
RUBY
Increases vitality and one's life-force energy, very energising, excellent for women. Promotes clear mind, motivation and concentration. Associated with love, passionate commitment and heart-based closeness, offering help in shedding past hurts. Encourages you to 'follow your bliss' and have courageous attitude. Supports closeness and commitment. Shielding crystal to keep your energy field in your own command.
AGATE GEODE
Calms and strengthens body and mind. Soothing, instilling one with courage. Enhances creativity and stimulates the intellect. Great for increasing one's sense of self-worth and self-acceptance. Protective, grounding, purifying. Wonderful healing support for anything to do with feminine energies.
SMOKEY QUARTZ
A grounding and calming stone that elevates moods and dissipates negative emotions. "A Stone of Serenity", it is comforting and protective for one's aura. Smokey Quartz is thought to assist in creative endeavours and also in setting personal boundaries. Offers protection against electromagnetic rays. A good healing stone for improving general feeling of well-being. Relieves anxiety and worry, wards off confusion. Shielding crystal to create a calm, safe environment.
HEMATITE
Creates a strong sense of self and enhances the creative flow. Relieves stress. Revitalises, enhancing personal magnetism and optimism. Helps in releasing self-imposed limitations to find your own unique gifts. A stone of balance and equilibrium. Grounds when feeling scattered, allows one to maintain a natural alertness while remaining calm.
Recently Viewed