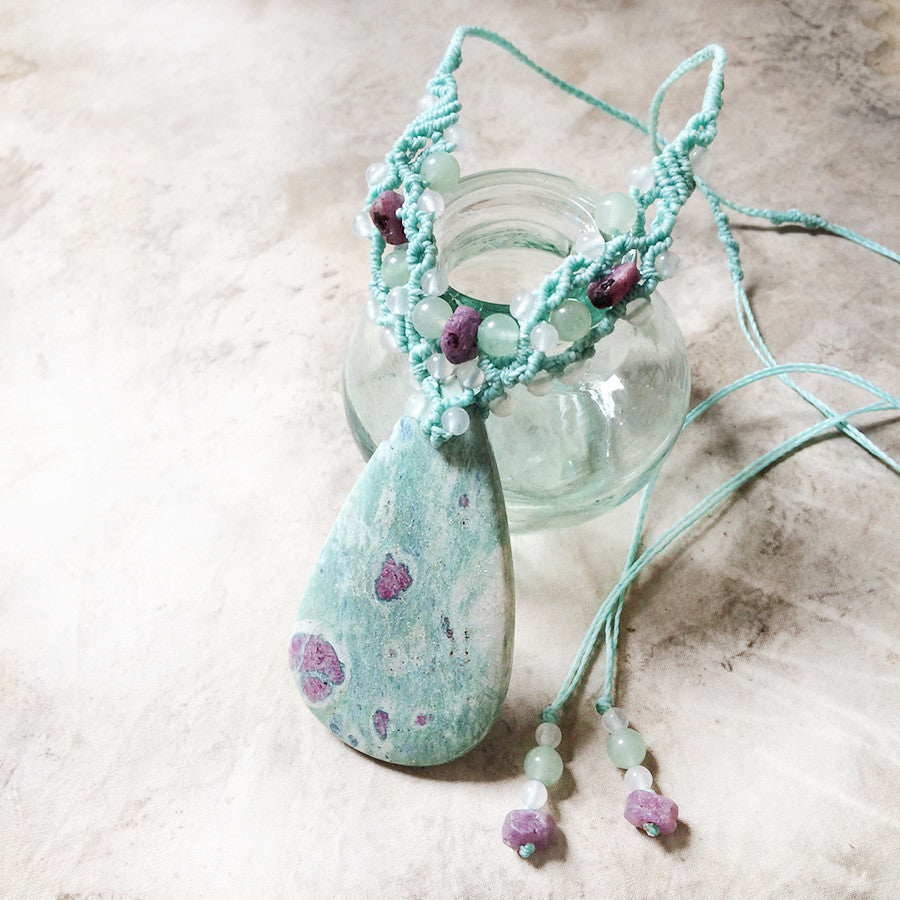 Crystal healing amulet with Ruby in Fuchsite
DESCRIPTION
Polished, large leaf-shaped Ruby in Fuchsite stone, knotted with light aqua tone micro-macrame cord which is strong and durable, yet soft to wear. The highlighting crystals are raw Ruby, green Calcite and Rose Quartz. Although the main stone is quite large, it is thin so the necklace is not heavy to wear. Three of the raw Rubies also have so called 'record keeper' formations which are rare to come by.
The length of the necklace is adjustable from very short down to solar plexus level. The Ruby in Fuchsite is approx. 6.5 cm (2.55") tall and 3.5 cm (1.4") wide at its middle.
There are no metals in this necklace so would be particularly suitable for those with metal sensitivities or metal allergy, energy workers and those who simply prefer not to wear metal.
You'll receive this crystal healing necklace in one of my fabric draw-string pouches, great for the safe-keeping of the necklace. Gift-wrapped at no extra charge.
Read here about how to take care of your natural crystal jewellery.
CRYSTAL PROPERTIES
RUBY IN FUCHSITE
Helps strengthen and amplify the body's energy field. Helps clearing any heart chakra blockages. Brings mental clarity, physical vitality and awareness of solutions to problems. Stimulates intuition and encourages you to follow what has heart and meaning to you.
ROSE QUARTZ
Powerful love stone, love that is all-encompassing and unconditional. Awakens one's heart to its own innate love, compassion and acceptance. Vibrates its loving energy to all chakras, offering gentle healing. Soothing and calming. Dissolves anger and resentment. Good for raising one's self-esteem and feelings of self-worth. Balances emotions and is said to support all types of healing. Guide's one's life path towards a sense of personal fulfilment and contentment.
GREEN CALCITE
Calming and peaceful, amplifies and increases energy in general. Protects and purifies. Helps in remaining detached from chaos and in dealing with challenges. Increases one's sense of self-worth. Supportive for emotional balance and stress relief. Known as stone of manifestation, especially useful in manifesting prosperity and success. Associated with the heart chakra, releasing beliefs that might be holding you back.
RUBY
Increases vitality and one's life-force energy, Very energising, excellent for women. Promotes clear mind, motivation and concentration. Associated with love, passionate commitment and heart-based closeness, offering help in shedding past hurts. Encourages you to 'follow your bliss' and have courageous attitude. Supports closeness and commitment. Shielding crystal to keep your energy field in your own command. (Ruby is one of the four 'precious' gemstones, the other three being Emerald, Sapphire & Diamond. Other gemstones are considered 'semi-precious'.)
RECORD-KEEPER CRYSTALS: Characterised by the appearance of raised or sunken "record-keeper" triangles on the faces of the crystal. Activate dormant intuitive abilities and enhance one's psychic skills. Can be used to access the knowledge and wisdom of ancient civilizations from Akashic Records.
Recently Viewed