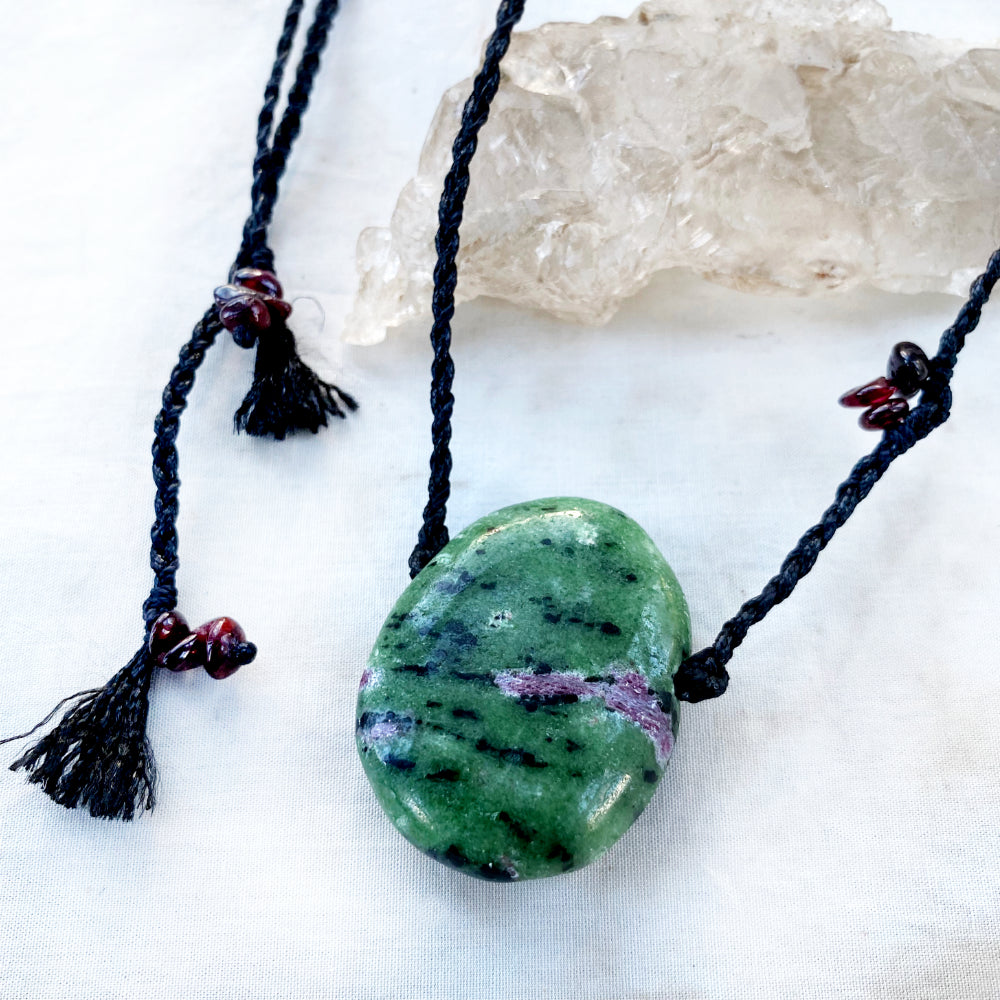 Crystal healing amulet with Ruby in Zoisite
DESCRIPTION
Crystal healing necklace with a smooth focal Anyolite (Ruby in Zoisite) crystal. The necklace is minimally braided with black satin and black micro-macrame cord, very strong and durable, yet soft and comfortable to wear. There is a small floret of Almandine Garnet crystals adorning one side of the necklace braid. The ends of the adjustable necklace braids also include Almandine Garnet details and a soft black satin tassel in each.
The length of the necklace is adjustable from very short down to solar plexus level. The Anyolite is approx. 4 cm (1.6") tall and 3 cm (1.2") at its widest.
There are no metals in this necklace so would be particularly suitable for those with metal sensitivities, energy workers and those who simply prefer not to wear metal.
You'll receive this crystal healing necklace in one of my fabric draw-string pouches, great for the safe-keeping of the necklace. Gift-wrapped at no extra charge.

Read here how to take care of your crystal jewellery.
CRYSTAL PROPERTIES
RUBY IN ZOISITE (aka ANYOLITE)
Powerful heart based crystal that stimulates positive feelings and gratitude for all you have in your life. Facilitates soul memory to bring more spiritual learning into your life. Increases feelings of empathy towards yourself and others. Connects the heart chakra to work in unison with the third eye chakra, but also activating the base and the crown chakras, creating a strong current of life-force energy.
ALMANDINE GARNET
Stimulates one's life force. Supports the root chakra while drawing earth energy into the body, helping you to feel secure and centred. Awakens the "inner fire" of creativity. Highly protective stone and a great companion to keep you energised. Excellent good fortune and 'success' stone in both social and career ventures, adding positive vibes both in your personal or business life. Stone of purification and cleansing. Symbolises passionate, devoted love.
Recently Viewed