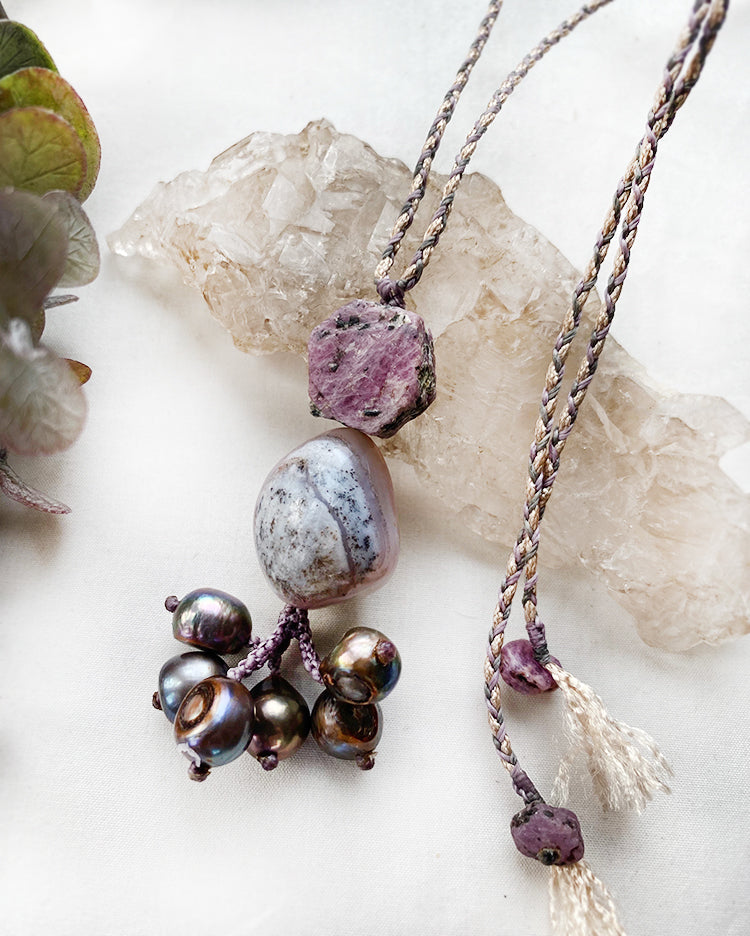 Crystal healing amulet with Ruby, Opal & Biwa Pearls
DESCRIPTION
Crystal healing talisman combining the energies of raw Ruby, pink Peruvian Opal and Biwa pearls. The minimal necklace braid combines beige satin cord with pale purple micro-macrame cord, allowing the pendant crystals to take centre stage.  The ends of the braids are decorated with small Ruby crystals. This crystal combination brings a purifying energy with hope and renewal.
The necklace has a knotted channel through which you can pull the braided cords so you can have the pendant hang at your desired level. The size of the crystal pendant is approx. 6.5 cm (2.6") tall, the Ruby is approx. 1.5 cm (0.6") at its largest. 
There are no metals in this necklace so would be particularly suitable for those with metal sensitivities, energy workers and those who simply prefer not to wear metal.
You'll receive this crystal healing necklace in one of my fabric draw-string pouches, great for the safe-keeping of the necklace. Gift-wrapped at no extra charge.

Read here how to take care of your crystal jewellery.
CRYSTAL PROPERTIES
RUBY
Increases vitality and one's life-force energy, very energising, excellent for women. Promotes clear mind, motivation and concentration. Associated with love, passionate commitment and heart-based closeness, offering help in shedding past hurts. Encourages you to 'follow your bliss' and have courageous attitude. Supports closeness and commitment. Shielding crystal to keep your energy field in your own command. (Ruby is one of the four 'precious' gemstones, the other three being Emerald, Sapphire & Diamond. Other gemstones are considered 'semi-precious'.)
PERUVIAN PINK OPAL
Brings peace and tranquility for one's aura. Helps in healing painful memories. Stone of hope and renewal. A good stone to help inner healing on the emotional, physical and intellectual levels. Cleanses and purifies mind and heart.
BIWA PEARL
Symbolises purity, clarity and spiritual transformation. Assists in discovering the wisdom and purpose in one's experiences.
Recently Viewed