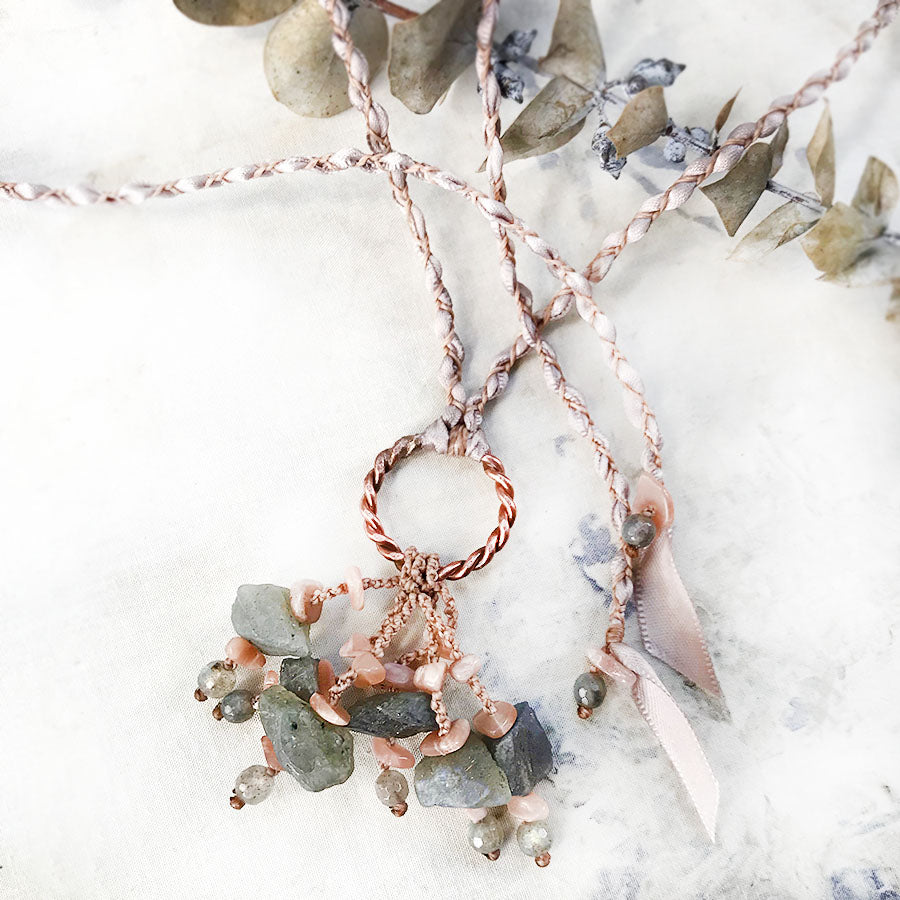 Crystal healing amulet with Sacred Cubit tensor ring
DESCRIPTION
Crystal energy talisman combining a solid copper Sacred Cubit tensor ring with a 'tassel' of eight knotted strands with Labradorite and Sunstone. The necklace is minimally braided with a combination of taupe shade satin and light beige micro-macrame cord - very soft and comfortable to wear.
The long necklace braids are left open so you can tie the necklace at your desired level. The outer diameter of the copper circle is 2.8 cm (1.1"). The 'tassel' is approx. 3.5 cm (1.4") long and the total length from the top of the Sacred Cubit to the base of the lowest hanging Labradorite is approx. 6.5 cm (2.5").
The Sacred Cubit originates in the King's Chamber of the Great Pyramid, together with the Royal and Lost Cubits. Sacred Cubit resonates at 144 Hz and is purported to be an infinite energy source, to purify and transmute harmful energies that are detrimental to one's life force energy and bringing balance to chaotic environments and situations. It is also said to be a great manifestation aid and attract abundance, as well as being an all round harmonising energy.
You'll receive this crystal healing necklace in one of my handmade fabric draw-string pouches - great for the safe-keeping of the necklace. Gift-wrapped at no extra charge.

Read here how to take care of your crystal jewellery. 
CRYSTAL PROPERTIES
LABRADORITE
One of the most powerful, versatile crystal tools for healing. Creates an auric shield and strengthens your innate energy and life force, preventing energy leakages. Enhances intuitive abilities and assists in spiritual transformation. Helps the wearer align with their highest destiny and discover their inner worth. Strengthens willpower and brings in new ideas. Often referred to as the 'Stone of Destiny', believed to help you to find your true path in life, and as 'Temple of the Stars', anchoring higher dimensional light into your being.
Legend associated with Labradorite: According to an Inuit legend, the Northern Lights were once imprisoned in the rocks along the coast of Labrador. It is told that a wandering Inuit warrior found them and was able to free most of the lights with a mighty blow of his spear. Some of the lights still stayed within the stone, and thus we have today the beautiful mineral known as Labradorite.
SUNSTONE
Joyful and nurturing, restores one's enjoyment of life, providing a sense of abundance. Encourages independence and originality. Makes you feel alive and enthusiastic. A good stone for workplace, bringing opportunities. Sunstone can be a source of strength after experiencing losses.
Recently Viewed