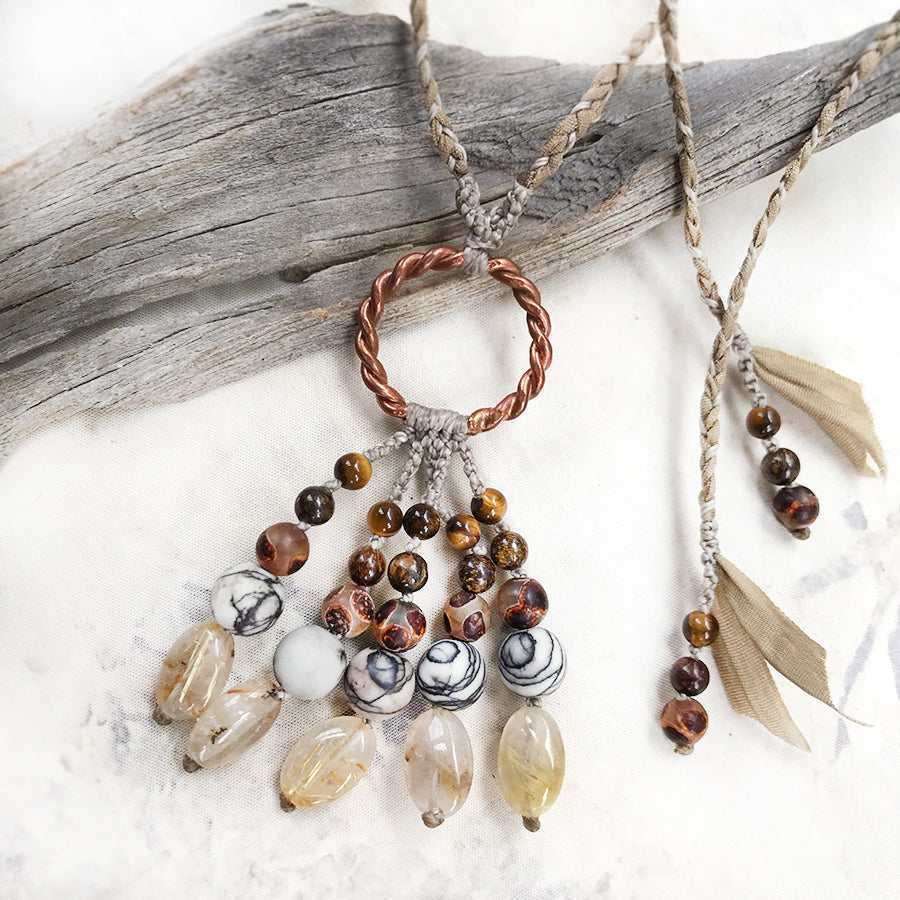 Crystal healing amulet with Sacred Cubit tensor ring
DESCRIPTION
Crystal energy talisman combining a solid copper Sacred Cubit tensor ring with a 'tassel' of five long knotted strands with Gold Rutile Quartz, Black Line Jasper, Dzi Agate, Bronzite and Tiger Eye. The necklace is minimally braided with a combination of dark beige silk ribbon and grey micro-macrame cord - very soft and comfortable to wear.
The long necklace braids are left open so you can tie the necklace at your desired level. The outer diameter of the copper circle is 2.8 cm (1.1"). The total length from the top of the Sacred Cubit to the base of the lowest hanging Dzi Agate is approx. 7 cm (2.8").
The Sacred Cubit originates in the King's Chamber of the Great Pyramid, together with the Royal and Lost Cubits. Sacred Cubit resonates at 144 Hz and is purported to be an infinite energy source, to purify and transmute harmful energies that are detrimental to one's life force energy and bringing balance to chaotic environments and situations. It is also said to be a great manifestation aid and attract abundance, as well as being an all round harmonising energy.
You'll receive this crystal healing necklace in one of my handmade fabric draw-string pouches - great for the safe-keeping of the necklace. Gift-wrapped at no extra charge.

Read here how to take care of your crystal jewellery. 
CRYSTAL PROPERTIES
GOLD RUTILE QUARTZ
A master assistant in self-discovery, a companion in finding one's inner truth, purpose and destiny. Joyful and energising. Thought to offer protection against psychic attacks and helps in opening up to one's Divine strength. Assists in activating one's creativity and manifesting dreams into reality.
BLACK LINE JASPER
Protective stone that's said to balance one's yin and yang energies. Grounding for one's kundalini channel. Instils a sense of wellness. Offers insight into one's life path and its purpose.
AGATE
The oldest good luck amulet. In ancient times Persian magicians were, according to legend, diverting storms with the powers of Agate. Considered a protective stone (especially for travel), said to shield its keeper against dangers. Increases inner stability, enhances personal courage and fosters self-confidence. Grounding and soothing. Balancing stone for one's energy system to experience oneness instead of duality.
BRONZITE
Encourages loving, non-judgemental mindset. Helps in gaining certainty about one's decisions and the right course of action. Bronzite is said to bring harmony into discordant situations, protective when the wearer might feel a lack of control. Instils a feeling of calmness when having "many irons in the fire". A stone of focused action. Grounds you into the knowing that "All Is Well".
TIGER EYE
Helpful stone for learning to feel connected to one's personal strength. Excellent stone for attracting prosperity. But it has also a highly spiritual energy and is useful in understanding any life cycle that one is living through. Helps in seeing through illusions and discerning the truth in any situation. A highly protective stone. Good for strengthening the solar plexus (3rd) chakra and developing one's will power and courage.
Recently Viewed