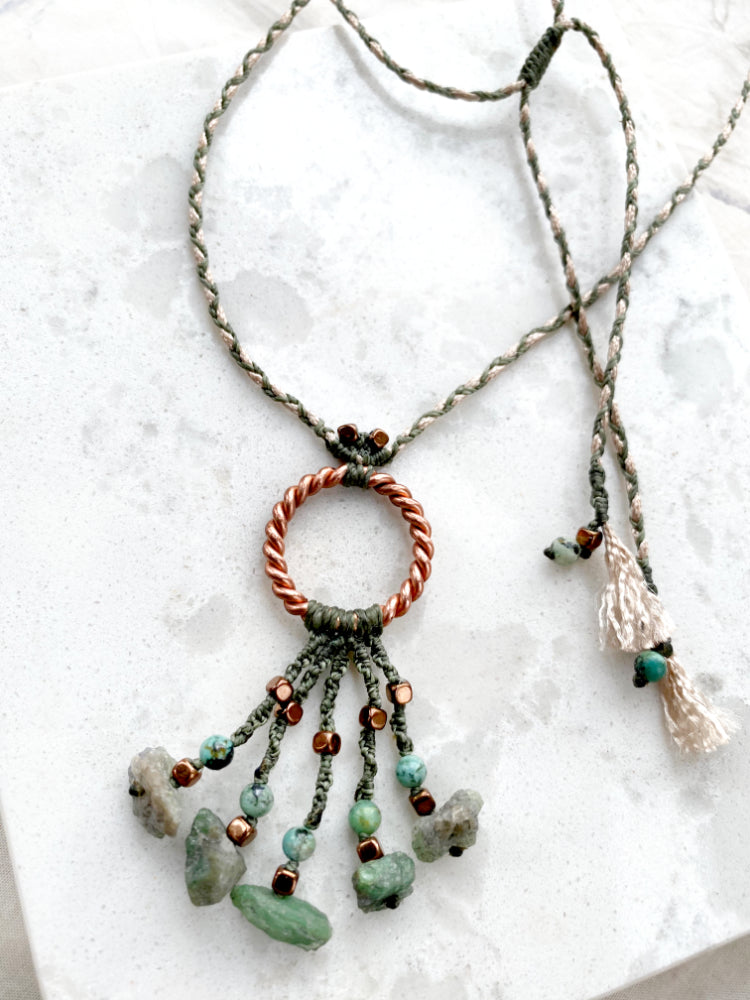 Crystal healing amulet with sacred cubit tensor ring
DESCRIPTION
Crystal energy talisman combining a solid copper Sacred Cubit tensor ring with a 'tassel' of five knotted strands with copper-plated Hematite, African Turquoise Jasper and Kornerupine. The necklace is minimally braided with a combination of cream tone satin cord and moss green micro-macrame cord - very soft and comfortable to wear.
The necklace has a knotted channel through which you can pull the braided cords so you can have the pendant hang at your desired level. The outer diameter of the copper circle is 2.8 cm (1.1"). The total length from the top of the Sacred Cubit to the base of the lowest hanging crystal is approx. 6 cm (2.4").
The Sacred Cubit originates in the King's Chamber of the Great Pyramid, together with the Royal and Lost Cubits. Sacred Cubit resonates at 144 Hz and is purported to be an infinite energy source, to purify and transmute harmful energies that are detrimental to one's life force energy and bringing balance to chaotic environments and situations. It is also said to be a great manifestation aid and attract abundance, as well as being an all round harmonising energy.
You'll receive this crystal healing necklace in one of Spirit Carrier's handmade fabric draw-string pouches - great for the safe-keeping of the necklace. Gift-wrapped at no extra charge.
FREE SHIPPING internationally on this item.
Read here how to take care of your crystal jewellery.
CRYSTAL PROPERTIES
KORNERUPINE
Assists in breaking down obstacles and removing blockages on one's life path. Helps with stabilising emotions and calms strong feelings. Said to aid in problem solving and in getting to the root of problems. Heart centred stone of unconditional love, increasing one's understanding of the sacred nature of existence. Refines one's character, leading towards positive transformation.
AFRICAN TURQUOISE JASPER
Calming and soothing stone that creates a feeling of tranquility and comfort. Encourages personal growth, opening the mind to new ideas and possibilities. Also known as an abundance stone.
HEMATITE
Creates a strong sense of self and enhances the creative flow. Relieves stress. Revitalises, enhancing personal magnetism and optimism. Helps in releasing self-imposed limitations to find your own unique gifts. A stone of balance and equilibrium. Grounds when feeling scattered, allows one to maintain a natural alertness while remaining calm.
Recently Viewed