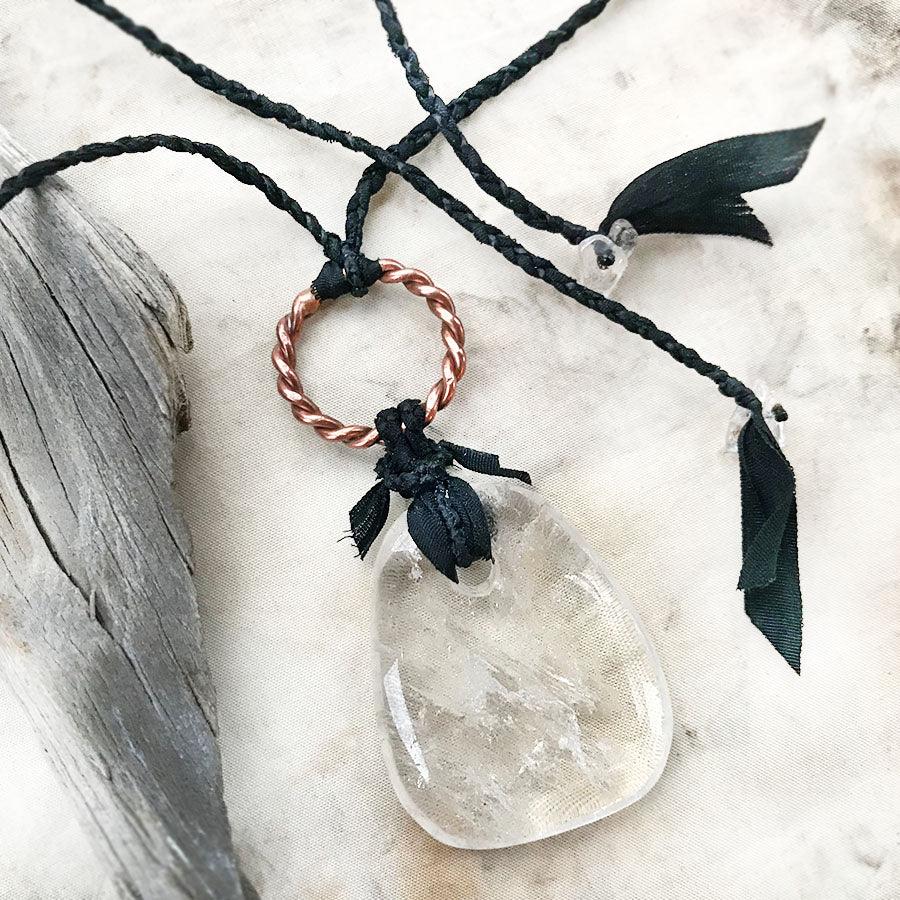 Crystal healing amulet with Sacred Cubit tensor ring
DESCRIPTION
Crystal energy talisman combining a solid copper Sacred Cubit tensor ring with a smooth, clear Quartz slab. The necklace is minimally braided with a combination of black embroidery silk ribbon and black micro-macrame cord - the necklace braid is soft and comfortable to wear. 
The long braid ends are adjustable shorter through a knotted channel closure. Both necklace braids are approx. 40 cm (15.7"). The Quartz is approx. 4 cm (1.6") tall and 3 cm (1.2") wide at the middle. The outer diameter of the copper circle is 2.8 cm (1.1"). The total length from the top of the Sacred Cubit to the base of the Quartz is approx. 7 cm (2.8").

The Sacred Cubit originates in the King's Chamber of the Great Pyramid, together with the Royal and Lost Cubits. Sacred Cubit resonates at 144 Hz and is purported to be an infinite energy source, to purify and transmute harmful energies that are detrimental to one's life force energy and bringing balance to chaotic environments and situations. It is also said to be a great manifestation aid and attract abundance, as well as being an all round harmonising energy.
You'll receive this crystal healing necklace in one of my handmade fabric draw-string pouches - great for the safe-keeping of the necklace. Gift-wrapped at no extra charge.

Read here how to take care of your crystal jewellery.
CRYSTAL PROPERTIES
CLEAR QUARTZ
The universal master crystal that has a harmonising effect on all levels of being. Programmable by intention, so can be used for versatile purposes. Quartz can clear, enhance, amplify, transmute, balance, focus and transmit energy. Raises one's energetic vibration. Brings clarity and filters out distractions. A deep soul cleanser, attuning its keeper to their higher self. Each Quartz crystal is unique with its own character and teachings it offers, all are known as "Stones of Power" and "Master Healers".
Recently Viewed