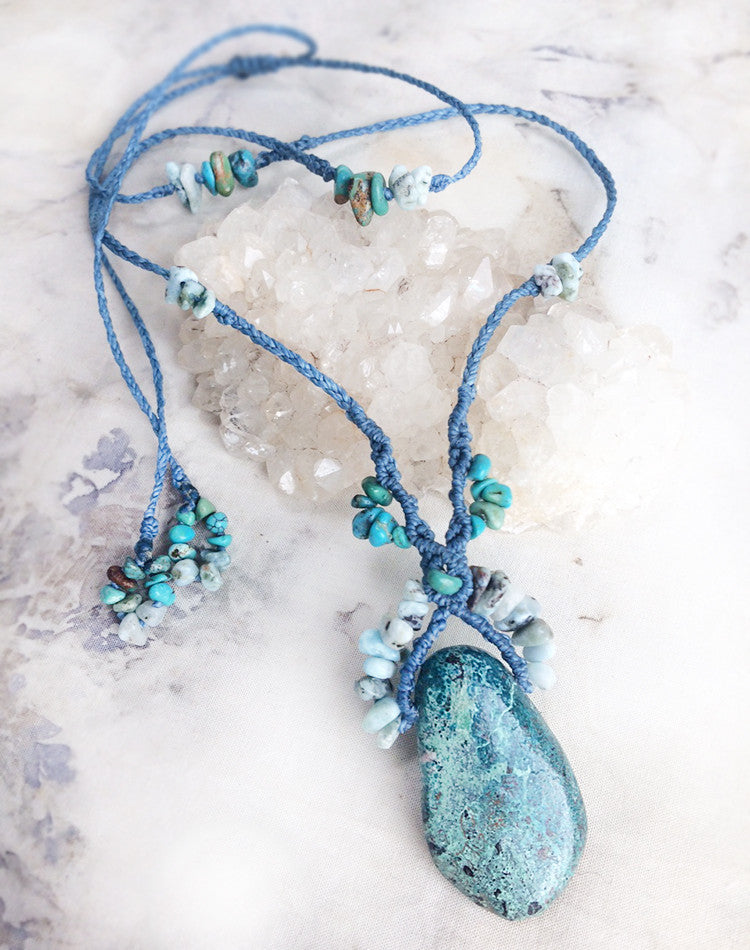 Crystal healing amulet with Shattuckite
DESCRIPTION
Crystal healing amulet with smooth Shattuckite, minimally braided in sky blue micro-macrame cord, strong and durable yet soft and comfortable to wear. The necklace cord is highlighted with occasional florets of small Turquoise and Larimar crystals.
The necklace length is adjustable from as short as you wish down to solar plexus level. The Shattuckite is approx. 3.5 cm (1.4") tall and approx. 2 cm (1") at its widest.
You'll receive this crystal healing necklace in one of my handmade fabric draw-string pouches - great for the safe-keeping of the necklace. Gift-wrapped at no extra charge.

Read here how to take care of your crystal jewellery.
CRYSTAL PROPERTIES
SHATTUCKITE
Strong ally for developing psychic communication skills. Enhances various psychic abilities, intuition and connection with the high vibrational spirit world. Assists in creating a peaceful environment. Helps with aligning with the Divine source and to reflect the wisdom of the spirit. Also beneficial for healing relationship issues, to help you speaking with truth and integrity.
LARIMAR
A relatively rare stone, only found in the Dominican Republic. In crystal lore it is associated with the ancient civilization on Lemuria, and also sometimes called a "Dolphin Stone". Larimar is soothing and uplifting, bringing tranquility into heart and mind. It is said to support self-expression, creativity and patience.
TURQUOISE
Turquoise is a strengthening and purifying stone. It fosters honest and clear communication from the heart. Aligns all of the chakras; and can be used to cleanse your energy centres. Balancing stone for the mood and emotions. Promotes self-realisation and aids creative problem-solving.
Recently Viewed