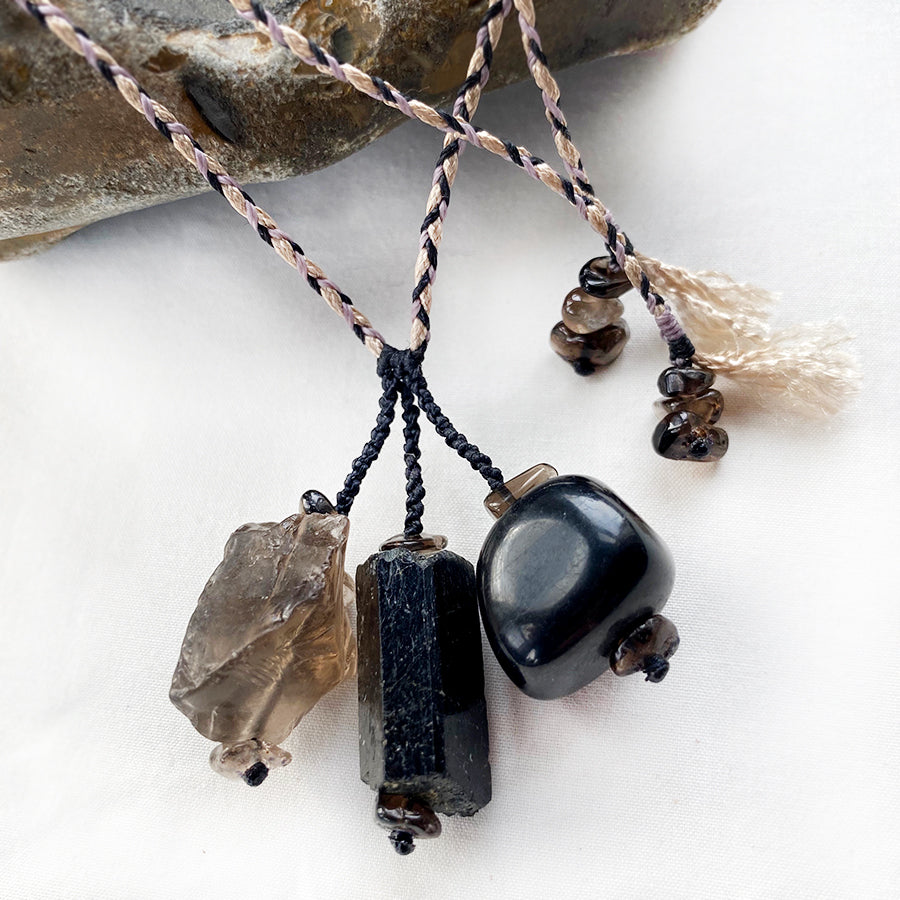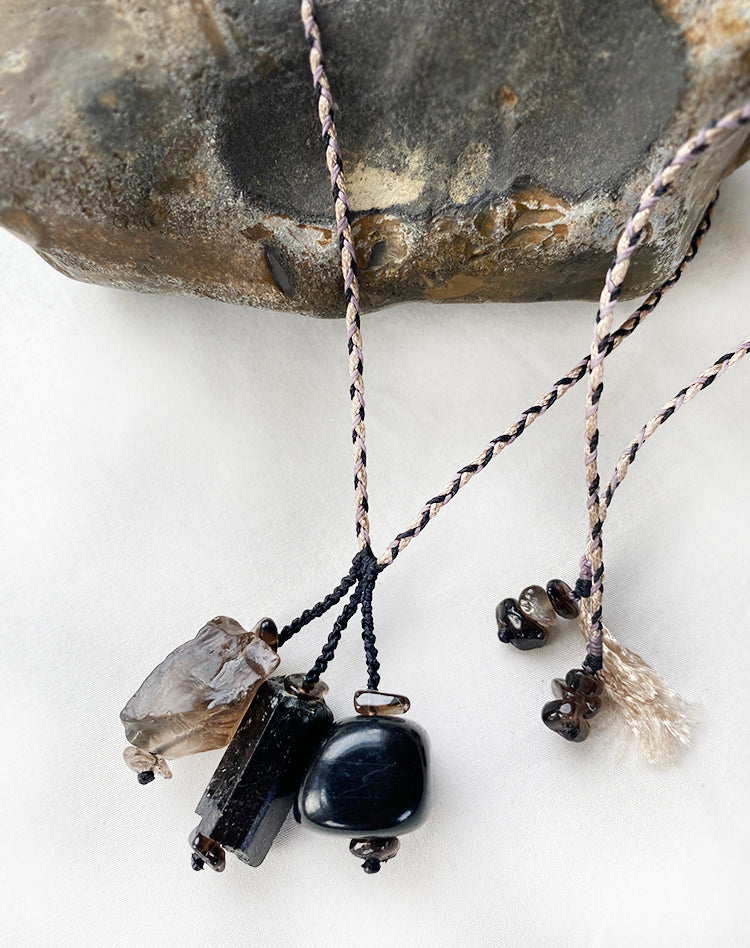 Crystal healing amulet with Smokey Quartz, Black Tourmaline & Jet
DESCRIPTION
Crystal healing talisman combining the energies of Smokey Quartz, Black Tourmaline and Jet. The minimal necklace braid includes beige satin cord with black micro-macrame cord, allowing the pendant crystals to take centre stage. The ends of the adjustable necklace braids are decorated with Smokey Quartz. This necklace is all about shielding and keeping you grounded with a sense of safety.
The necklace has a knotted channel through which you can pull the braided cords so you can have the pendant hang at your desired level. The crystal strands hang down approx. 5 cm (2"), the Black Tourmaline being approx. 2.5 cm (1") tall. 
There are no metals in this necklace so would be particularly suitable for those with metal sensitivities, energy workers and those who simply prefer not to wear metal.
You'll receive this crystal healing necklace in one of my fabric draw-string pouches, great for the safe-keeping of the necklace. Gift-wrapped at no extra charge.

Read here how to take care of your crystal jewellery.
CRYSTAL PROPERTIES
SMOKEY QUARTZ
A grounding and calming stone that elevates moods and dissipates negative emotions. "A Stone of Serenity", it is comforting and protective for one's aura. Smokey Quartz is thought to assist in creative endeavours and also in setting personal boundaries. Offers protection against electromagnetic rays. A good healing stone for improving general feeling of well-being. Relieves anxiety and worry, wards off confusion. Shielding crystal to create a calm, safe environment.
BLACK TOURMALINE (aka Schorl)
One of the most well-known protective stones, shielding its user from negativity. A shamanic stone used for grounding during vision quests. Empowering for those who work in challenging environments. Purifies and transforms denser energies into lighter vibrations and is also detoxifying for the body. If you're sensitive to electromagnetic smog, you may get relief by wearing black Tourmaline.
JET
Stone of protection and purification, helping to keep negativity at bay. Often used to stabilise finances and protect businesses, but also as a shield against psychic attacks and removing energetic attachments. Assists in spiritual advancement and the rise of kundalini energy. Enlists the help of Earth energy in manifesting one's desires. Calming for those battling with difficulties. Comforting stone, mood-balancing, easing anxiety and fears. Increases self-reliance and helps in the process of life changes.
Recently Viewed