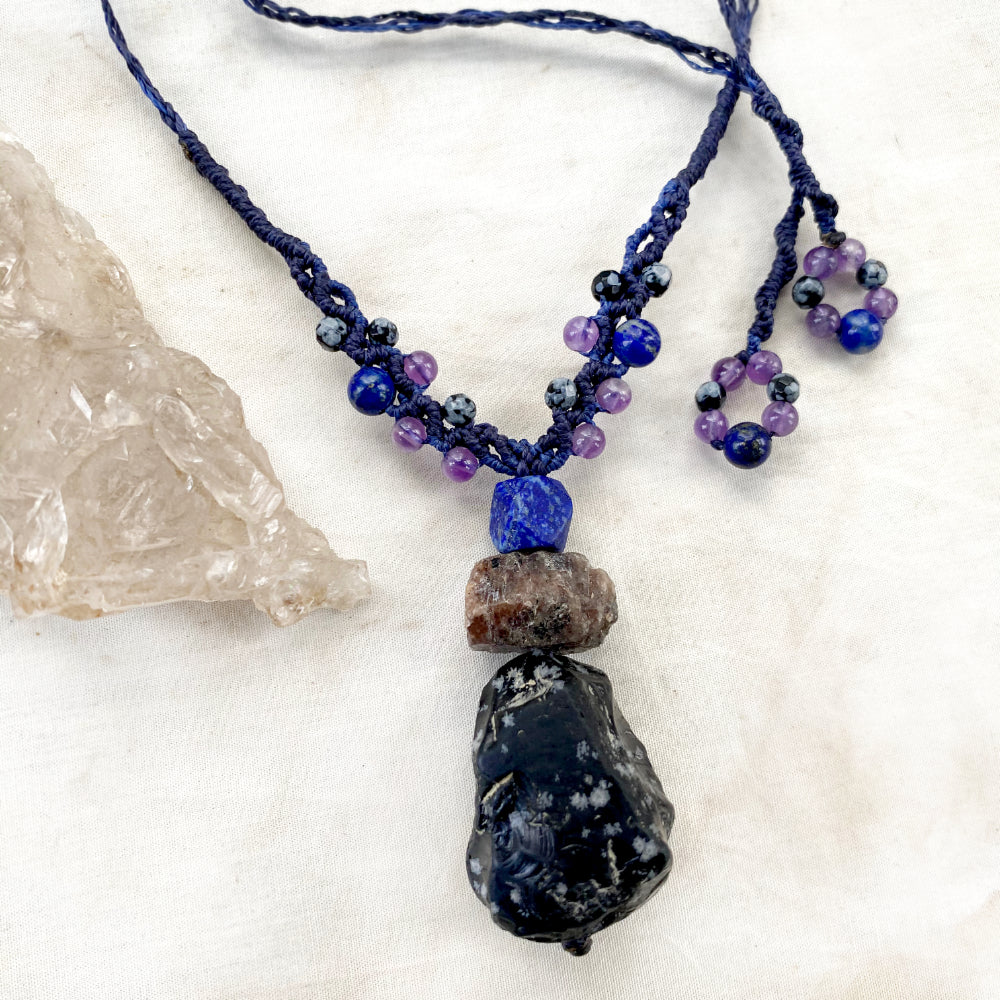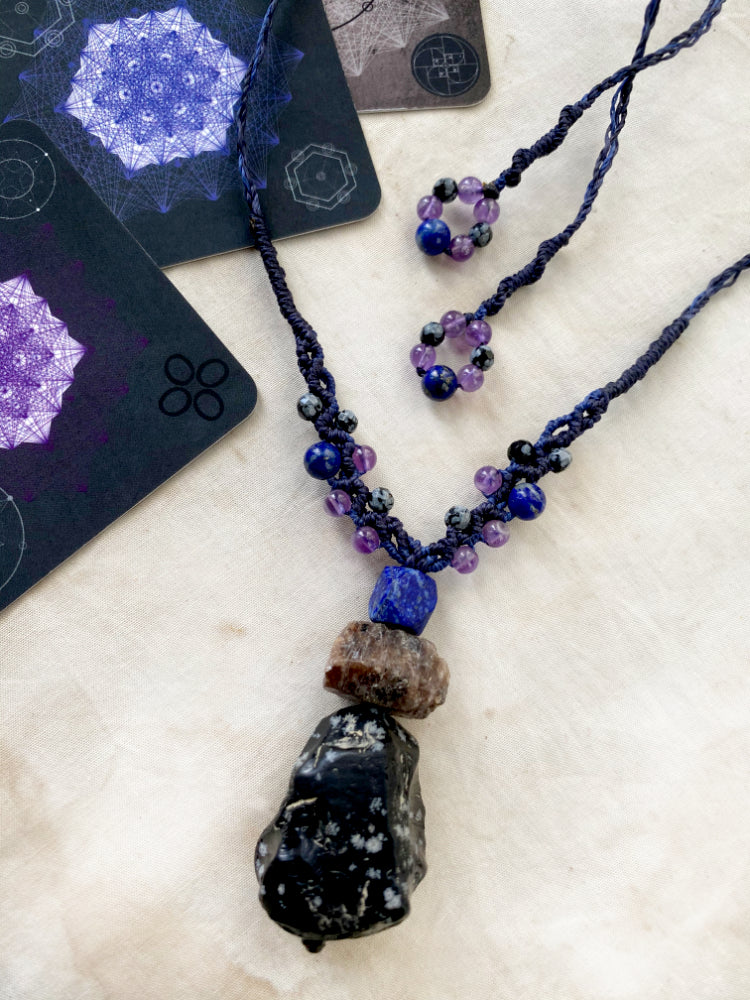 Crystal healing cairn amulet with Snowflake Obsidian, Sapphire & Lapis Lazuli
DESCRIPTION
Crystal healing necklace combining the energies of Snowflake Obsidian, Sapphire, Lapis Lazuli and Amethyst. This crystal cairn amulet is knotted and braided with blue micro-macrame cord, which is strong and durable, yet soft and comfortable to wear. Easy daily wear for maintaining your personal space with calm focus and drawing on your creative resources.
The length of the necklace is adjustable from very short down to solar plexus level. The total length of the crystal cairn (from top edge of the Lapis Lazuli down to the base of the Snowflake Obsidian) is just over 5 cm (2") tall. The width of the Snowflake Obsidian is approx. 2 cm (0.8") at its middle, slight widening towards its base.
There are no metals in this necklace so would be particularly suitable for those with metal sensitivities, energy workers and those who simply prefer not to wear metal.
You'll receive this crystal healing necklace in one of Spirit Carrier's fabric draw-string pouches, great for the safe-keeping of the necklace. Gift-wrapped at no extra charge.

Read here how to take care of your crystal jewellery.
CRYSTAL PROPERTIES
SNOWFLAKE OBSIDIAN
Promotes a sense of calm and inner equilibrium, bringing balance to body, mind and spirit. A grounding, protective stone. Eases worries and when carried/worn helps one to stay balanced and centred throughout the day. Native American shamans often carried Snowflake Obsidian as a powerful talisman to avert evil and bring good fortune, also considering it to be the guardian of the Great Spirit.
SAPPHIRE
A stone of psychic activation, enhances insight and focus. Revered through ages as bringing good fortune and spiritual insight. Highly protective. Grounds higher knowledge and helps one to stay centred. Evokes the wisdom needed to see past any situation into its underlying truth. Helpful in channeling healing energy from the highest source, facilitating access to deeper levels of consciousness and freeing it's wearer from mind-made fears. Increases learning ability. Attracts prosperity.
LAPIS LAZULI
Creativity super charger stone. Ignites new ideas and encourages different creative ways of thinking. Stone of truthfulness, openness, inner power, intuition and manifestation. Thought to increase self-confidence as well as to promote spiritual healing, mental calmness and strength of will. Powerful tool for dream work. Historically a stone of royalty.
AMETHYST
Instils inner peace, promotes self-discovery and aids in relaxation. Associated with the crown chakra, known as a "stone of balance" and positive transformation. Thought to increase spiritual awareness and psychic abilities, initiating higher knowing and greater understanding. Helps in assimilating new ideas and manifesting thoughts into action. Symbolises a connection to the Divine. A well-known support stone for those wanting to break old patterns to create a new, harmonious life.
Recently Viewed