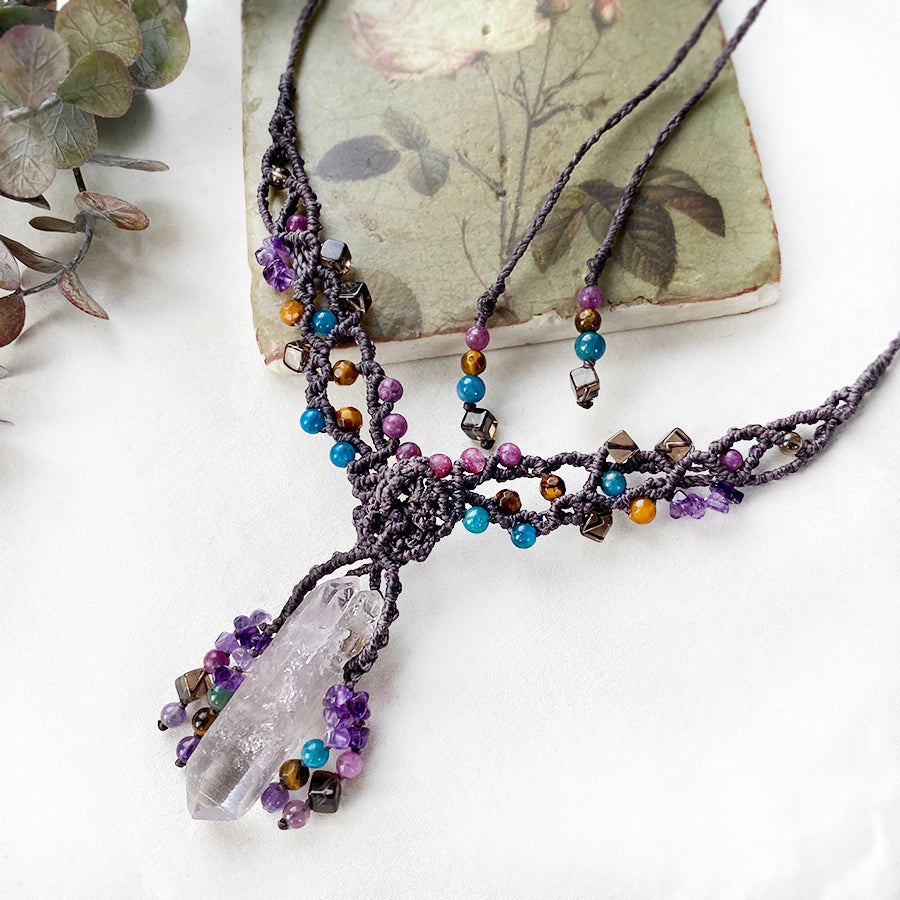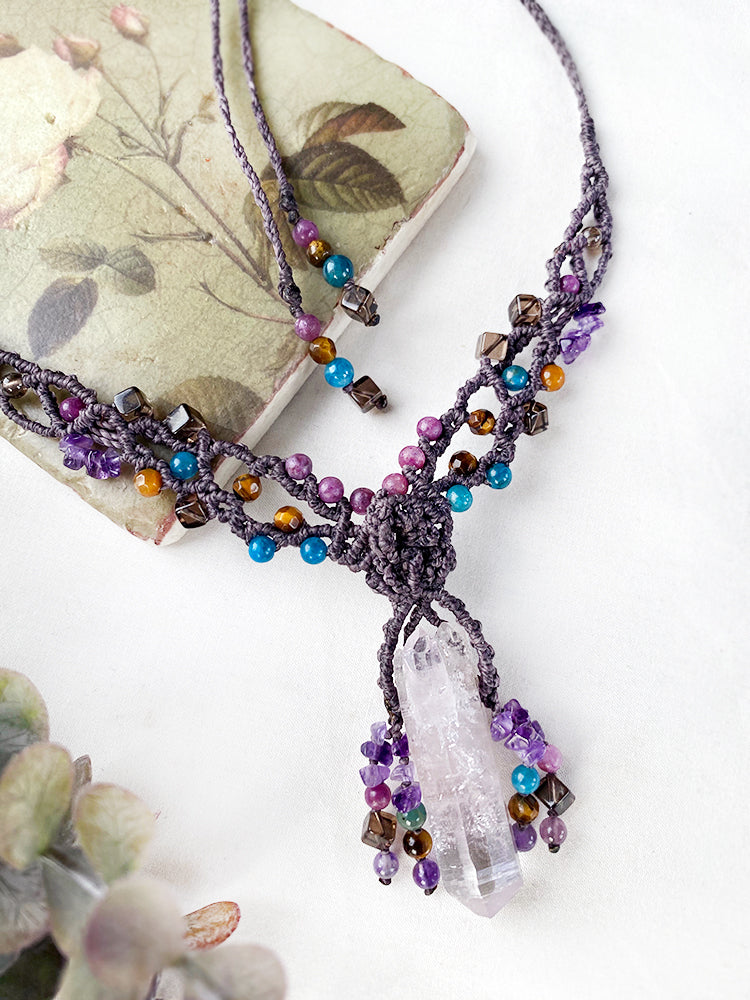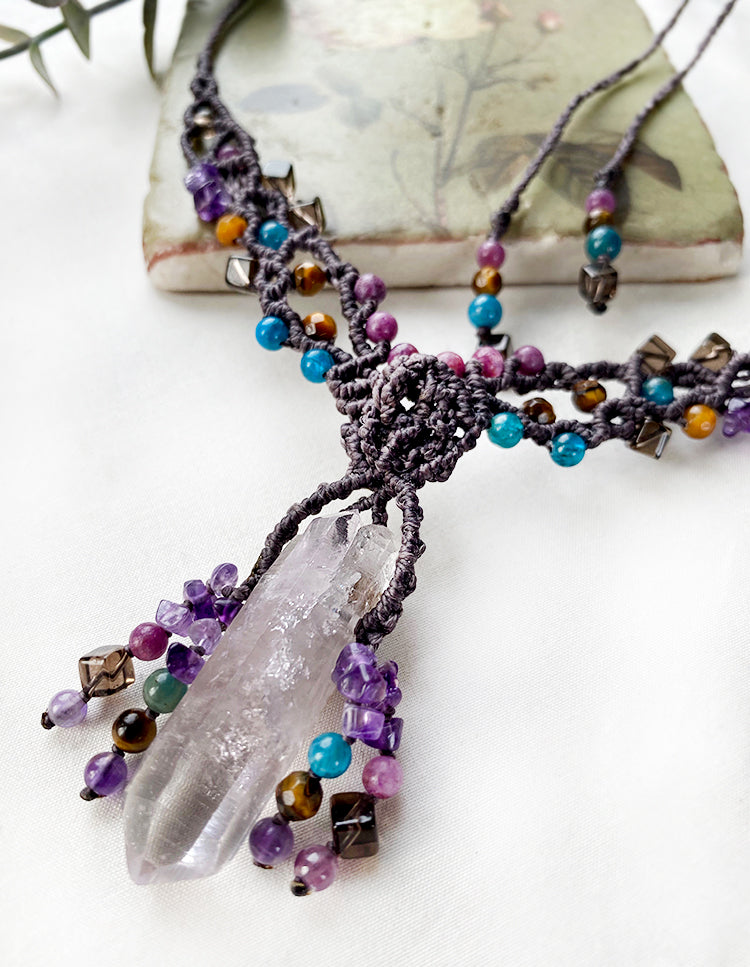 Crystal healing amulet with Vera Cruz Amethyst
DESCRIPTION
Crystal healing amulet with an utterly stunning Vera Cruz Amethyst - pale lilac in tone and double-terminated in an unusual way: one end with one point and the other end with three points, resembling a crown. The necklace is intricately knotted with muted purple micro-macrame cord and highlighted with small crystals of Apatite, Tiger Eye, Lepidolite and further Amethysts. The ends of the adjustable necklace cords are decorated with matching crystals and there are crystal strands also adorning both sides of the main crystal point.
The length of the necklace is adjustable from very short down to heart level. The Vera Cruz Amethyst point is just over 4 cm (1.6") tall and the decorative knotting extends approx. 8 cm (3") on both sides.
There are no metals in this necklace so would be particularly suitable for those with metal sensitivities, energy workers and those who simply prefer not to wear metal.
You'll receive this crystal healing necklace in one of my fabric draw-string pouches, great for the safe-keeping of the necklace. Gift-wrapped at no extra charge.

Read here how to take care of your crystal jewellery.
CRYSTAL PROPERTIES
VERA CRUZ AMETHYST
Crystal for higher dimensional guidance and perception. Brings calmness and serenity, activating third eye and crown chakras. Expands intuition and creates a protective energy field, insulating one from disturbing influences. Can initiate instant meditative states and accelerates spiritual growth. Strengthens inner knowing about one's life direction and guides in taking the most beneficial steps forward.
APATITE
Enhances one's insight and imagination, and gives increased self-confidence. Connects to high level of spiritual guidance and is helpful in letting go of anything that no longer serves your highest good. Helpful in bringing one's vision into reality and overcoming difficulties. Useful for energy workers, helping to maintain a clear energy field and balanced focus. Apatite crystal is also said to be a good aid in curbing one's appetite!
LEPIDOLITE
An open, inviting stone, offering its gentle love readily when you just hold it in your hand. Useful in reducing depression and stress, it can assist in moving calmly through life transitions. In crystal healing practice, Lepidolite has been used to ease emotional traumas, panic attacks and addictions. Lepidolite is said to help you to nurture yourself and be optimistic, and to clear out ties to the past, assisting you in moving freely forward in joy and happiness.
TIGER EYE
Helpful stone for learning to feel connected to one's personal strength. Excellent stone for attracting prosperity. But it has also a highly spiritual energy and is useful in understanding any life cycle that one is living through. Helps in seeing through illusions and discerning the truth in any situation. A highly protective stone. Good for strengthening the solar plexus (3rd) chakra and developing one's will power and courage.
Recently Viewed