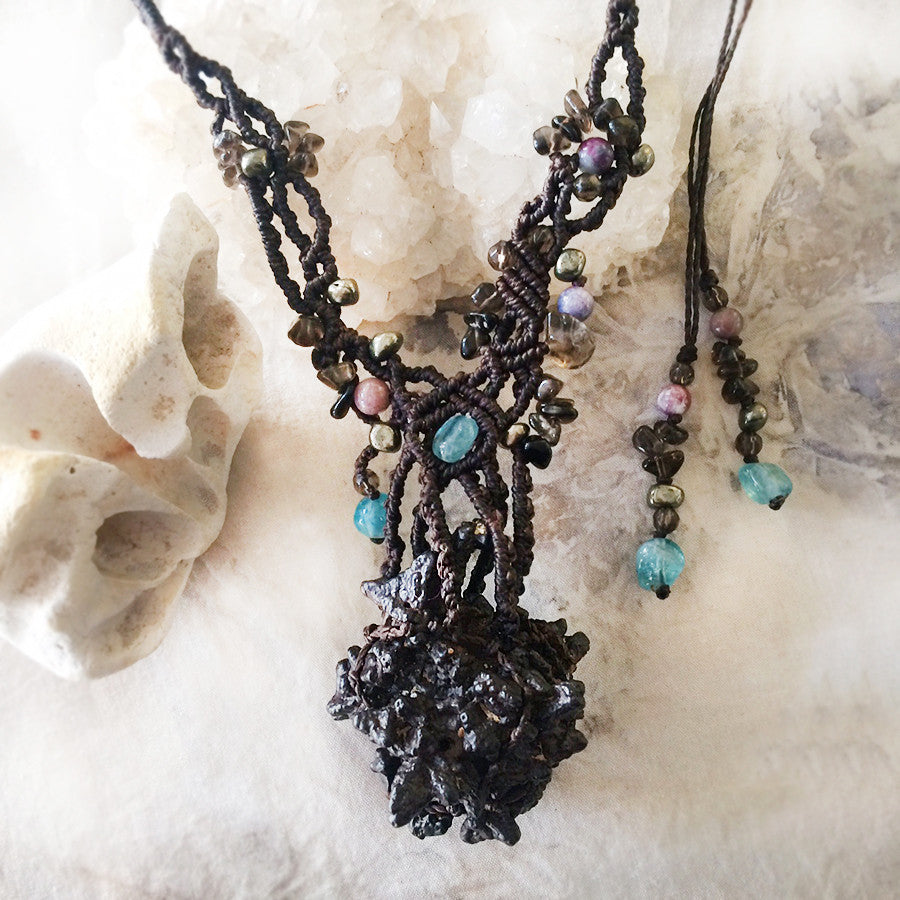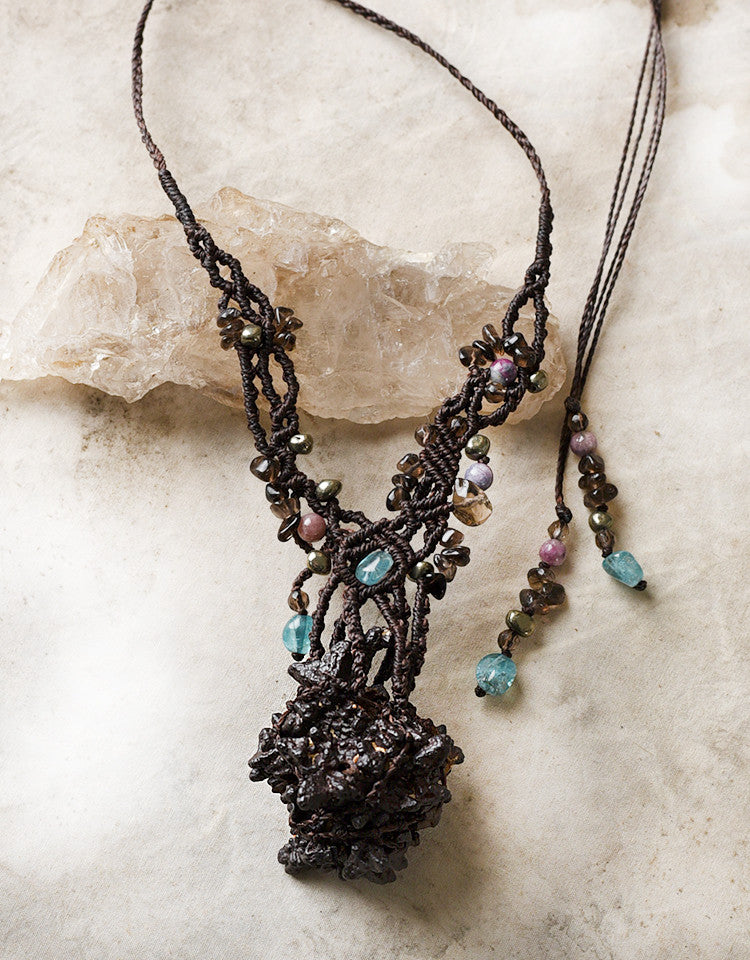 Crystal healing amulet with Z Stone
DESCRIPTION
This unusual stone is a raw, natural, un-drilled Z Stone cluster from Sahara desert. This dark brown treasure has an earthy, mysterious feel - very sculptural too. The necklace is intricately knotted with dark brown micro-macrame cord which is strong and durable, yet soft to wear. The knotting is asymmetrical, meaning the pattern is different on both sides of the necklace. The highlighting crystals are Apatite, Pyrite, Tourmaline and Smokey Quartz. On the right side near the Z Stone, there is a small dangling strand of Apatite. Matching crystals also adorn the ends of the adjustable necklace cords.
The length of the necklace is adjustable from very short down to solar plexus level. The Z Stone is just over 4 cm (1.6") tall and 3.5 cm (1.4") at its widest.
You'll receive this crystal healing necklace in one of my fabric draw-string pouches, great for the safe-keeping of the necklace. Gift-wrapped at no extra charge.

Read here how to take care of your crystal jewellery.
CRYSTAL PROPERTIES
Z STONE (Limonite after Marcasite Pseudomorph)
Stimulates the third eye and crown chakras, but also connects to the earth star chakra to ground higher vibrational energies. Increases awareness of other dimensions and assists in meditative dimensional travel. Symbolises eternal life. Shielding and protective, calming and comforting. Assists in gaining wisdom on which direction to take in life.
APATITE
Enhances one's insight and imagination, and gives increased self-confidence. Connects to high level of spiritual guidance and is helpful in letting go of anything that no longer serves your highest good. Helpful in bringing one's vision into reality and overcoming difficulties. Useful for energy workers, helping to maintain a clear energy field and balanced focus. Apatite crystal is also said to be a good aid in curbing one's appetite!
PYRITE
Taps into your innate abilities, bringing confidence and perseverance to aim for your goals. A shielding stone that helps you see the truth in the motives of others. Increases vitality and enhances your assertive qualities. Helpful in turning melancholy into feeling empowered and more light-hearted. Helps in letting go thoughts of misfortune and worry, thus making it an excellent stone for manifesting abundance. Symbolises the warmth and presence of sun, attracting also abundance of love, friendship and success.
SMOKEY QUARTZ
A grounding and calming stone that elevates moods and dissipates negative emotions. "A Stone of Serenity", it is comforting and protective for one's aura. Smokey Quartz is thought to assist in creative endeavours and also in setting personal boundaries. Offers protection against electromagnetic rays. A good healing stone for improving general feeling of well-being. Relieves anxiety and worry, wards off confusion. Shielding crystal to create a calm, safe environment.
TOURMALINE
Stone of abundance, protection and healing. Aids understanding oneself and others. Soothing and supportive. Reduces fears and promotes self-confidence. Removes energetic blockages, balancing the male/female energy within the body.
Recently Viewed