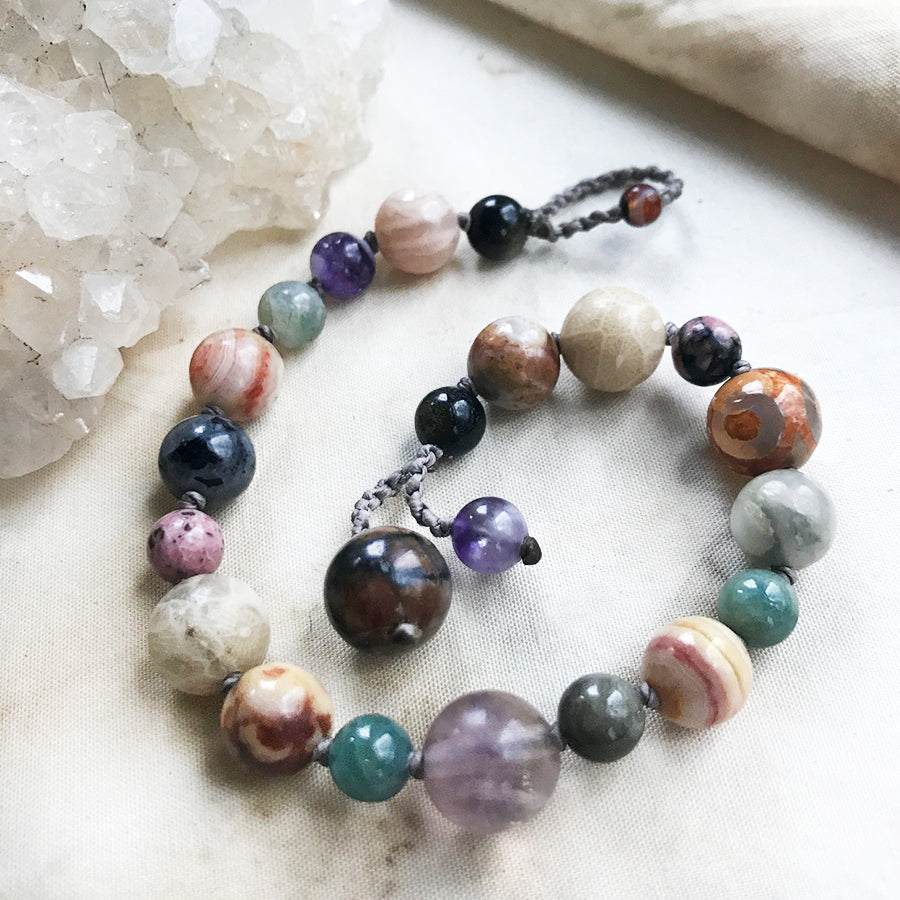 Crystal healing bracelet ~ for up to 6.5" wrist
DESCRIPTION
Beaded crystal healing bracelet with a line of several different crystals, especially selected and ordered for a unique, smooth energy flow. Along the strand you'll find: Petoskey Stone, Golden Sheen Obsidian, Rhodonite, Tree Agate, Crazy Lace Agate, Fluorite, Larvikite, Apatite, Dzi Agate, Peace Jade and Moonstone. The bracelet is knotted with grey micro-macrame cord. The main closure toggle stone is Chiastolite and the secondary toggle stone is Amethyst - you can slip both through the knotted loop to secure the bracelet close. The toggle loop includes a small Agate bead within the knotting, providing tactile help when you're closing the bracelet for yourself.
Although the bracelet length is 19.5 cm (7.7") the diameter of the stones make this a good fit for a up to 6.5" wrist circumference. The largest stones (Fluorite and Chiastolite) are 1.2 cm (0.5") in diameter.
There are no metals in this bracelet so would be particularly suitable for those with metal sensitivities / metal allergy, energy workers and those who simply prefer not to wear metal jewellery.
You'll receive this crystal healing bracelet in one of my fabric draw-string pouches, great for the safe-keeping of the bracelet. Gift-wrapped at no extra charge.

Read here how to take care of your crystal jewellery.
CRYSTAL PROPERTIES
The four main crystal energies in this multi-crystal bracelet:
CRAZY LACE AGATE
A stone of laughter and happiness, offering support and encouragement, elevating one's mood and promoting optimism. Uplifting stone that alleviates emotional pain and promotes self-acceptance. Useful for overcoming any kind of trauma, encouraging one to start over. Promotes inner stability.
PETOSKEY STONE
A supportive companion at times of transformation and major shifts in one's being. Encourages the integration of new positive changes into our life. Helps in developing one's intuitive senses and to feel the connection with subtle energies. Enhances imagination and creativity. Calls its keeper to recognise and appreciate their own unique individuality which makes life even richer.
FLUORITE
Excellent for cleansing one's aura, also detaching unwanted energy cords. Grounds excessive energy, beneficial for all levels of healing. Helpful in achieving spiritual wholeness. Protective, stabilising and harmonising stone. Facilitates personal growth. Awareness expanding. Anchors intuitive insights into the physical plane. Offers strong psychic protection, helping to discern energies one comes in contact with. Helps in being objective and focusing on what is essential. Also known as absorbing environmental EMF.
CHIASTOLITE
Stone of balance and harmony. Its visible cross-pattern is thought to symbolise one's commitment to approach life with Awareness. Assists in adapting to change at transitional times. It is also thought to enhance practical creativity. Very protective, allows its wearer to hold their personal space more easily. For someone who has "many irons in the fire" all the time, this is a great crystal to have close for coping with it all!
Recently Viewed