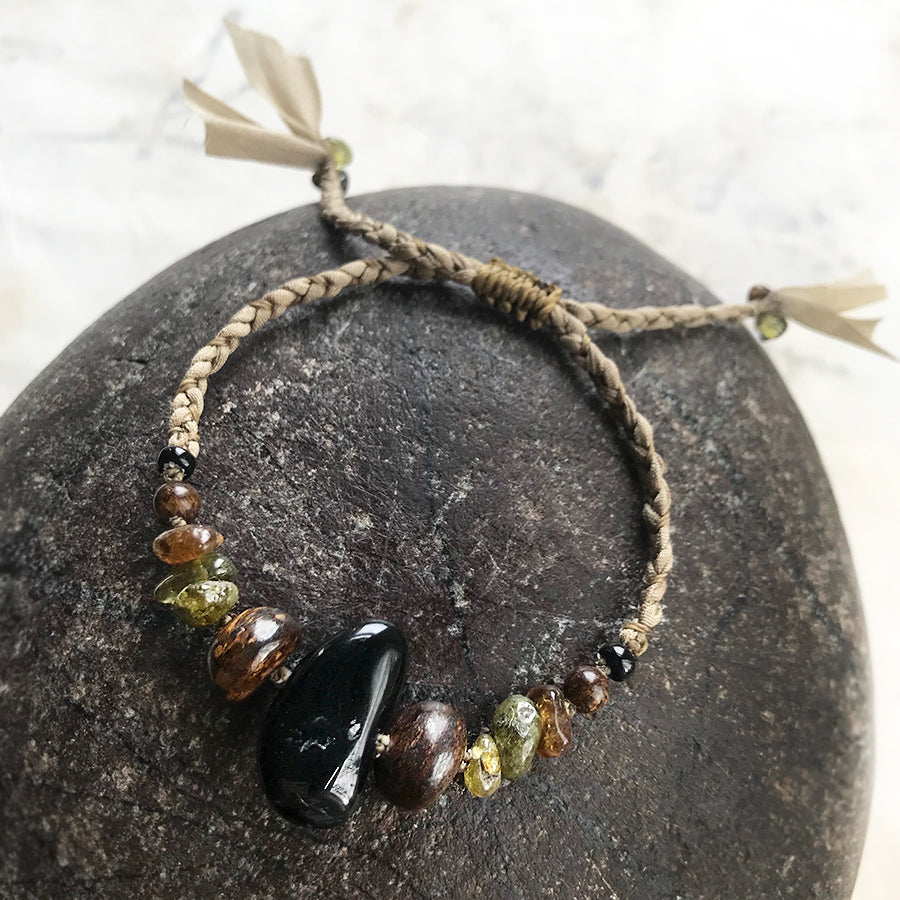 Crystal healing bracelet ~ adjustable to all wrist sizes
DESCRIPTION
Fully adjustable crystal healing bracelet with Black Tourmaline, Green Grossular Garnet and Bronzite. The bracelet is knotted and braided with brownish green micro-macrame cord and beige embroidery silk ribbon. The length is fully adjustable by pulling the silk braids through the knotted channel.

The row of stones is approx. 7 cm (2.75") wide. The central Black Tourmaline is 2 cm (0.8") in its longest dimension.
There are no metals in this bracelet so would be particularly suitable for those with metal sensitivities, energy workers and those who simply prefer not to wear metal.

You'll receive this crystal healing bracelet in one of my fabric draw-string pouches, great for the safe-keeping of the bracelet. Gift-wrapped at no extra charge.

Read here how to take care of your crystal jewellery.
CRYSTAL PROPERTIES
BLACK TOURMALINE (aka Schorl)
One of the most well-known protective stones, shielding its user from negativity. A shamanic stone used for grounding during vision quests. Empowering for those who work in challenging environments. Purifies and transforms denser energies into lighter vibrations and is also detoxifying for the body. If you're sensitive to electromagnetic smog, you may get relief by wearing black Tourmaline.
GREEN GROSSULAR GARNET
Potent prosperity stone, promoting happiness of life. Regenerates abundance, dissolving limitations to wealth. Excellent for business ventures, inspiring cooperation. Eases worries ad financial anxieties. Instils a flow of joy and renewal, helps to get life back on track. Strengthens one's commitment to a higher purpose.
BRONZITE
Encourages loving, non-judgemental mindset. Helps in gaining certainty about one's decisions and the right course of action. Bronzite is said to bring harmony into discordant situations, protective when the wearer might feel a lack of control. Instils a feeling of calmness when having "many irons in the fire". A stone of focused action. Grounds you into the knowing that "All Is Well".
Recently Viewed