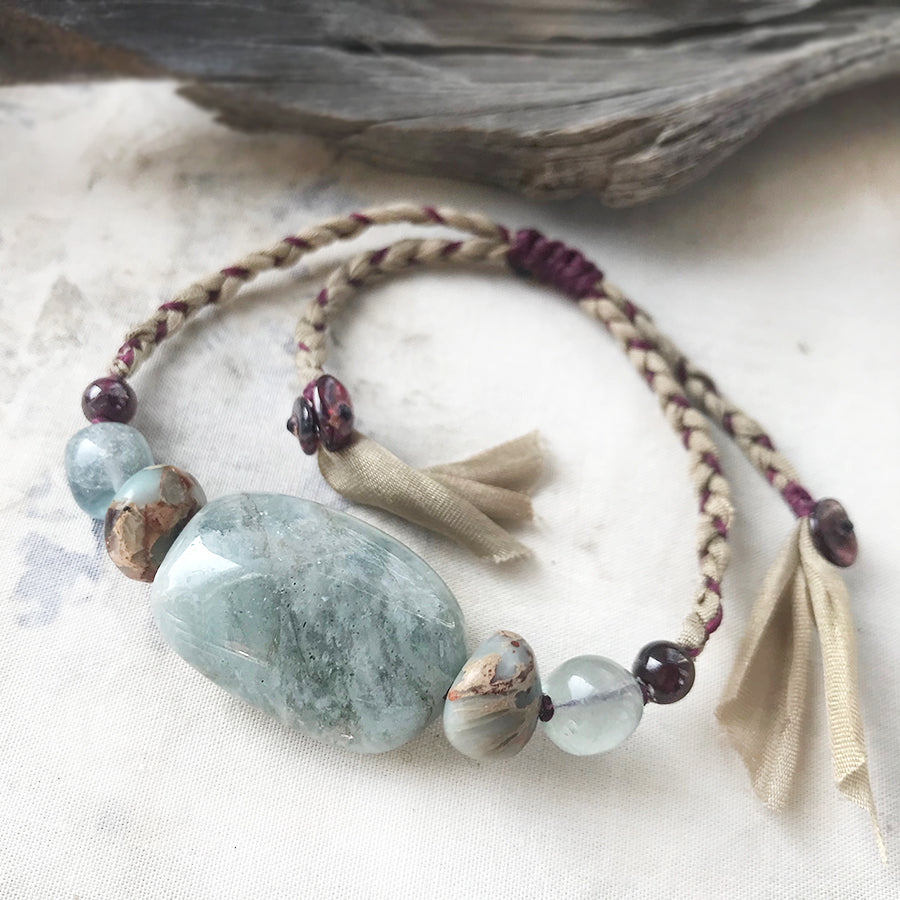 Crystal healing bracelet ~ adjustable to all wrist sizes
DESCRIPTION
Fully adjustable crystal healing bracelet with Aquamarine, Variscite, Blue Fluorite and Almandine Garnet. The bracelet is knotted and braided with burgundy tone micro-macrame cord and beige embroidery silk ribbon. The length is fully adjustable by pulling the silk braids through the knotted channel.

The row of stones is approx. 7 cm (2.75") wide. The central Aquamarine is 2.5 cm (1") wide.
There are no metals in this bracelet so would be particularly suitable for those with metal sensitivities, energy workers and those who simply prefer not to wear metal.

You'll receive this crystal healing bracelet in one of my fabric draw-string pouches, great for the safe-keeping of the bracelet. Gift-wrapped at no extra charge.

Read here how to take care of your crystal jewellery.
CRYSTAL PROPERTIES
AQUAMARINE
Connected with the throat chakra, easing verbal self-expression. Helps you communicate your own truth and find your voice. Helps in looking at emotional situations from other perspectives, assists in opening up intuition and to calmly be in the flow of life. Aquamarine also aids in reaching deep meditative states. Resonates with the energy of the ocean. Stone of courage and protection.
AQUA TERRA JASPER (aka VARISCITE)
Stone of inner peace and clarity. It has a loving and compassionate vibe. Helps with the alignment of one's 'Light' bodies and assists with emotional healing.
BLUE FLUORITE
Awareness expanding. Anchors intuitive insights into the physical plane. Attuned to the Third Eye chakra, enhancing intuitive visions and their accuracy. Promotes calm, rational thinking, directing one's activities toward an intended purpose. Fosters clear communication skills, inspiring honesty and sense of justice. Heals soul fragmentation through life times and aids cellular memory healing.
ALMANDINE GARNET
Stimulates one's life force. Opens the root chakra while drawing earth energy into the body, helping you to feel secure and centred. Awakens the "inner fire" of creativity. Highly protective stone and a great companion to keep you energised. Excellent good fortune and 'success' stone in both social and career ventures, adding positive vibes both in your personal or business life. Stone of purification and cleansing. Symbolises passionate, devoted love.
Recently Viewed