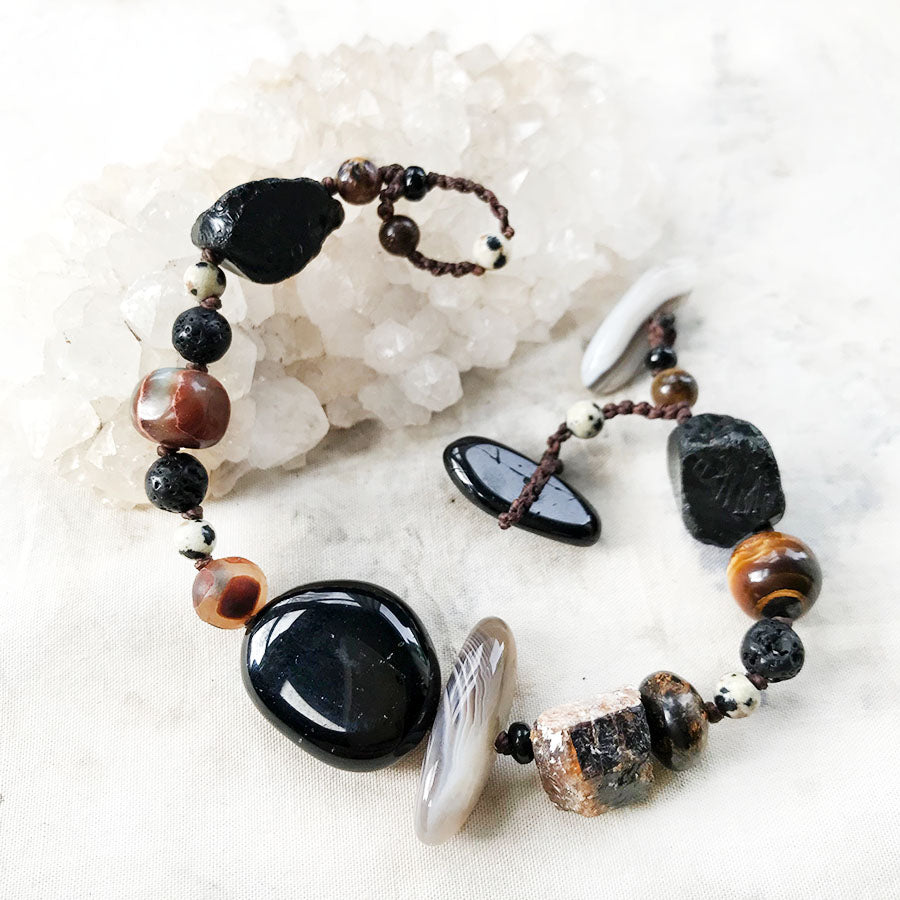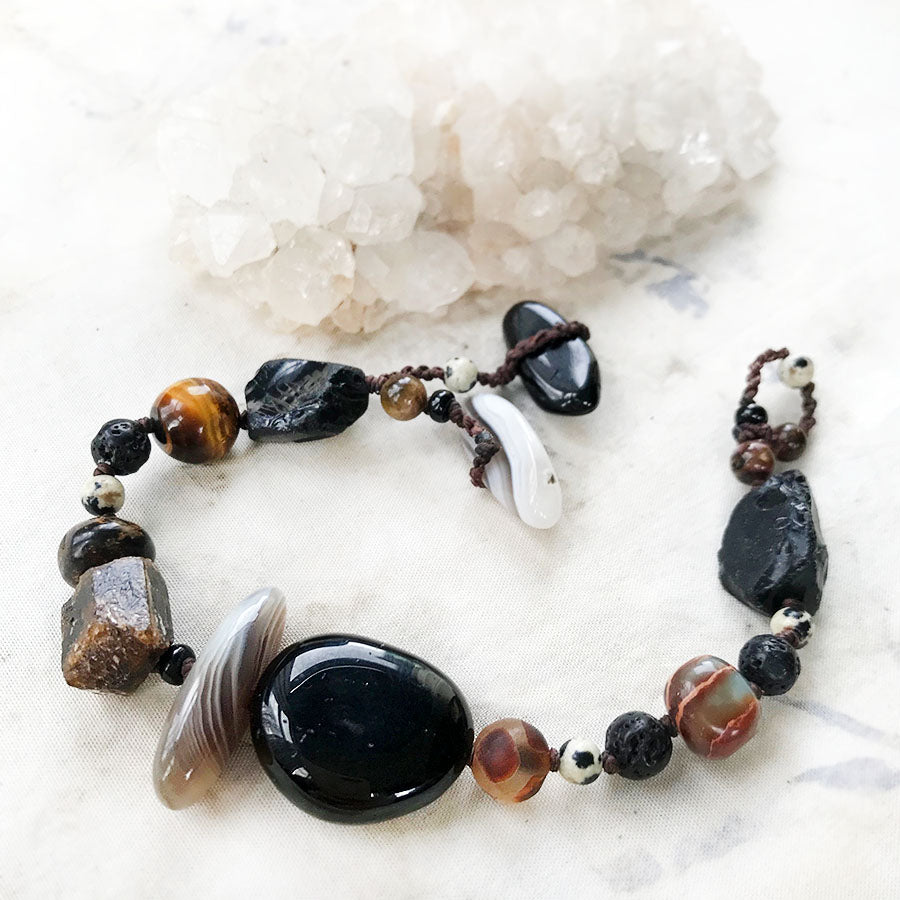 Crystal healing bracelet in dark tones ~ for wrist size up to 6.5"
DESCRIPTION
Crystal healing bracelet with a carefully considered row of several different crystals that together create an energy flow for empowered self-confidence. Among the bracelet strand you'll find Black Tourmaline, Agate, Dravite, Obsidian, Tiger Eye, Lava Stone, Bronzite, Picasso Jasper and Dalmatian Jasper. The bracelet is knotted with dark brown micro-macrame cord. The closure toggle stones are Black Tourmaline and Agate (you can slip both through the knotted loop to fasten the bracelet).
Although the bracelet length is 19 cm (7.5") the shapes of the stones make this a good fit for a up to 6.5" wrist circumference. The largest stone (Black Tourmaline) is approx. 2 cm cm (0.8") wide.
You'll receive this crystal healing bracelet in one of my fabric draw-string pouches, great for the safe-keeping of the bracelet. Gift-wrapped at no extra charge.

Read here how to take care of your crystal jewellery.
CRYSTAL PROPERTIES
The main crystals with the most prominent energy in the bracelet:
BLACK TOURMALINE (aka Schorl)
One of the most well-known protective stones, shielding its user from negativity. A shamanic stone used for grounding during vision quests. Empowering for those who work in challenging environments. Purifies and transforms denser energies into lighter vibrations and is also detoxifying for the body. If you're sensitive to electromagnetic smog, you may get relief by wearing black Tourmaline.
AGATE
The oldest good luck amulet. In ancient times Persian magicians were, according to legend, diverting storms with the powers of Agate. Considered a protective stone (especially for travel), said to shield its keeper against dangers. Increases inner stability, enhances personal courage and fosters self-confidence. Grounding and soothing. Balancing stone for one's energy system to experience oneness instead of duality.
OBSIDIAN
Quick-acting grounding stone. Cleanses and removes unwanted energies from the environment. Assists in releasing negative emotions, bringing them to the surface to be dealt with. When meditated with, can help discovering the roots of certain life situations. Releases disharmony. Strong shield against negative/chaotic energies.
DRAVITE (aka Brown Tourmaline, Champagne Tourmaline, Dravide)
Soothing and reassuring, contributes to a peaceful atmosphere in its vicinity. Helps you feel at ease in a crowd. Deeply cleansing energetically. Empowering stone, inspires courage and increases stamina in situations where needed. Improves self-esteem, guiding you to accept yourself on all levels and to move on with life. Good stone in enhancing creativity.
TIGER EYE
Helpful stone for learning to feel connected to one's personal strength. Excellent stone for attracting prosperity. But it has also a highly spiritual energy and is useful in understanding any life cycle that one is living through. Helps in seeing through illusions and discerning the truth in any situation. A highly protective stone. Good for strengthening the solar plexus (3rd) chakra and developing one's will power and courage.
LAVA STONE
Stone of vitality, assertiveness and passion. Provides stability in times of change. Grounding and protective. Supports courage and decisiveness. Helps in finding one's 'life path'. Encourages personal development and growth.
BRONZITE
Encourages loving, non-judgemental mindset. Helps in gaining certainty about one's decisions and the right course of action. Bronzite is said to bring harmony into discordant situations, protective when the wearer might feel a lack of control. Instils a feeling of calmness when having "many irons in the fire". A stone of focused action. Grounds you into the knowing that "All Is Well".
Recently Viewed