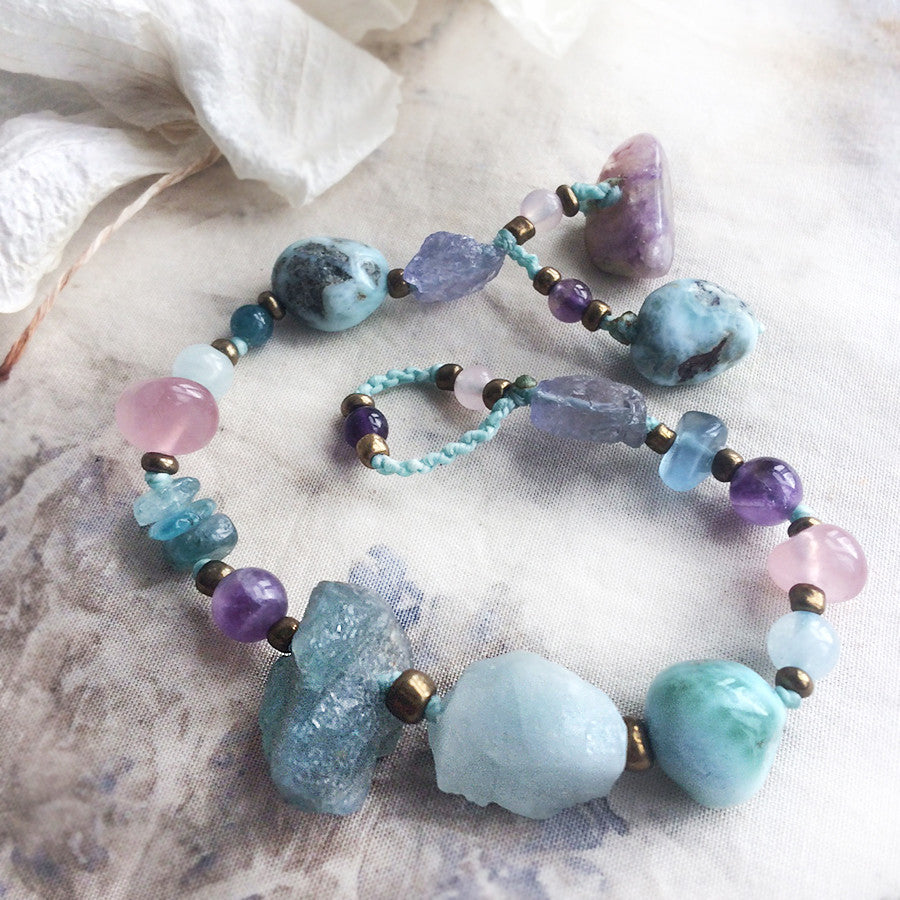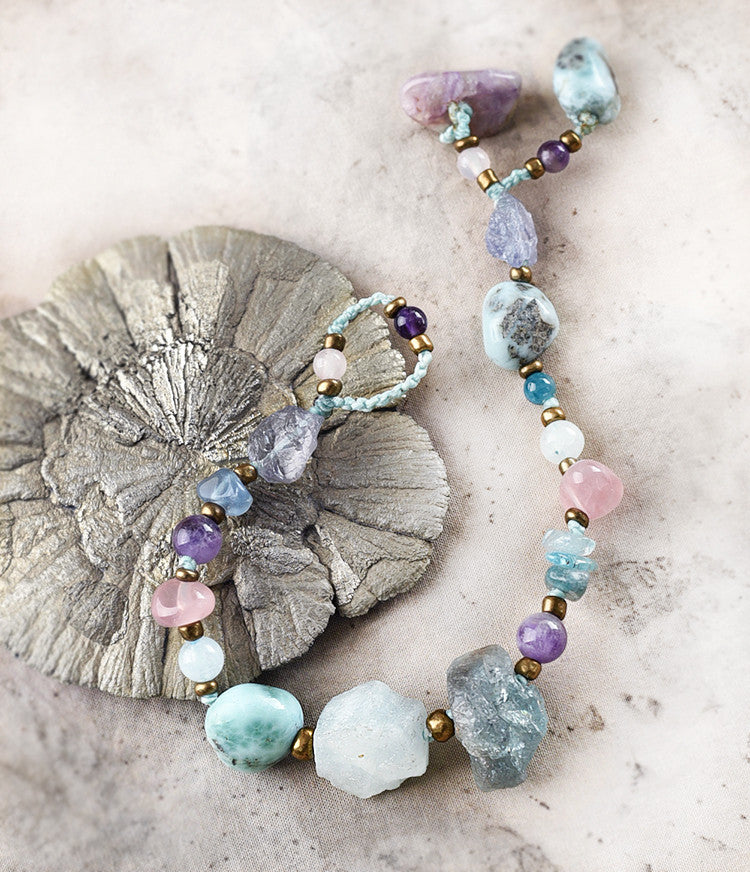 Crystal healing bracelet in subtle pastel tones ~ for up to 6" wrist
DESCRIPTION
This completely one-of-a-kind crystal healing bracelet with several rare semi-precious healing crystals. These gorgeous pastel tones feel calm both in crystal energy and colour energy. The bracelet is knotted with aqua blue micro-macrame cord, and have a double toggle closure of Larimar and now rare and scarce Charoite from Russia - you can slip both through the loop to secure the bracelet. The crystals are spaced with matte gold seed beads in uneven organic shapes and knotted at regular intervals for strength and flexibility. The largest three blue tone crystals are rough Apatite, Aquamarine and smooth Larimar. The other crystals include rough Iolite, the rare, naturally dark pink Rose Quartz from Madagascar, Amethyst and blue Fluorite.
The diameter of the largest stone (rough Apatite) is just over 1.5 cm (0.6"). The total length of the bracelet is 19 cm (7.5") including the toggle loop, but the chunkiness of the stones means that this bracelet would be a good fit for wrist circumference of about 6".
You'll receive this crystal energy bracelet in one of my handmade fabric pouches for safe-keeping, and gift-wrapped for no extra charge.

Read here how to take care of your crystal jewellery.
CRYSTAL PROPERTIES
APATITE
Enhances one's insight and imagination, and gives increased self-confidence. Blue Apatite connects to high level of spiritual guidance and is helpful in letting go of anything that no longer serves your highest good. Apatite crystal is also said to be a good aid in curbing one's appetite!
AQUAMARINE
Connected with the throat chakra, easing verbal self-expression. Helps you communicate your own truth and find your voice. Helps in looking at emotional situations from other perspectives, assists in opening up intuition and to calmly be in the flow of life. Aquamarine also aids in reaching deep meditative states. Resonates with the energy of the ocean. Stone of courage and protection.
LARIMAR
A relatively rare stone, only found in the Dominican Republic. In crystal lore it is associated with the ancient civilization on Lemuria, and also sometimes called a "Dolphin Stone". Larimar is soothing and uplifting, bringing tranquility into heart and mind. It is said to support self-expression, creativity and patience.
IOLITE
Aids in making inner visions more vivid, dissolving fear of the unknown. Helps in blending everyday conscious thinking with intuitive inner knowing. Awakens psychic gifts, activating and clearing the third eye. Helps accessing communication from higher vibratory realms. Helps one to act and respond to situations from one's higher guidance.
CHAROITE
Stone of insight and transformation. Teaches you to live in the moment, releasing fears. Symbol of endurance, giving courage to start over when needed. Aligns heart and intellect, eases worries and promotes a more relaxed attitude. Useful for alternative therapists: grounds high-frequency vibrations and assists in discerning energy patterns.
ROSE QUARTZ
Powerful love stone, love that is all-encompassing and unconditional. Awakens one's heart to its own innate love, compassion and acceptance. Vibrates its loving energy to all chakras, offering gentle healing. Soothing and calming. Dissolves anger and resentment. Good for raising one's self-esteem and feelings of self-worth. Balances emotions and is said to support all types of healing. Guide's one's life path towards a sense of personal fulfilment and contentment.
AMETHYST
Instils inner peace, promotes self-discovery and aids in relaxation. Associated with the crown chakra, known as a "stone of balance" and positive transformation. Thought to increase spiritual awareness and psychic abilities, initiating higher knowing and greater understanding. Helps in assimilating new ideas and manifesting thoughts into action. Symbolises a connection to the Divine.
BLUE FLUORITE
Attuned to the Third Eye chakra, enhancing intuitive visions and their accuracy. 
Promotes calm, rational thinking, directing one's activities toward an intended purpose. Fosters clear communication skills, inspiring honesty and sense of justice. Heals soul fragmentation through life times and aids cellular memory healing.
Recently Viewed