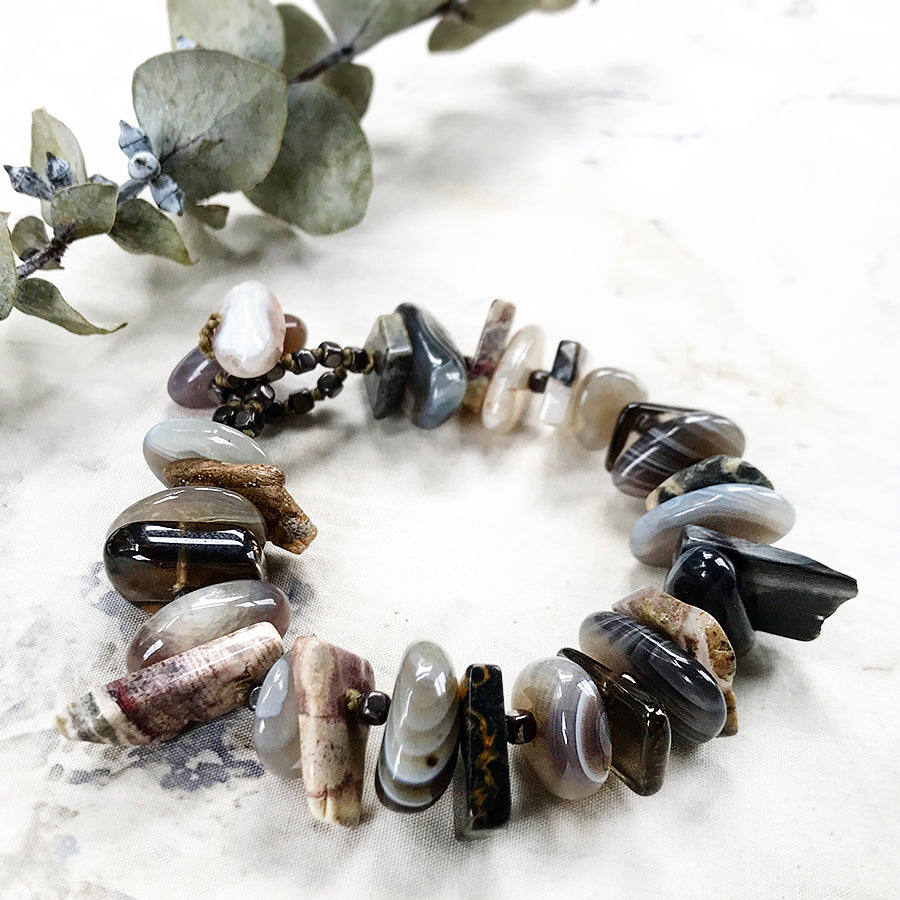 Crystal healing bracelet with Agate, Smokey Quartz, Silver Leaf Jasper & Hematite ~ for up to 6.5" wrist
DESCRIPTION
Crystal healing bracelet with Agate, Smokey Quartz, Silver Leaf Jasper and Hematite. The overall tone is earthy browns, creams and greys. The bracelet is knotted with brown micro-macrame cord. The two toggle stones are Agate, you can slip both through the Hematite beaded loop to secure the bracelet close. 
Although the bracelet length is 19.5 cm (7.7") the chunky nature of the stones make this a good fit for a up to 6.5" wrist circumference. The average width of the bracelet varies as the stones are different sizes, but the largest stones in this bracelet are approx. 2 cm (0.8") at their longest.
You'll receive this crystal healing bracelet in one of my fabric draw-string pouches, great for the safe-keeping of the bracelet. Gift-wrapped at no extra charge.

Read here how to take care of your crystal jewellery.
CRYSTAL PROPERTIES
AGATE
The oldest good luck amulet. In ancient times Persian magicians were, according to legend, diverting storms with the powers of Agate. Considered a protective stone (especially for travel), said to shield its keeper against dangers. Increases inner stability, enhances personal courage and fosters self-confidence. Grounding and soothing. Balancing stone for one's energy system to experience oneness instead of duality.
SMOKEY QUARTZ
A grounding and calming stone that elevates moods and dissipates negative emotions. "A Stone of Serenity", it is comforting and protective for one's aura. Smokey Quartz is thought to assist in creative endeavours and also in setting personal boundaries. Offers protection against electromagnetic rays. A good healing stone for improving general feeling of well-being. Relieves anxiety and worry, wards off confusion. Shielding crystal to create a calm, safe environment.
SILVER LEAF JASPER
Harmonious, protective stone. Considered a good amulet for times of travel (whether physical or astral). Instils a feeling of wholeness and serenity, a sense that all is well. Great support for one's will power and personal courage. Healing effect on emotional tension. Has been called a "stone of natural wisdom", awakening one's sense of joy in life.
HEMATITE
Creates a strong sense of self and enhances the creative flow. Relieves stress. Revitalises, enhancing personal magnetism and optimism. Helps in releasing self-imposed limitations to find your own unique gifts. A stone of balance and equilibrium. Grounds when feeling scattered, increases alertness and vigilance.
Recently Viewed