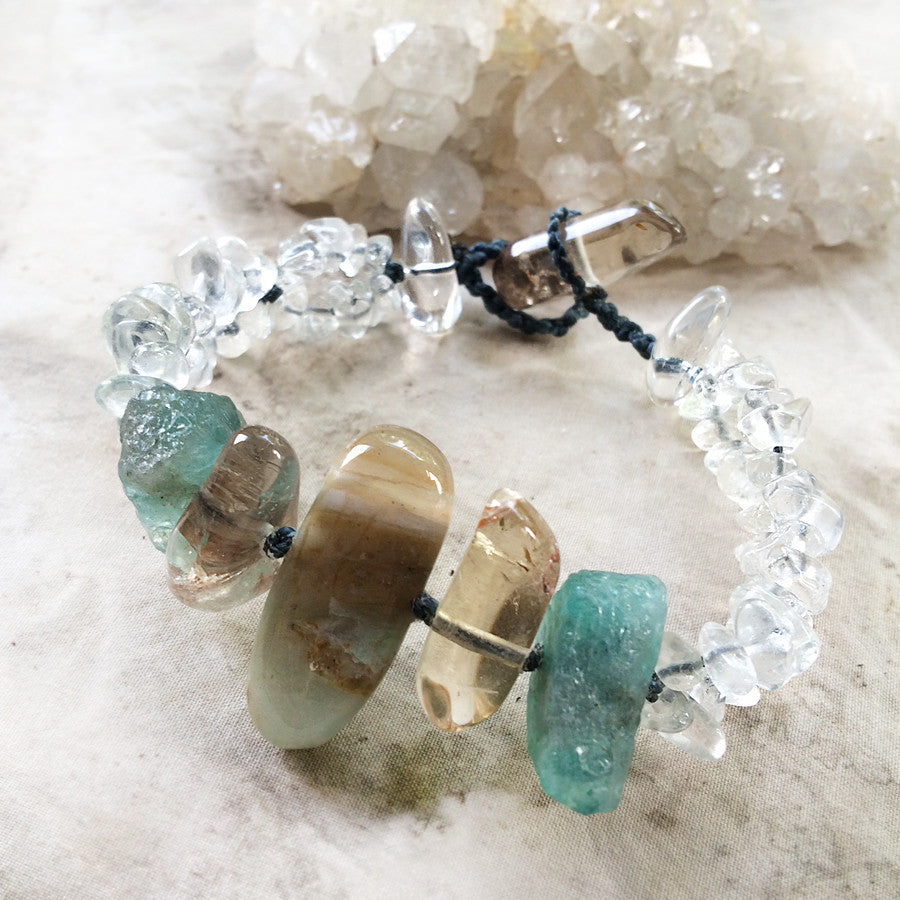 Crystal healing bracelet with Andean Blue Opal, Citrine, Apatite & clear Quartz ~ for wrist size 6.5"
DESCRIPTION
Crystal healing bracelet with Andean Blue Opal, Citrine (natural, unheated), rough cut Apatite and clear Quartz. The bracelet is knotted with petrol blue micro-macrame cord. The toggle stone is Citrine. 
Although the bracelet length is 19 cm (7.5") the sizes of the stones make this a good fit for a up to 6.5" wrist circumference. The middle stone, Andean Blue Opal is just under 3 cm (1.2") tall.
There are no metals in this bracelet so would be particularly suitable for those with metal sensitivities, energy workers and those who simply prefer not to wear metal.
You'll receive this crystal healing bracelet in one of my fabric draw-string pouches, great for the safe-keeping of the bracelet. Gift-wrapped at no extra charge.
CRYSTAL PROPERTIES
ANDEAN BLUE OPAL
Relatively rare stone. Associated with the throat chakra, linking it with the heart chakra. Known as the stone of courage, self-esteem and communication. Energising stone, said to help with fatigue. Great aid to creative endeavours. Soothing for those overwhelmed by life. Useful for those who transmute outside energy through their own body.
CITRINE
Affects a powerful alignment with the higher self. Balances the emotions and helps in uplifting one's mood to be more sunny and cheerful. Brings clarity of thought, and attracts abundance through joy. Powerful transformer in healing work. Increases self-confidence and optimism, cleanses the surrounding energies and promotes creative thinking. Releases, dissipates and transforms denser energies on all levels, mental, emotional and physical. Works to release limitations and blockages particularly around the sacral / solar plexus area.
APATITE
Enhances one's insight and imagination, and gives increased self-confidence. Blue Apatite connects to high level of spiritual guidance and is helpful in letting go of anything that no longer serves your highest good. Apatite crystal is also said to be a good aid in curbing one's appetite!
CLEAR QUARTZ
The universal master crystal that has a harmonising effect on all levels of being. Programmable by intention, so can be used for versatile purposes. Quartz can clear, enhance, amplify, transmute, balance, focus and transmit energy. Raises one's energetic vibration. Attunes its keeper to their higher self. Known as the "Stone of Power" and "Master Healer".
Recently Viewed