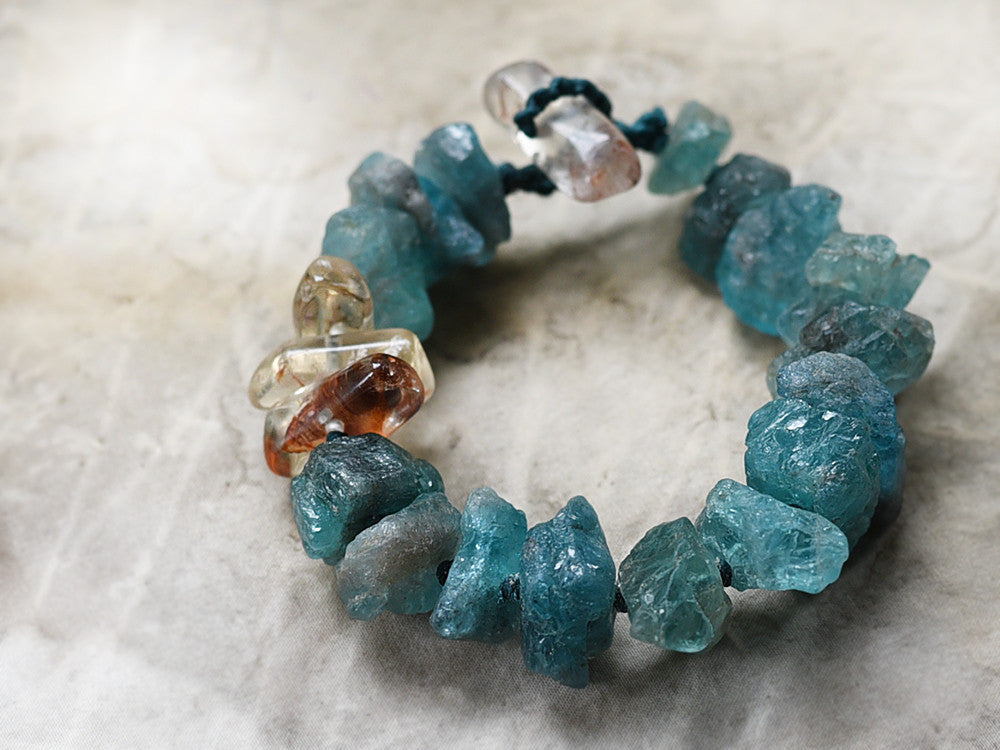 Crystal healing bracelet with Apatite & Citrine ~ for 6" wrist
DESCRIPTION
Unusual chunky bracelet, with rough cut Apatite gemstones. The colour is deep bluish green, and when these stones are worn for a while, they seem to acquire an even brighter glow. There's a detail of three beautiful Citrines, asymmetrically on the side of the bracelet (but could be worn on top of the wrist too if placing the toggle closure on the side). These Citrines are another of my recent beautiful finds - they have inclusions within that add much dimension and depth, each a natural individual. The bracelet is knotted with a double thickness of petrol blue micro-macrame cord with The toggle clasp is Citrine. An eye-catching talisman accessory for an individual look.
Although the measured length of the bracelet is 7.5" (18.5 cm) including the toggle loop, the chunky stones make this a good snug fit for a slim 6" (15 cm) wrist.
The size of the Apatites varies slightly, but on average they make for a bracelet width of approx. 0.8" (2 cm).
There are no metals used in this bracelet, so it would be suitable for those with sensitivities to metals.
You'll receive this crystal healing bracelet in one of my fabric draw-string pouches, great for its safe-keeping.
Gift-wrapped at no extra charge.
CRYSTAL PROPERTIES
APATITE
Enhances one's insight and imagination, and gives increased self-confidence. Blue Apatite connects to high level of spiritual guidance and is helpful in letting go of anything that no longer serves your highest good. Apatite crystal is also said to be a good aid in curbing one's appetite!
CITRINE
Affects a powerful alignment with the higher self. Balances the emotions and helps in uplifting one's mood to be more sunny and cheerful. Brings clarity of thought, and attracts abundance through joy. Powerful transformer in healing work. Increases self-confidence and optimism, cleanses the surrounding energies and promotes creative thinking. Releases, dissipates and transforms denser energies on all levels, mental, emotional and physical. Works to release limitations and blockages particularly around the sacral / solar plexus area.
Recently Viewed