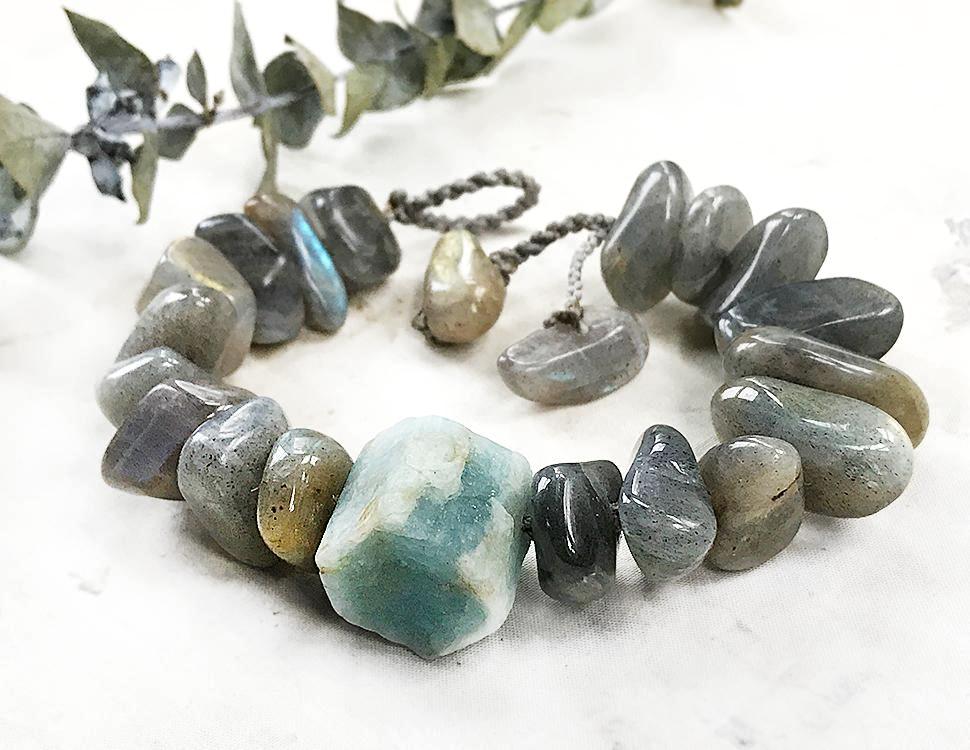 Crystal healing bracelet with Aquamarine & Labradorite ~ for up to 6.75" wrist
DESCRIPTION
Crystal healing bracelet with smooth Labradorites that display their characteristic glorious light flashes of blue, green and gold. There's one rugged, large Aquamarine highlighting the centre of the bracelet. The bracelet is knotted with grey micro-macrame cord. The two closure toggle stones are Labradorite ~ you can slip both through the knotted loop to fasten the bracelet securely.
Although the bracelet length is 21 cm (8.3") the chunky nature of the stones make this a good fit for a up to 6.75" wrist circumference. If you prefer a looser fit, this is also perfectly fine for a 6" wrist (it won't slip over your hand when the toggles are closed.) The bracelet width on average is just over 2 cm (0.8").
There are no metals in this bracelet so would be particularly suitable for those with metal sensitivities, energy workers and those who simply prefer not to wear metal.
You'll receive this crystal healing bracelet in one of my fabric draw-string pouches, great for the safe-keeping of the bracelet. Gift-wrapped at no extra charge.

Read here how to take care of your crystal jewellery.
CRYSTAL PROPERTIES
AQUAMARINE
Connected with the throat chakra, easing verbal self-expression. Helps you communicate your own truth and find your voice. Helps in looking at emotional situations from other perspectives, assists in opening up intuition and to calmly be in the flow of life. Aquamarine also aids in reaching deep meditative states. Resonates with the energy of the ocean. Stone of courage and protection.
LABRADORITE
One of the most powerful, versatile crystal tools for healing. Creates an auric shield and strengthens your innate energy and life force, preventing energy leakages. Enhances intuitive abilities and assists in spiritual transformation. Helps the wearer align with their highest destiny and discover their inner worth. Strengthens willpower and brings in new ideas. Often referred to as the 'Stone of Destiny', believed to help you to find your true path in life, and as 'Temple of the Stars', anchoring higher dimensional light into your being.
Recently Viewed