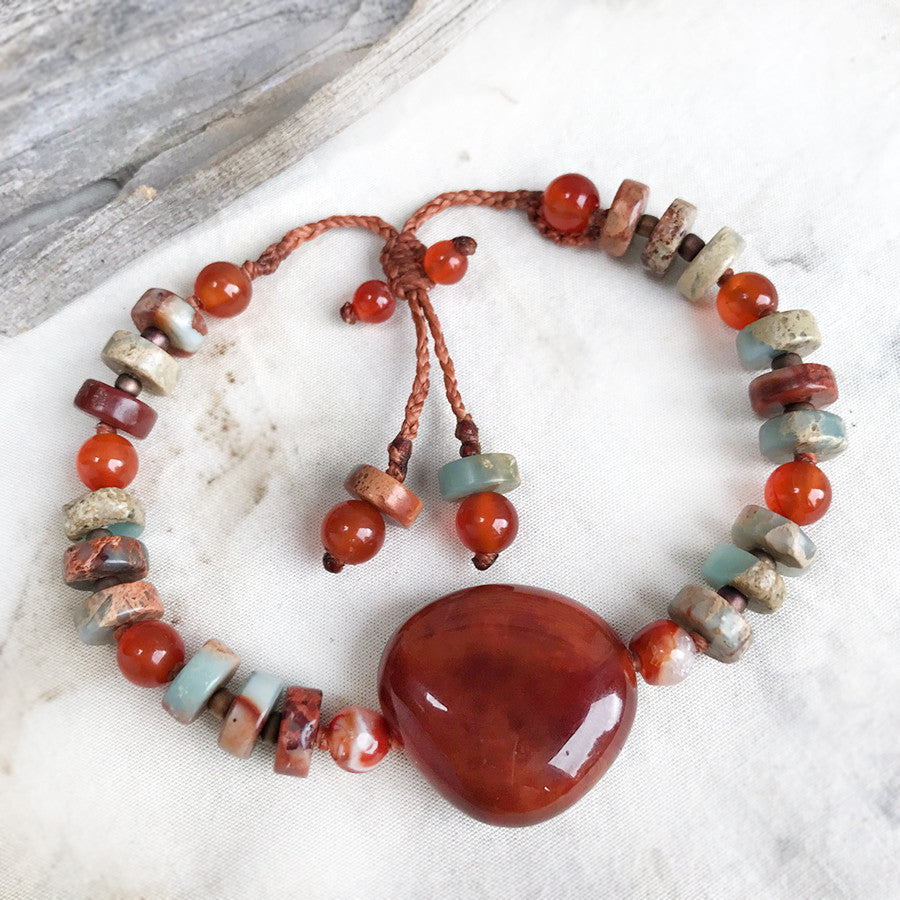 Crystal healing bracelet with Carnelian & Aqua Terra Jasper ~ all wrist sizes (adjustable)
DESCRIPTION
Crystal healing bracelet with a deep orangey red Carnelian, combined with Aqua Terra Jasper and smaller Carnelians. The bracelet is knotted with reddish brown micro-macrame cord and its the length is adjustable through a knotted loop - you can tighten it to your desired size by pulling the braided cord ends. Please note that this closing mechanism differs from the usual Spirit Carrier stone toggles. You may need someone to close the bracelet for you at first when the slider is still somewhat stiff from being brand new.
The size of the large Carnelian is just over 2 cm (0.8") wide. The bracelet thickness as determined by the Aqua Terra Jasper is 0.8 cm (0.3").
You'll receive this crystal healing bracelet in one of my fabric draw-string pouches, great for the safe-keeping of the bracelet. Gift-wrapped at no extra charge.

Read here how to take care of your crystal jewellery.
CRYSTAL PROPERTIES
CARNELIAN
Known as a stone of motivation and courage. Stimulates creativity and increases one's sense of self-worth. Balancing for body's energy levels, restoring vitality and motivation. Said to attract prosperity, new resources and good luck. A success stone that helps you follow through with plans. Stone of action that aids in overcoming procrastination. Helps in gaining more understanding of one's inner self. Stimulating to the Sacral Chakra, which, when in balance, allows one to enjoy life, feel its joys and pleasures, be flexible and 'go with the flow'.
AQUA TERRA JASPER (aka VARISCITE)
Stone of inner peace and clarity. It has a loving and compassionate vibe. Helps with the alignment of one's 'Light' bodies and assists with emotional healing.
Recently Viewed