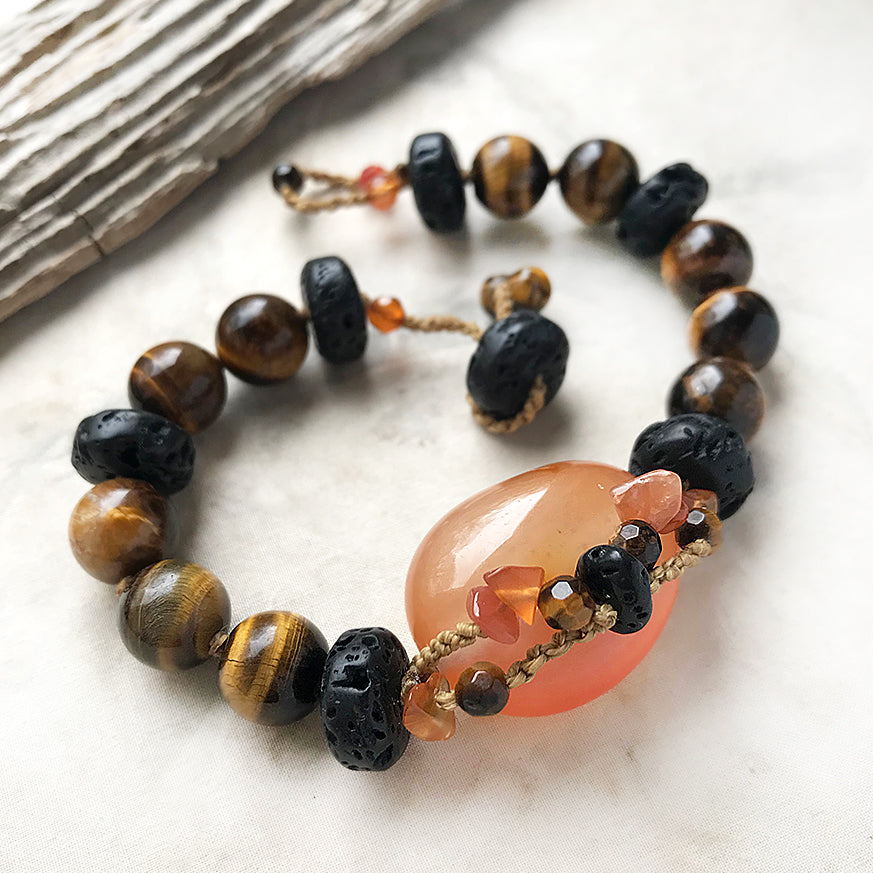 Crystal healing bracelet with Carnelian, Tiger Eye & Lava Stone ~ for up to 7" wrist
DESCRIPTION
Crystal healing bracelet with Carnelian, Tiger Eye and Lava Stone. The bracelet is knotted with golden brown micro-macrame cord. The closure toggle stone is Lava Stone, with a small 'lock' stone of Tiger Eye (you can slip both through the knotted loop to fasten the bracelet).
Although the bracelet length is 21.5 cm (8.5") the chunky nature of the stones make this a good fit for a up to 7" wrist circumference. The middle stone, Carnelian, is just over 2.5 cm (1") wide.
There are no metals in this bracelet so would be particularly suitable for those with metal sensitivities, energy workers and those who simply prefer not to wear metal.
You'll receive this crystal healing bracelet in one of my fabric draw-string pouches, great for the safe-keeping of the bracelet. Gift-wrapped at no extra charge.

Read here how to take care of your crystal jewellery.
CRYSTAL PROPERTIES
CARNELIAN
Known as a stone of motivation and courage. Stimulates creativity and increases one's sense of self-worth. Balancing for body's energy levels, restoring vitality and motivation. Said to attract prosperity, new resources and good luck. A success stone that helps you follow through with plans. Stone of action that aids in overcoming procrastination. Helps in gaining more understanding of one's inner self. Stimulating to the Sacral Chakra, which, when in balance, allows one to enjoy life, feel its joys and pleasures, be flexible and 'go with the flow'.
LAVA STONE
Stone of vitality, assertiveness and passion. Provides stability in times of change. Grounding and protective. Supports courage and decisiveness. Helps in finding one's 'life path'. Encourages personal development and growth.
TIGER EYE
Helpful stone for learning to feel connected to one's personal strength. Excellent stone for attracting prosperity. But it has also a highly spiritual energy and is useful in understanding any life cycle that one is living through. Helps in seeing through illusions and discerning the truth in any situation. A highly protective stone. Good for strengthening the solar plexus (3rd) chakra and developing one's will power and courage.
Recently Viewed