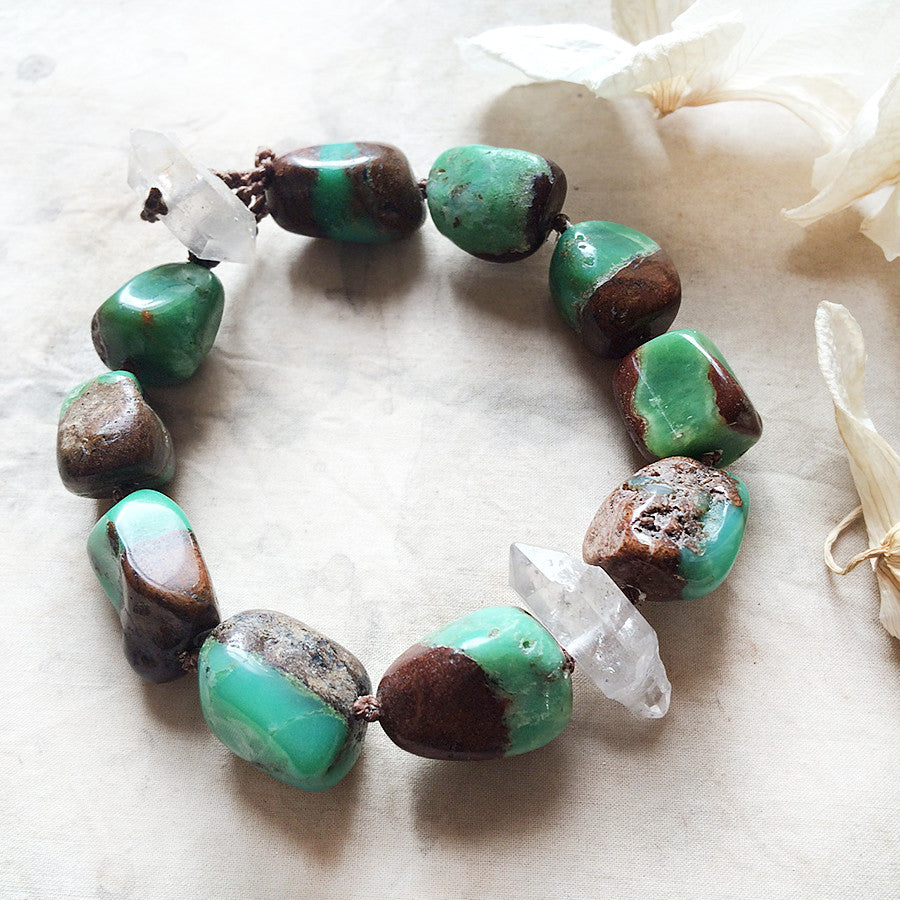 Crystal healing bracelet with Chrysoprase & Sichuan Quartz ~ for up to 7.5" wrist
DESCRIPTION
Crystal healing bracelet with striking Chrysoprase stones, smooth but retaining lines and indentations showing the natural surface texture - they remind me of mint chocolate! The middle stone is double-terminated Sichuan Quartz (also called 'Tibetan diamond'). The bracelet is knotted with brown micro-macrame cord in double thickness, and the toggle stone is also a double-terminated Sichuan Quartz.
The size of the stones varies slightly but all combined, make for an average bracelet width of just under 2 cm (0.8"), although the middle stone, Sichuan Quartz is 2.5 cm (1") tall. The bracelet length is 24 cm (9.4") yet the chunky nature of the stones makes this a snug fit for a 7.5" wrist circumference. If your wrist is smaller but you prefer your bracelets more loose, you could still enjoy wearing this bracelet.
You'll receive this crystal healing bracelet in one of my fabric draw-string pouches, great for the safe-keeping of the bracelet. Gift-wrapped at no extra charge.
Read here about how to take care of your natural crystal jewellery.
CRYSTAL PROPERTIES
CHRYSOPRASE
Opens and activates the Heart chakra, and helps one to live 'from the heart'. It encourages acceptance of oneself and others, as well as bringing a sense of hope into situations that may look dire. A loving and supportive stone at times of transitional phases. Initiates inner growth and the healing of heart-felt sorrows. A stone of grace and compassion.
SICHUAN QUARTZ
Spiritually attuned to the white flame of pure consciousness, activating the crown and the third eye chakras. Aligns all the energy bodies, bringing forth a meditative state, peace and present moment awareness. Expands your consciousness and opens up psychic channels. Releases old, stagnant emotions, cleanses one's auric field and releases negative thoughts. Emanates a strong "OM" vibration. Can be used to intensify attunements, find out about karmic lessons and to bring deep healing for all levels of being. Double-terminated Sichuan Quartz brings powerful spiritual protection and purification.
Recently Viewed