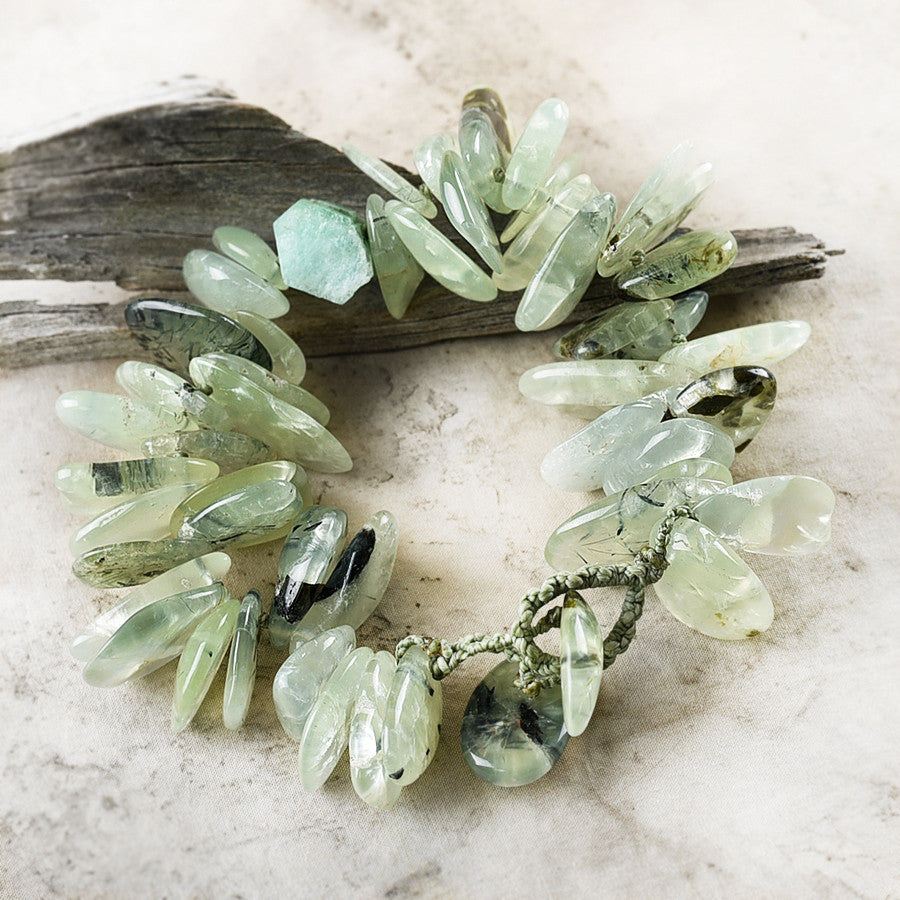 Crystal healing bracelet with Prehnite w/ Epidote inclusions & Emerald ~ for up to 7.25" wrist
DESCRIPTION
Highly unique crystal healing bracelet with smooth, flat Prehnite (with Epidote inclusions) pebbles in undulating shapes. The middle stones is rough cut Emerald. The bracelet is knotted with light green micro-macrame cord, and the two toggle stones are also Epidote in Prehnite. Both toggle stones can be slipped through the knotted loop to secure the bracelet close. All the pebbles move around the central core cord, and being smooth, settle softly over the wrist contours when worn.
The size of the stones varies slightly but all combined, make for an average bracelet width of 2.5 cm (1"), with the Prehnites being up to 2.5 cm (1") in their longest dimension, a few slightly over.

Although the bracelet length is 22 cm (8.25") the unusual nature of the stones makes this a relaxed fit for a 7" wrist circumference, slightly more snug for a 7.25" wrist. If your wrist is smaller but you prefer your bracelets more loose, you could still enjoy wearing this bracelet.
There are no metals in this bracelet so would be particularly suitable for those with metal sensitivities / metal allergy, energy workers and those who simply prefer not to wear metal jewellery.
You'll receive this crystal healing bracelet in one of my fabric draw-string pouches, great for the safe-keeping of the bracelet. Gift-wrapped at no extra charge.
Please note:
Because of the delicate movement of the stones in this bracelet, please take extra care at times that you're not wearing it - it's good to store the bracelet in the accompanying fabric pouch and to make sure nothing is positioned on top of it and the thin stone slices might get crushed.
Read here more about how to take care of your natural crystal jewellery.
CRYSTAL PROPERTIES
PREHNITE WITH EPIDOTE INCLUSIONS
Prehnite is a strongly protective stone. It fosters a sense of trust in the Universe and helps you protect your boundaries so it's easier to say "no" when needed. Prehnite is also revitalising and said to bring inner peace. Epidote within the Prehnite is an energy enhancer, so it gives an extra boost to the crystal energy. Epidote encourages a positive outlook, clearing emotional residue and confusion from the heart chakra. Good for feeling grounded and connected to nature if in a city environment. 
Considered a magnet for prosperity and abundance for those who are generous at heart.
EMERALD
Stone of Love. Opening and nurturing to the heart chakra. Benefits heart-based intuition. Promotes joyous emotions, enhances emotional and spiritual balance. Restores confidence where needed. Brings visionary insight, especially relating to one's vocation. In crystal lore, Emerald is the sacred stone of the goddess Venus. It was the symbol of eternal life in ancient Egypt. Also known as a great aid for manifesting prosperity. (Emerald is one of the four 'precious' gemstones, the other three being Ruby, Sapphire & Diamond. Other gemstones are considered 'semi-precious'.)
Recently Viewed