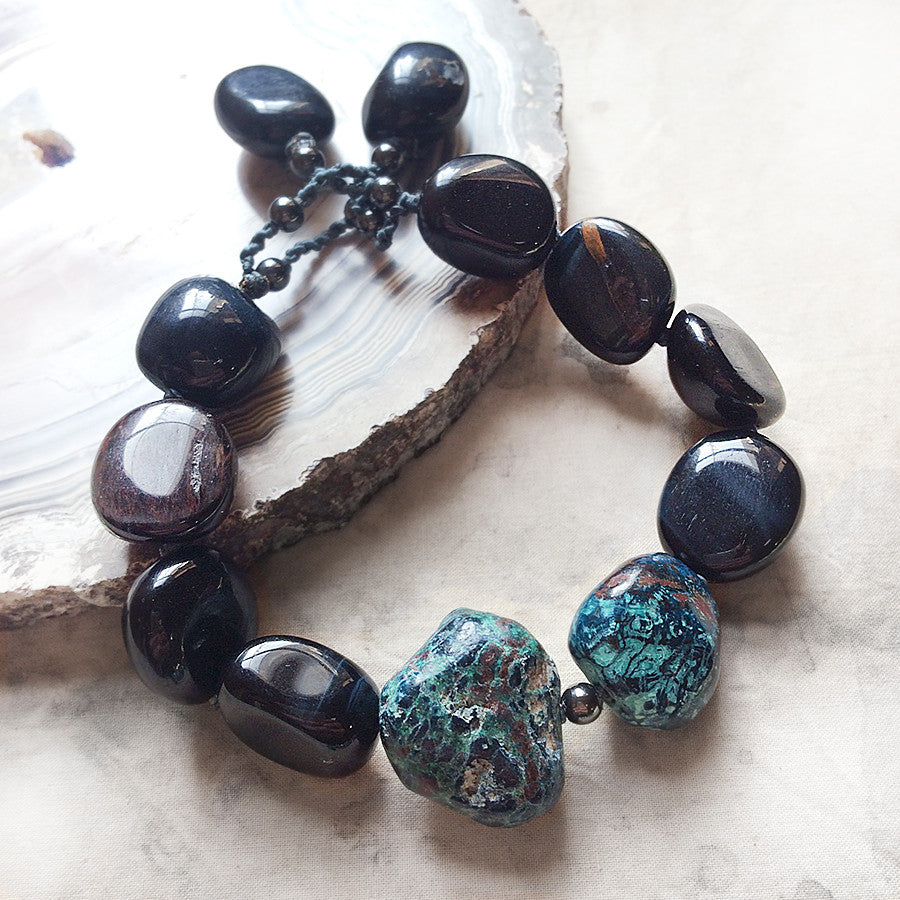 Crystal healing bracelet with Hawk Eye, Shattukite & Hematite ~ for up to 6.5" wrist
DESCRIPTION
Crystal healing bracelet with smooth, shiny pebbles of Hawk Eye in undulating shapes. The photographs on some computer screens may show the Hawk Eyes as black, but they are a lovely dark indigo tone, with some lighter blue flashes across them. The two middle stones are Shattukite. There are also a few tiny little Hematite beads adding their own 'crystal vibe spice' into this bracelet's healing combination - one between the two Shattukites and the rest in the toggle closure. The bracelet is knotted with petrol blue micro-macrame cord, and the two toggle stone are also Hawk Eye - they can both be slipped through the toggle loop to secure the bracelet.
The size of the stones varies slightly but all combined, make for an average bracelet width of just under 1.5 cm (0.6"), with the larger of the Shattukites being 2 cm (0.8") in its longest dimension. Although the bracelet length is 21 cm (8") the chunky nature of the stones makes this a snug fit for a 6.5" wrist circumference. If your wrist is smaller but you prefer your bracelets more loose, you could still enjoy wearing this bracelet.
You'll receive this crystal healing bracelet in one of my fabric draw-string pouches, great for the safe-keeping of the bracelet. Gift-wrapped at no extra charge.
Read here about how to take care of your natural crystal jewellery.
CRYSTAL PROPERTIES
SHATTUKITE (Shattuckite)
Strong ally for developing psychic communication skills. Enhances various psychic abilities, intuition and connection with the high vibrational spirit world. Assists in creating a peaceful environment. Helps with aligning with the Divine source and to reflect the wisdom of the spirit. Also beneficial for healing relationship issues, to help you speaking with truth and integrity.

HAWK EYE
Elevates one's perception to see things from a higher perspective, thus aiding in making skilled decisions. Brings clarity, opens up inner guidance and new possibilities. Helps in building courage to trust one's own inner wisdom and intuition. Assists in visualising goals, both spiritual and material and to follow through in bringing them into existence.
HEMATITE
Creates a strong sense of self and enhances the creative flow. Relieves stress. Revitalises, enhancing personal magnetism and optimism. Helps in releasing self-imposed limitations to find your own unique gifts. A stone of balance and equilibrium. Grounds when feeling scattered, increases alertness and vigilance.
Recently Viewed