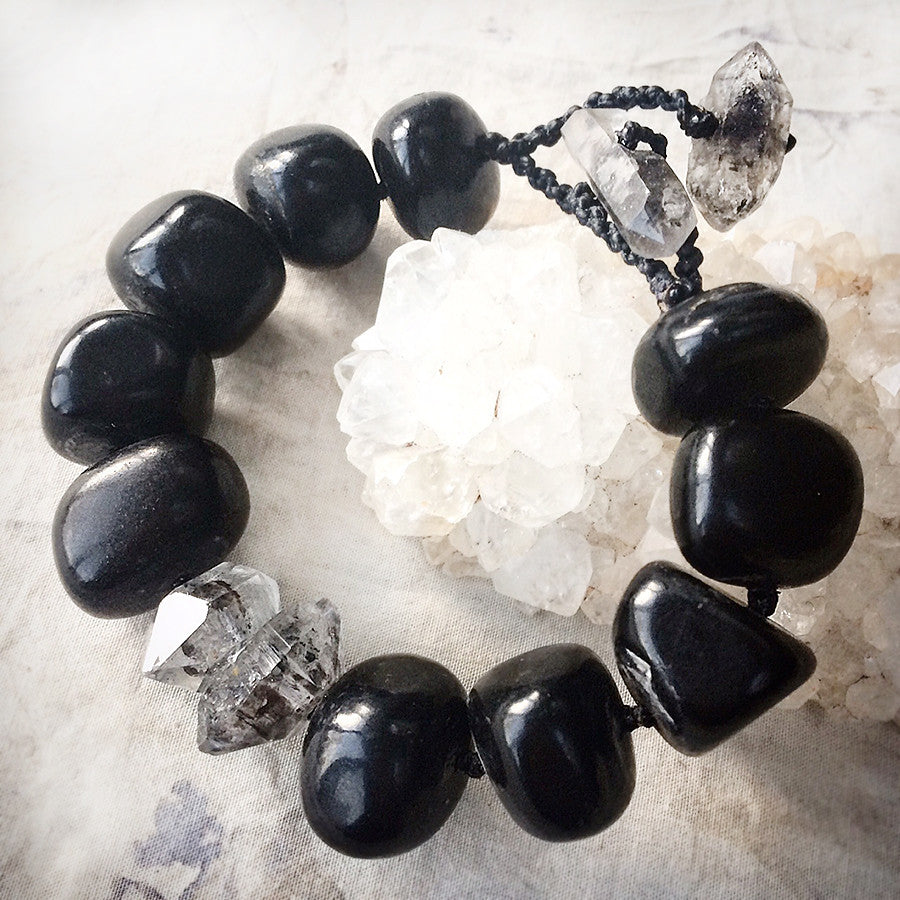 Crystal healing bracelet with Jet & Sichuan Quartz ~ for approx. 6.5" wrist
DESCRIPTION
Crystal healing bracelet with large, smooth Jet pebbles, combined with raw, double-terminated Sichuan Quartz crystals. Jet is also sometimes called 'black amber' and it's unusually light in weight to wear, thus even bigger stones feel comfortable and not too heavy on the wrist. The bracelet is knotted with black micro-macrame cord in double thickness, and the two toggle stones are also double-terminated Sichuan Quartz. Both can be slipped through the knotted loop to fasten the bracelet.
The size of the stones varies slightly but all combined, make for an average bracelet width of just under 2 cm (0.8"), with the middle stones (Sichuan Quartz) being of similar width. The bracelet length is 22 cm (8.5") yet the chunky nature of the stones makes this a snug fit for a 6.5" wrist circumference.
You'll receive this crystal healing bracelet in one of my fabric draw-string pouches, great for the safe-keeping of the bracelet. Gift-wrapped at no extra charge.
Read here about how to take care of your natural crystal jewellery.
CRYSTAL PROPERTIES
JET
Stone of protection and purification. Often used to protect finances and business but also as a shield against psychic attacks and removing energetic attachments. Assists in spiritual advancement and the rise of kundalini energy. Enlists the help of Earth energy in manifesting one's desires. Calming for those battling with difficulties. Comforting for dealing with grief, easing anxiety and fears. Increases self-reliance and helps in the process of life changes.
SICHUAN QUARTZ
Spiritually attuned to the white flame of pure consciousness, activating the crown and the third eye chakras. Aligns all the energy bodies, bringing forth a meditative state, peace and present moment awareness. Expands your consciousness and opens up psychic channels. Releases old, stagnant emotions, cleanses one's auric field and releases negative thoughts. Emanates a strong "OM" vibration. Can be used to intensify attainments, find out about karmic lessons and to bring deep healing for all levels of being. Double-terminated Sichuan Quartz brings powerful spiritual protection and purification.
Recently Viewed