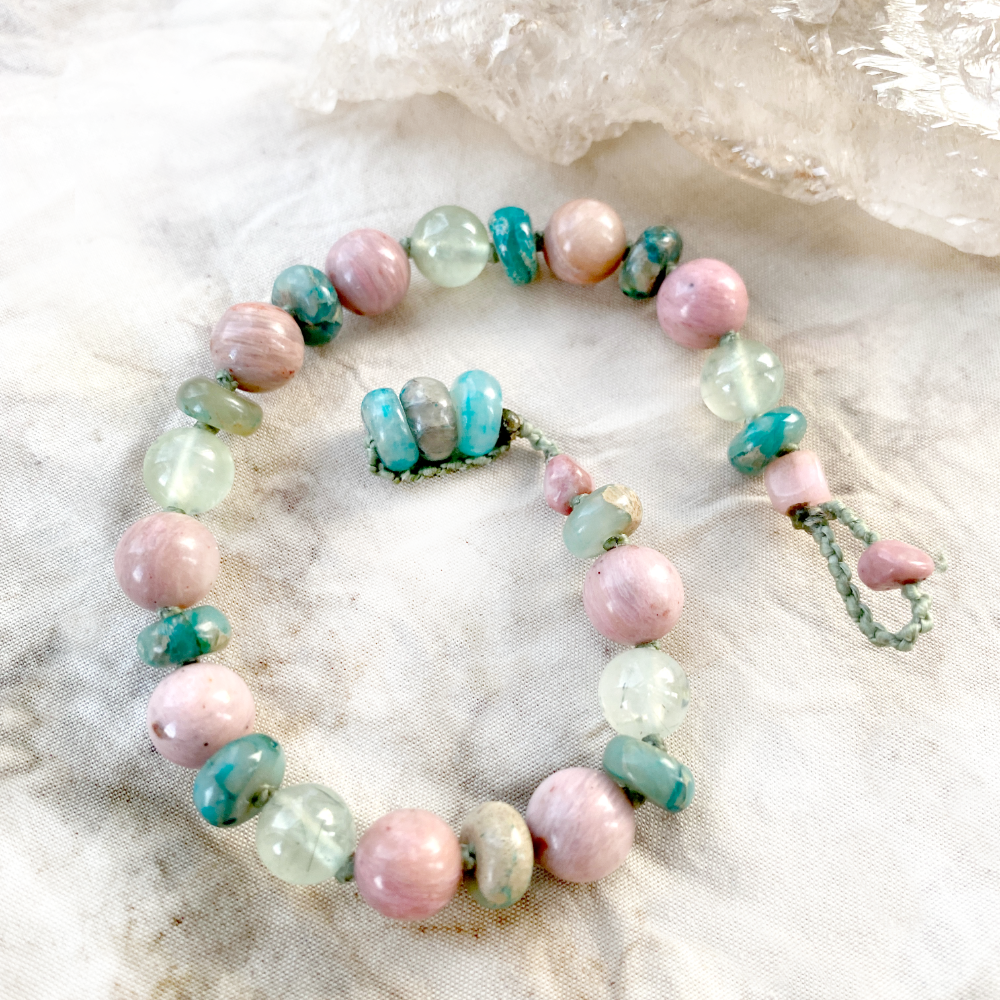 Crystal healing bracelet with Rhodonite, Prehnite and Variscite ~ for wrist size up to 6.75"
DESCRIPTION
Beaded crystal healing bracelet with a combination of three different crystals types creating a smooth, harmonious energy flow: Rhodonite, Prehnite and Variscite. Each bead in the bracelet is knotted individually for strength and flexibility, using pale green micro-macrame cord. The closure toggle stone is Variscite which slips both through the knotted loop to secure the bracelet close. The toggle loop includes a small Rhodonite bead within the knotting, providing tactile help when you're closing the bracelet for yourself.
Although the bracelet length is 21 cm (8") the diameter of the stones make this a good fit for up to 6.75" wrist circumference. The width of the bracelet is approx. 0.8 cm (0.4").
There are no metals in this bracelet so would be particularly suitable for those with metal sensitivities / metal allergy, energy workers and those who simply prefer not to wear metal jewellery.
You'll receive this crystal healing bracelet in one of Spirit Carrier's fabric draw-string pouches, great for the safe-keeping of the bracelet. Gift-wrapped at no extra charge.

Read here how to take care of your crystal jewellery.
CRYSTAL PROPERTIES
PREHNITE
Protective on all levels, strengthening one's life force. Fosters a sense of trust in the Universe and helps you protect your boundaries so it's easier to say "no" when needed. Stimulates inner knowing of oneself and guides in fulfilling one's potential. Helps to let go of unpleasant memories. Enhances spiritual "knowing". Revitalising and said to bring inner peace. Also said to be "a healer's healer".
RHODONITE
Known for its capacity to bring emotional healing, releasing blockages in the heart chakra. Balances emotions during chaotic times. Restores calm after emotional upheavals. Beneficial for the harmony of close relationships. A beautiful stone specifically for discovering one's inner gifts and can act as a catalyst for fulfilling one's life purpose. Stone of self-confidence that supports you in trusting your own heart.
VARISCITE (aka Aqua Terra Jasper)
Stone of inner peace and clarity. It has a loving and compassionate vibe. Helps with the alignment of one's 'Light' bodies and assists with emotional healing.
Recently Viewed