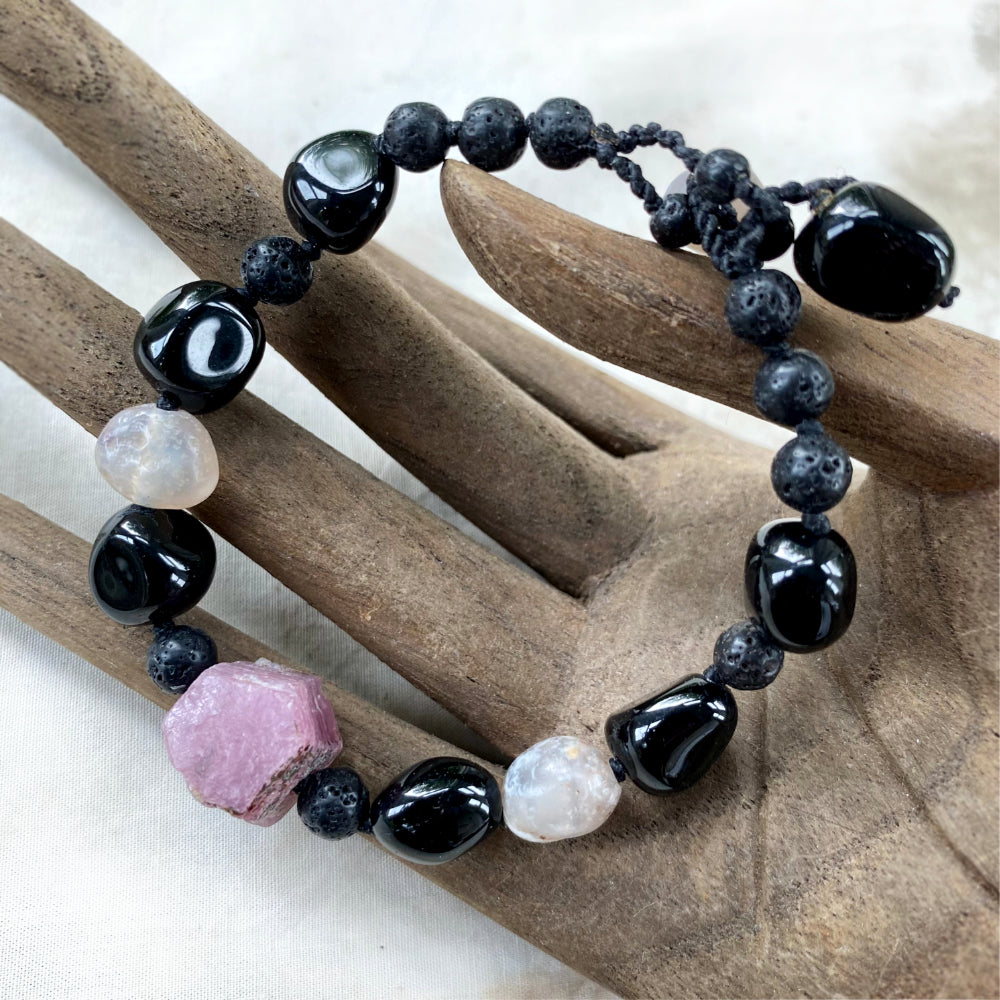 Crystal healing bracelet with Ruby, Black Tourmaline, Gobi Agate & Lava Stone ~ for wrist size up to 6.5"
DESCRIPTION
Crystal healing bracelet combining the energies of Ruby, Black Tourmaline, Gobi Agate and Lava Stone. The bracelet is knotted with black micro-macrame cord. The closure toggle stones are Black Tourmaline and Gobi Agate (you can slip both through the knotted loop to fasten the bracelet).
Although the bracelet length is 20 cm (7.9") the shapes of the stones make this a good fit for a up to 6.5" wrist circumference. The Ruby is approx. 1.5 cm cm (0.6") in its largest dimension.
You'll receive this crystal healing bracelet in one of Spirit Carrier's fabric draw-string pouches, great for the safe-keeping of the bracelet. Gift-wrapped at no extra charge.

Read here how to take care of your crystal jewellery.
CRYSTAL PROPERTIES
RUBY
Increases vitality and one's life-force energy, Very energising, excellent for women. Promotes clear mind, motivation and concentration. Associated with love, passionate commitment and heart-based closeness, offering help in shedding past hurts. Encourages you to 'follow your bliss' and have courageous attitude. Supports closeness and commitment. Shielding crystal to keep your energy field in your own command.
BLACK TOURMALINE (aka Schorl)
One of the most well-known protective stones, shielding its user from negativity. A shamanic stone used for grounding during vision quests. Empowering for those who work in challenging environments. Purifies and transforms denser energies into lighter vibrations and is also detoxifying for the body. If you're sensitive to electromagnetic smog, you may get relief by wearing black Tourmaline.
GOBI DESERT AGATE
Stone of transformation and resilience. Helps you to remain flexible when facing challenges, and open up to help from higher dimensions. Expands understanding of your life path so that wiser choice are possible. A gentle stone to help you with self-compassion and to restore your inner balance.
LAVA STONE
Stone of vitality, assertiveness and passion. Provides stability in times of change. Grounding and protective. Supports courage and decisiveness. Helps in finding one's 'life path'. Encourages personal development and growth.
Recently Viewed